Three Lebanese Startups - Sociatag, eTobb, and Lebtivity - recently took in the Web Summit in Dublin. The Web Summit is a technology conference that takes place in Dublin, Ireland since 2010 and represents Europe's biggest tech conference. Among the 10,000 attendees, the Arab world was represented by several startups coming from the Gulf, Middle East, and North Africa. From Lebanon, six startups attended the event of which three had a stand in the exhibition area.
The three startups are:
Sociatag, a platform that allows people to connect with the online community and social platforms via smart tags that can be swiped over Sociatag boxes. The platform includes various features such as loyalty programs, detailed insights and statistics, and a user friendly promotion management tool. You can read our review of Sociatag here.
Lebtivity, Lebanon's Social Calendar for Events. Lebtivity is a crowd-sourced platform that offers event organizers the opportunity to promote their events to the Lebanese online community for free. The website covers all events ranging from sports & outdoors, cultural, artistic, musical, and culinary events to conferences, exhibitions and activities for everyone including families and youth.
eTobb, an online medical Q&A platform that connects patients and doctors around the world. Our mission is to improve access to healthcare and empower people with medical know-how to help them make more informed decisions. People can read health Q&As and browse health topics, such as pregnancy and men's health. The company recently went out of beta one week ago. You can read our review of eTobb here.
These startups were selected among thousands of applicants from around the glob to exhibit as part of the Summit's Alpha program. The other 3 Lebanese companies - et3arraf, Maze Solutions and Seeqnce - attended the conference independently.
The event took place on the 30th and 31st of October and included over 10000 attendees comprised of a mix of CEOs and founders of tech start ups together with developers, designers and CTOs from established companies including Evernote, Google, Facebook, Box & many more.
The conference provides seminars and talks from big name speakers, networking events and venture capital opportunities for start ups. Previous speakers have included Jack Dorsey, co-founder of Twitter; Chad Hurley co-founder of Youtube; Niklas Zennstrom, founder of Skype; Mike McCue, founder of Flipboard.
Startups based in Lebanon still suffer from limited opportunities despite slow improvements in the field, namely with the creation of new funds that help grow local businesses. The motivation and culture of starting tech businesses is not widely grasped and supported by society or the government however. "Entrepreneurs must get out there and seize every opportunity that presents itself in order to represent Lebanon and learn from other countries in order to make Lebanon a better place", stated co-founder of Lebtivity, Randa Farah. Paul Saber, CEO of eTobb added "Our testimonial today of the Web Summit is the exact message we are trying to deliver to the Lebanese people; and that message is: Get moving, do something! Don't wait for things to come to you because they won't".

Latest Business
Intelligence Report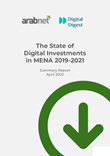 Latest Report
The State of Digital Investments in MENA 2019-2021
View Report
;