Arabic Speaking Chatbot 'Arabot' Raises $1M in Seed Funding, Eyes Regional Expansion
Back
Arabot, the Jordan-based AI technology company behind the eponymous Arabic speaking chatbot, just announced that it has secured $1M in seed funding. The company, which was founded back in 2016 by Abdallah Faza and Kais Hassan, develops and employs artificial intelligence - machine learning techniques and natural language understanding and processing technologies - to create interactive and personalized solutions for businesses aimed at enhancing customer engagement.
The acquired capital will go towards the continued development of Arabot's proprietary technologies, as well as regional expansion - Arabot is capable of handling queries in a number of regional Arabic dialects.
Faza, who serves as the company's CEO, spoke about Arabot's "ambitious" roadmap, saying that the company is positioning itself to be the regional leader of intelligent bots. "Our new technology and fresh approach creates a frictionless digital ecosystem that fosters product innovation, building world-class conversational experiences between humans and machines," he continued.
The investment round was led by Riyad TAQNIA Fund (RTF), and included returning investors from previous rounds. Qusai Alsaif, Senior Manager at RTF, highlighted the ever-growing need for businesses to streamline customer queries, increase customer satisfaction, and reduce costs as opportunities for tech solution providers, stressing that Arabot's solution delivers "much-needed disruption in the industry".
Recent research from tech research and consulting firm International Data Corporation (IDC), recently indicated that AI spending in the Middle East and Africa region is expected to reach $374.2M next year. That number stood at $261.8M in 2018 and is expected to hit $310.3M this year. IDC also goes on to note that automated customer service agents is among the top three drivers behind this growth. Along with IT automation and automated threat intelligence and prevention systems, those three segments will account for roughly 30% of AI spend by 2020.
Since its inception, Arabot has seen "rapid growth year-over-year" according to a company press release. Back in April, Arabot was selected as one of 100 Arab start-ups that are shaping the Fourth Industrial Revolution in MENA by the World Economic Forum. The pool of candidates included nearly 400 applicants hailing from 17 countries across the Middle East.
Latest Business
Intelligence Report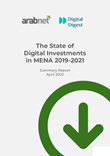 Latest Report
The State of Digital Investments in MENA 2019-2021
View Report
;