10 Recommended Arabic Web Fonts for 2014
Back
Arabic letters from Shutterstock
------
Hundreds of years ago, when Arabic script was in its heyday, there existed nearly 80 Arabic calligraphy styles that had an elegance so appealing that even non-Arabic scripts used them. Today, there are more than 500 Arabic fonts available for use, but more than 90% are unsuitable for reading Arabic text on web and mobile.

Related: 10 Arabic Web Fonts You Can Use Right Now (5 Free + 5 Paid)

For this purpose, and from my experience as the Founder and CEO at Typestage, I have compiled a list of Arabic fonts that are highly recommended for web and mobile use. Each of these fonts are designed for a specific purpose; there is no one-size-fits-all solution when it comes to typography. The designs include a mix of Naskh style for text and Kufi Style for headings and short paragraphs. Some are hybrid fonts, which merge the two styles together. 
1. Nassim Font: designed by Titus Nemeth 

2. Nososs Font: designed by Otba Mushaweh

3. Colvert Arabic: designed by Kristyan Sarkis
4. Harir Font: designed by Bahman Eslami
5. Karim Font: designed by Tim Holloway
6. Greta Font: designed by Kristyan Sarkis
7. Abdo Line Font: designed by Abdulsamie Rajab
8. Droob7 Font: designed by Sultan Maqtari
9. Neue Helvetica Arabic: designed by Nadine Chahine
10. Nazanin Font: designed by Haghighi
Related: 3 Key Things to Consider When Designing an Arabic Font and Typeface
Latest Business
Intelligence Report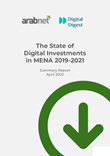 Latest Report
The State of Digital Investments in MENA 2019-2021
View Report
;