This Saturday and Sunday, join Arab Arcade for their first Beirut Geek Fest at Beirut Digital District 1280 from 2 – 8 pm.
After having multiple Game Jams, GameDev Meetups, countless workshops and Beirut Game Fest, Arab Arcade are hosting an expo style event that will feature local games, board games, virtual games, a maker's corner, and a merchandise corner.
Food and beverages will be available throughout both days, and the event will also feature several fun activities, competitions and workshops. The first night will end with a party on BDD's rooftop.
The Corners
Board Game Corner
Play some of the best games being created, designed and produced in Lebanon, as well as party games from around the world.

Maker's Corner
The maker community in Lebanon will be showing off their custom made robotics platforms, the tools they've developed and much more.

Local Games Corner
Get to know the awesome game development community in Lebanon and check out the games being developed. Play, test out, and vote for your favorite game made in last week's game jam!

Virtual Reality Corner
Drop by and check out the best VR experiences, there will be a ton of games to try and choose from.
Merch Corner
Pass by and check out the geeky merchandise from DIY robotics kits, to figurines, to Fat Bunny accessories, gaming gear, vintage comic books, and more.
Activities & Workshops
There will be a ton of competitions and activities spread out throughout Beirut Geek Fest, from the Cosplay competition to a treasure hunt. They'll have workshops teaching new geeky skills in 30 minutes or less, gaming contests and much more. Check out the schedule here.
Tickets for the two days can be bought online for $7 or at the door for $10.
Latest Business
Intelligence Report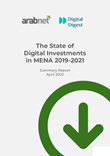 Latest Report
The State of Digital Investments in MENA 2019-2021
View Report
;