Yesterday, in collaboration with Zain Jordan, the International Mobile Gaming Awards (IMGA) announced its shortlist of 52 nominated games for its second competition in MENA. The IMGA MENA competition is similar to IMGA programs in Southeast Asia and China and celebrates the best mobile games being created in the region.
Winners of IMGA MENA will be selected and announced at the 2nd IMGA MENA Ceremony in Amman on November 11th, 2017 during the Jordan Gaming Summit and will be invited to compete in the Global IMGA awards in March, 2018. Gamer fans are encouraged to vote for their favourite games to determine the People Choice's Award before the November 3rd, 2017.
The all-star judging panel will be composed of international mobile gaming experts such as Kay Gruenwoldt (Entreprener at GameRefinery), Georg Broxtermann (Cofounder at flaregames), Eli Hodapp (Editor-in-Chief at TouchArcade), and Paul Topping (Head of Corporate Development EMEA at NaturalMotion) among others.
Zain Jordan's CEO Ahmad Hanandeh commented: "As partners with IMGA MENA, we are proud to witness such efforts paid by youth from the MENA region, whom contributed in elevating the level of gaming in the region and we wish all the nominees the best of luck as we are awaiting anxiously to see who, among them, will be joining us at the Awards ceremony in Amman in November."
These year's 52 nominees include games submitted by developers and studios in Algeria, Bahrain, Egypt, Iran, Iraq, Jordan, Kuwait, Lebanon, Morocco, Palestinian Territories, Saudi Arabia, Tunisia, Turkey and the United Arab Emirates. Iran ranked first in the number of games submitted, followed by Jordan, Tunisia, and the UAE. The full list of nominees can be found here.
Latest Business
Intelligence Report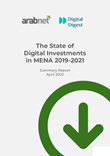 Latest Report
The State of Digital Investments in MENA 2019-2021
View Report
;