IMGA MENA, one of the leading gaming companies in the region, is accepting applications for the second edition of its MENA awards ceremony, in partnership with Zain. Studios and publishers, mobile and VR game developers from Algeria, Bahrain, Egypt, Iran, Iraq, Jordan, Kuwait, Lebanon, Yemen, United Arab Emirates, Libya, Morocco, Oman, Palestine, Qatar, Saudi Arabia, Syria, Tunisia, and Turkey are invited to submit their games before

tomorrow end of day

.
Submitted games must have been released after May 2016, or not yet have been published to be admitted in the competition. A jury made up of the best experts in the region will choose the winners after online judges choose the nominees among the submitted games. The chosen winners will have a chance to win another prize during the 14th IMGA Global edition in San Francisco. Nominees will be announced on October 9, 2017 and the Awards Ceremony will be held in Amman on November 10, 2017.
The first edition of IMGA MENA was a huge success, with 100 games submitted and 8 winners selected among 43 nominees. Last year's winners included PolyBlast by GameCooks (Lebanon), Qutopia by The Lost Methods (Saudi Arabia), Liyla and The Shadows of War by Rasheed Abueideh (Palestine), Drop the Wheels by 3dotsgames (Jordan), The Schema by Diaax Studios (Algeria), Pirates Gulf by Mahmoud AlSati (Saudi Arabia), Operation Dracula by Crescent Moon Games (Morocco) and Pix Hop by Bnoo Games (Egypt).
Latest Business
Intelligence Report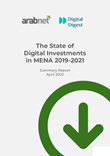 Latest Report
The State of Digital Investments in MENA 2019-2021
View Report
;