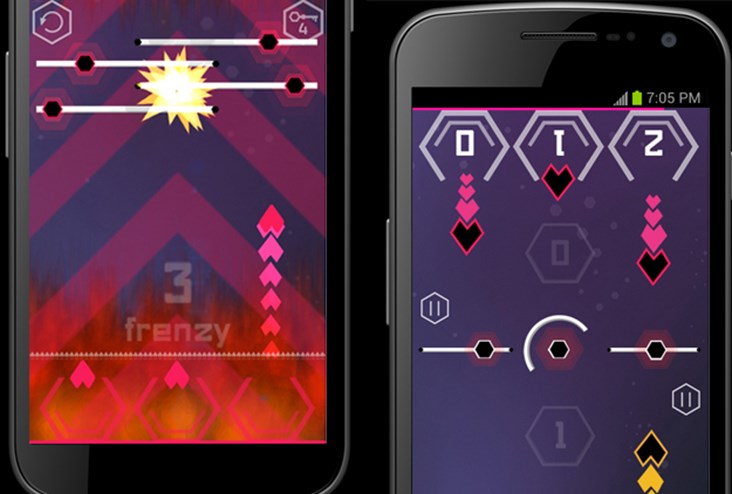 Game Cooks have just served us another mouthwatering mobile arcade/puzzle game called PolyBlast. Don't be fooled by the minimalist look of the studio's latest installment; the game is challenging and highly captivating, so it is sure to attract a high number of casual gamers.
If you already know Game Cooks, you probably played "Cubama", which was featured in over 100 countries on the App Store for over a week. Some of their other games include "Haram Al Maarifa", "Planet Nam Nam", "Escape from Paradise", or their first game ever, "Run for Peace", which totaled over 1,600,000 downloads.
PolyBlast is available for free download on the App Store and Google Play. For now, the game is only available in Lebanon, but it will go global shortly.
Being a gamer enthusiast, I asked Game Cooks to try out the game in beta a few days before its release, and here's what I thought.
Single Player Mode – Solo
Each level in PolyBlast starts with 3 shooting points and limited ammo at the bottom of your phone's screen. At the top of the screen, geometrical shapes (lines and polygons) start to make their way down.
Your goal is to prevent the shapes from reaching the bottom, then move to the next level. To destroy these shapes, you need to shoot the black dots that move around inside them. It looks simple and easy to play at first, but it gets challenging fast…The dots move in linear or circular patterns, and trust me, it can get a bit tricky to figure out the correct moment to strike.
What's harder is that you have a limited amount of time and ammo, so it's not uncommon to find yourself running out of blasts before you've had a chance to eliminate all obstacles from your screen. This can be frustrating, but it encourages focused planning and execution.
I was struggling even to beat level 5, despite the fact that I was fully focused and aiming as precisely as I could. Gradually, I started to get the hang of the game and improved my performance.
As a bonus, whenever you hit 5 targets in a row, the game goes into a 5-second frenzy mode with unlimited hits, which gives you an edge and helps you complete harder levels more easily.
Multiplayer Mode – VS
PolyBlast also be a local multiplayer experience, i.e. you can play with a friend on the same device. Each player stands on an opposite end of the phone or tablet, and both shoot at the same target to try to hit it first. The challenge is to hit the most targets in 3 matches to win.
Check out the video below for a preview of the gameplay experience:
The Gamer and the Minister
Game Cooks find the recipes for their games by picking the brains of interesting people such as teachers, comedians, mathematicians, geeks, etc. For PolyBlast, it was former Minister of Telecoms, Nicolas Sehnaoui, who provided inspiration. Ever since he left the ministry, he has been focusing his efforts on promoting the technology ecosystem of Lebanon. And he turned out to be quite the game enthusiast.
Game Cooks brainstormed the idea for PolyBlast with Sehnaoui and collaborated with him throughout the development process.
His experience as a public official involved introducing 3G and 4G in Lebanon, upgrading DSL speed, and launching the Beirut Digital District (BDD). So his collaboration and support should hopefully help Game Cooks and PolyBlast some well-deserved attention and exposure.
"Game Cooks is a formidable laboratory of ideas. The team works in a fun and games atmosphere that makes you want to leave everything and join them. PolyBlast will hook you and give you the chance to let off some steam," Sehnaoui said.
Cashing In and Planning the Next Move
PolyBlast is free to play but offers 2 in-game purchases. Players stuck in a difficult level can purchase a Key Pack (4 keys) to move to the next level. This eliminates the frustration of being stuck in a certain level, and helps maintain the drive to play different levels. Another in-app purchase remove ads.
This means Game Cooks will get revenue either from in-app purchases, or – more slowly – from display ads in their game.
The developers are actively cooking up 3 new games that should be released between Q4 2015 and Q1 2016.
See related: "Game Cooks" Release "Planet Nam Nam", a Sequel to the Overnight Sensation Birdy Nam Nam
*Game Cooks is a leader in the game development arena in the MENA. They are a collective of artists, designers, and developers with a shared passion for gaming, and have produced international games for iOS and Android. Founded in Lebanon back in 2012, and catering to the world, the team create fun and feel-good adventure type games with their own twist.
Latest Business
Intelligence Report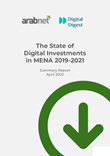 Latest Report
The State of Digital Investments in MENA 2019-2021
View Report
;