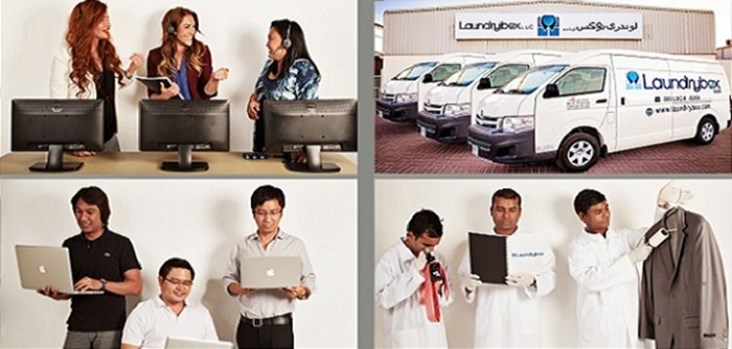 In a busy, fast and always on the go lifestyle, doing the laundry could become an exhausting task. Taking it to laundry shops means wasting a lot of time and energy. Enter Laundrybox, an innovative service that lives up to its slogan "conveniently clean."
After working in an international investment bank for six years, Bader Al Kalooti decided to leave the banking industry and conquer the entrepreneurship world. "I wanted to channel my ambition and efforts into creating innovative ventures," said Bader. "My first venture, I thought, must be innovative and unique and not something that was a franchise or a copycat model."
Laundry is a very old industry, perhaps older than all known civilizations. Yet it has seen very little innovation since the invention of the automatic washing machine back in 1940s. The fact that laundry, as an industry, had been progressing extremely slowly made it an ideal choice for Bader as a first venture.
"Before leaving the corporate world for entrepreneurship, I scanned various sectors in hope of spotting a good opportunity," said the graduate of the University of Central Florida. "It became evident from my own experience, that the laundry industry hasn't undergone any innovation or creativity in its application in a very long time and it has been operating in the same way for years without adopting technology or a customer centric orientation."
Bader has been living in Dubai for over six years, but that wasn't the only reason he chose Dubai for Laundrybox. "For me it was an easy choice to pick Dubai. First of all, in general, Dubai has an incredible infrastructure to foster entrepreneurship," he said. "Moreover, for Laundrybox specifically, it's a concrete jungle with a busy tech savvy populous that appreciates convenience."
But that doesn't mean Laundrybox won't grow, inside and outside Dubai. "Right now our main target is high rise residential communities and commercial compounds in Dubai. Our phase II of expansion will take us to college dorms, 3-4 star hotels and smaller residential communities that have a certain amount of density," explained Bader.
"At the moment we are focused on the Dubai market," he added. "However, we have received a lot of interest from various cosmopolitan cities around the world, so we will be exploring expansion opportunities in the near future."
How It Works
Using the service is actually very simple and convenient for all customers. The process starts with the customer creating an account. And when they log in, a locker is immediately assigned to them. The customer, then, specifies options and preferences for the delivery mode and type of service they need. Laundrybox picks it up, processes it and returns it to the same locker the next day. And for even more convenience, customers receive a notification via SMS, so they can go to the locker, log in, make the required payment and collect their laundry. Customers can also use the "Active Cycles" option, in case they need to change their delivery location.
Customers will never have to worry about losing anything they might forget in their laundry. Every garment is inspected thoroughly once it arrives in the Laundrybox facility, so if any valuables or personal belongings are found, they are immediately put in an envelope and tagged with the customer's details. Laundrybox then notifies the customer of the found item so that they are aware of it and then it is delivered the same day along with their laundry.
To make customers lives easier, Laundrybox's services are not limited to washing and drying. They also offer dry cleaning, ironing and shoe shining.
Though the service is highly sophisticated, "with its custom built high tech lockers with their proprietary system and 24/7 state of the art laundry facility," according to the service's website; pricing is quite affordable and is set up at the avarage of the Dubai market. Cleaning and pressing a normal shirt would cost AED 9 (5 for pressing only), whereas a 3-piece suit would cost AED 40 (29 for pressing only). Payments can be made with credit/debit cards, online or at the locker kiosk; or, in case of home delivery, customers can simply pay in cash.
The convenience, simplicity and affordability of the service are, according to Mr. Al Kalooti, the main reasons behind the use of the service by a wide range of demographics, including but not limited to families, students and the elderly, alongside businessmen and women who are always on the go.
Latest Business
Intelligence Report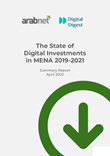 Latest Report
The State of Digital Investments in MENA 2019-2021
View Report
;