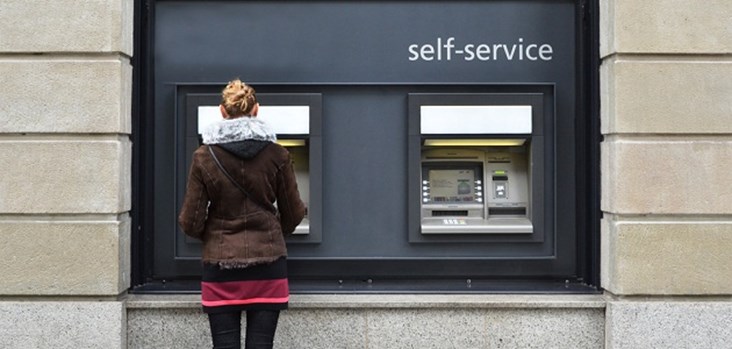 Photo of Girl at ATM from Shutterstock
"In banking, digital transformation is not important; it is imperative. Globally, traditional businesses are facing disruption through the proliferation of a digital society, and banking is no different." That's according to David Horton, CTO at Mashreq Bank.
Realizing the benefits of more efficient online/mobile banking, e-payment services and cashless transactions; leading banks in the MENA region are taking noticeable steps toward a more digitized economy.
Several banks in the region inaugurated smart branches in the last few months. In Dubai, there is Mashreq Go by Mashreq, a smart branch where customers can open an account and issue a checkbook and a debit card in less than 30 minutes. It is part of the Smart Banking Initiative implemented by Mashreq "to give our customers the most rewarding banking relationship. As such, the most important aspect of our digital transformation journey is delighting the customer with an everyday bank experience," said Horton. And according to him, "all aspects of smart banking, from our state of the art digital branches, to our mobile and online banking platforms, are equally important."
In Lebanon, Bank of Beirut opened its first Smart Branch that recognizes customers' photos and signatures and allows customers to open accounts, get a debit card on the spot, pay university tuition fees, and transfer funds 24/7. Almost two years ago, Bank Audi launched "Novo," a smart kiosk for personalized banking. Saudi Investment Bank (SAIB) also introduced their new ATMs with video tellers.
Most initiatives and efforts, however, are directed at mobile banking. Several banks launched new, more comprehensive banking smartphone apps. The list includes Standard Chattered UAE, with its award winning "Breeze" app; Mashreq, with the cleverly named "Snapp, for faster and easier banking; and Fransabank. EmiratesNBD dedicated their "smartBUISINESS" iOS app to make it easier for corporates and businesses to make transactions.
And while Mashreq has already partnered with MasterCard and launched "noqodi," an e-wallet for easier online payments, the Central Bank of Jordan is planning mobile wallets in an innovative way that doesn't require users to have bank accounts or even smartphones; feature cell phones will be enough.
Eliminating the need to hold a credit card seems like the next trend in digital economy, and some banks in the region got to work on that. Credit Bank in Lebanon has recently introduced the "MasterCard Contactless Sticker," which can turn any personal item, namely mobile phones, into a bank card. Mashreq did the same with their "Tap n Go" stickers.
Bank Audi, on the other hand, set out to address the "new challenges and many external factors that are influencing the banking environment, mainly the changing demographics, consumer tastes, and technology innovations such as mobile operators and technology services companies," as Randa Bdeir, Group Head of e-Payment Solutions and Card Services at Bank Audi, explains. That's why they took it to a higher level with their "Tap2Pay" service, which aims at "creating a more compelling consumer experience which matches the market's new trends and answers consumers' every need," according to Bdeir. The service also made Lebanon among the first countries in the region to introduce NFC based cashless payments to "turn smartphones into credit cards." The success rate of this service is still to be known.
Photo of Paying with NFC from Shutterstock
Questions to be raised
Those are but some of the initiatives created in the region. Other new relevant services are out there, and, doubtlessly, more will surface soon. The initiatives vary in importance, potential and quality; however, the level of innovation is questionable. Smart branches and NFC payments have been around for some time now in the world and mobile apps for banks should be a given, especially with the high smartphone penetration rates in most of the region.
One observation that holds true almost all across the MENA is the dialed down partnerships. Most services are offered by one bank through a limited number of partners, and mostly at a high cost, making a service more of a neat feature to have fun with than a way of digitizing economies and changing the way people do business.
For these services to make sense for consumers, they must be more convenient than traditional ways at a negligible extra cost. Will these initiatives be enough to drive users toward digital economy? They probably are fine as door-openers, but definitely far from enough.
Leaders in the industry seem to agree on that point. "Mobile and online banking in the MENA region is still lagging behind the West, and has only recently started to get more attention from banks," said David Horton. "There are still many large banks in the region that simply use responsive web design to act as a mobile banking solution, which, today, will not be acceptable to the customer who expects native apps that allow them to leverage their smartphone functionality."
"With some of the highest mobile penetration numbers in the world, banks in the region should look to step up and lead the way with digital banking, not simply follow what is already being done in the west," David added.
The world is shifting toward a digital economy for a reason: it is easier, faster, more versatile and more profitable to do business online. Being behind other parts of the world in time, quality and infrastructure of services will continue to affect businesses and local economies significantly.
Latest Business
Intelligence Report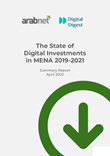 Latest Report
The State of Digital Investments in MENA 2019-2021
View Report
;