Abu Dhabi recently announced the establishment of the first graduate level, research-based AI university in the world: the Mohamed bin Zayed University of Artificial Intelligence, or MBZUAI.
MBZUAI will provide students and faculty with access to some of the world's most advanced AI systems in the hopes of harnessing its potential for economic and societal development.
"The University will bring the discipline of AI into the forefront, molding and empowering creative pioneers who can lead us to a new AI empowered era," explained His Excellency Dr. Sultan Ahmed Al Jaber, UAE Minister of State. Al Jaber has also been appointed Chair of the MBZUAI Board of Trustees.
"The invention of electricity, the railroad, smartphones all transformed the world as we knew it. AI can lead to an ever greater societal and economic transformation, but first we must ensure we have the right infrastructure, talents, and academic institutions," he added.
According to PwC, artificial technology could contribute as much as $16 trillion to the global economy by 2030. The UAE, on its part, has been driving towards a knowledge-based economy. It made AI a strategic national priority in 2017 and officially adopted a roadmap for an AI-driven future. The country was also the first in the world to appointment a Minister of State for Artificial Intelligence. By 2030, the UAE plans to have AI contribute 14% of its GDP – the largest share in the Middle East.
The University will offer Master of Science (MSc) and PhD level programs in key areas of AI, including machine learning, computer vision, and natural language processing. The university will also engage policymakers and businesses around the world to ensure that AI technologies are harnessed responsibly.
MBZUAI will also bring together experts from the AI community by hosting regional and international conferences, seminars and workshops.
Furthermore, MBZUAI will provide all admitted students with a full scholarship, plus benefits, such as a monthly allowance, health insurance, and accommodation. The University will work with leading local and global companies to secure internships, and will also assist students in finding employment opportunities.
The announcement was made at a press conference at the University campus in Masdar City and was immediately followed by the first meeting of the MBZUAI Board of Trustees, which includes Professor Daniela Rus, Director of Massachusetts Institute of Technology (MIT) Computer Science and Artificial Intelligence Laboratory, and Peng Xiao, CEO of Group 42.
The Board of Trustees will be supported by an Advisory Board, chaired by the Minister of State for Artificial Intelligence, His Excellency Omar Al Olama, and will include Dr. Wan Li Min, Chief Machine Intelligence Scientist at Alibaba.
Graduate students can now apply to MBZUAI via
the University's website.
Registration is set to open in August 2020.
Latest Business
Intelligence Report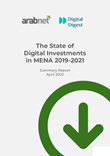 Latest Report
The State of Digital Investments in MENA 2019-2021
View Report
;