"If you really believe in what you're doing, and you've done all your homework, persevere and hang in there until you break through the barriers in front of you. I know it's cliche but it's true."
The MENA construction market is under a very encouraging paradigm shift and is expected to be worth $336B by 2020, up from $235B in 2016, a net growth of 43%. This sector holds greater opportunities for the digitization and revitalization of built assets, as well as adaptive modular design as a construction tool.
Companies in the construction market spend a lot on outsourcing design and engineering work, and Handiss is here to provide an alternative solution for them. Handiss is the construction market network where engineering consultants, architects, and industry experts can offer their work to their peers in the industry. Founded by engineers for engineers in 2016, Handiss is dedicated to matching clients with professionals who can deliver high quality design and consulting services.
As Handiss's co-founder & CEO, Ramzi Jreidini, pointed out, the startup had a rough start and a moderate growth due to the region's slow economy. However, Ramzi and his team noticed that this platform can reach high levels of success in the Western markets.
Competing freelancing platforms are mostly based in the US, but none of them are focused exclusively on the construction sector, which makes Handiss able to cater in many ways specifically to this industry, namely quality vetting process, pricing options, niche coverage, account management, and marketing advantage. Therefore, Handiss plans to expand its services in the US, Canada, UK, and Europe.
In 2017, Handiss participated as a finalist at Arabnet Startup Battle Beirut, only a year after its launch, to pitch in front of an audience of industry experts and mentors. As Ramzi put it, "Arabnet definitely definitely helped us on our startup path. It provided us with great exposure and allowed us to establish many relationships with investors."
Latest Business
Intelligence Report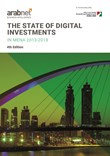 Latest Report
The State of Digital Investments in MENA 2013-2018 Report
View Report
;