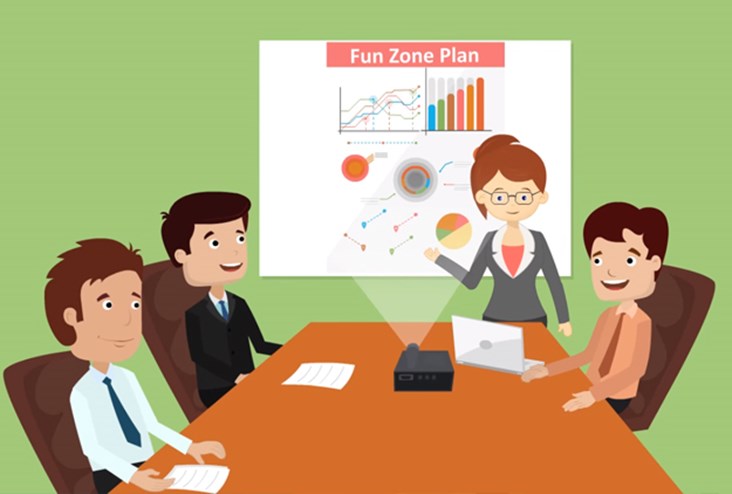 Meet Deerasa, one of the startups who recently participated in the Digital Showcase at the ArabNet Digital Summit in Dubai this year, now making its way into the regional scene.
Deerasa is an online business tool that allows startups and SMEs to build their business plans quickly and inexpensively. Users are not required to have any background in finance or accounting; Deerasa takes care of the calculations and presents the financial results instantly.
The service was conceived in Saudi Arabia by Khawlah Almadoudi, a financial advisor and consultant, and built with the help of investment professionals and IT experts.
A key motivator behind the creation of Deerasa was to encourage entrepreneurs. And while Almadoudi's professional background mainly involved medium-to-large-scale projects, she made sure the structure of Deerasa was exclusively designed for startups and small businesses. The service provides users with easy-to-follow, step-by-step guidance in each and every section of a professional business plan.
Leaving the Corporate World for the Startup Scene
Almadoudi holds a bachelor's degree in Finance from the University of Business and Technology in Jeddah. She also holds an Executive MBA, Islamic Finance concentration, from CASS Business School Dubai Campus. She is currently enrolled in the Stanford Innovation & Entrepreneurship Certificate program.
Prior to Deerasa, she spent 5 years working at an investment bank in Jeddah as a senior financial analyst, building financial models, business plans, and valuation for medium to large size projects. Later on, she worked for a short period of time as an investment associate at private equity firm.
Her first involvement with the startup and small businesses ecosystem was when she was appointed as an investment associate on behalf of two investors from ALTUJAR Show, the Saudi version of Dragon Den. There she was in direct contact with entrepreneurs and oversaw due diligence, business plans, and valuation reports.
Beyond that, she has participated in accounting and finance workshops held in Jeddah, acted as a judge in the interview committee at Riyadh's female branch in Jeddah, and advised numerous students and young individuals with business ideas.
Almadoudi initially got the idea for Deerasa in December 2013 from a client - a student at Um Alqura University who had a business idea and needed to build a business plan, mainly financial projections. However, the student was on a very tight budget and could not afford the professional fees of SAR 15,000 (around $4,000), and, in light of her predicament, she asked if she could instead borrow templates and get some advice so she could build the plan herself.
After that encounter, Almadoudi got inspired to post such templates online for anyone to download, in the form of excel sheets and word documents. He did some brainstorming with friends, colleagues, and previous clients, and eventually Deerasa was born.
Work on the project started in April of the following year, and on November 15, 2014, an English-only beta version was live. Later in January 2015, Almadoudi launched an improved version that included an Arabic interface.
Still evolving, the team acted on the feedback they received - namely a major issue with the user interface and experience. The founder decided to inject capital for a second time and revamp the whole interface. This process took some time, but on July 6, 2015, after Deerasa was showcased at the ArabNet Digital Summit in Dubai, the site's version 3.0 went live with a rebranded UX/UI.
Good Omens for Deerasa's Beta Version
Deerasa is self-funded by Almadoudi and also generates revenues from subscriptions. It currently offers 3 packages to choose from: Entrepreneur (priced at $200 for 6 months), and Advisor (priced at $360 for 1 year) which grant access to infographics, the ability to download PDF documents, and sharing features that allow for team collaboration. A third package for Incubators/Accelerators offers additional customized features to meet these clients' requirements.
The company is also working on introducing phone consultations to its service offering, as well as one-day workshops which would be held in with collaboration with certified consultants.
"We received really positive and encouraging response from our visit to ArabNet Dubai," said Almadoudi. "We still didn't activate our marketing plan, we are very satisfied with the performance. We are still in beta version and getting good feedbacks."
For now, their main market remains Saudi Arabia and the Arab region, but they have seen some interest from Turkey, so adding the Turkish language to the site and expanding there is definitely a possibility.
"Although we are targeting the Arab region, we have users from the United States," said Almadoudi. 34% of users are from Saudi Arabia, 14% are from Egypt, and 10% are from Jordan.
About 45% of Deerasa's users are between the ages of 25 and 34; 29% are between 18 and 24. "It's interesting that what inspired us to create Deerasa was a young lady, but 51% of our users are male," said Almadoudi.

Latest Business
Intelligence Report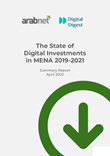 Latest Report
The State of Digital Investments in MENA 2019-2021
View Report
;