ArabNet Beirut X Concludes the Celebrations on June 13 with Huge Success!
Back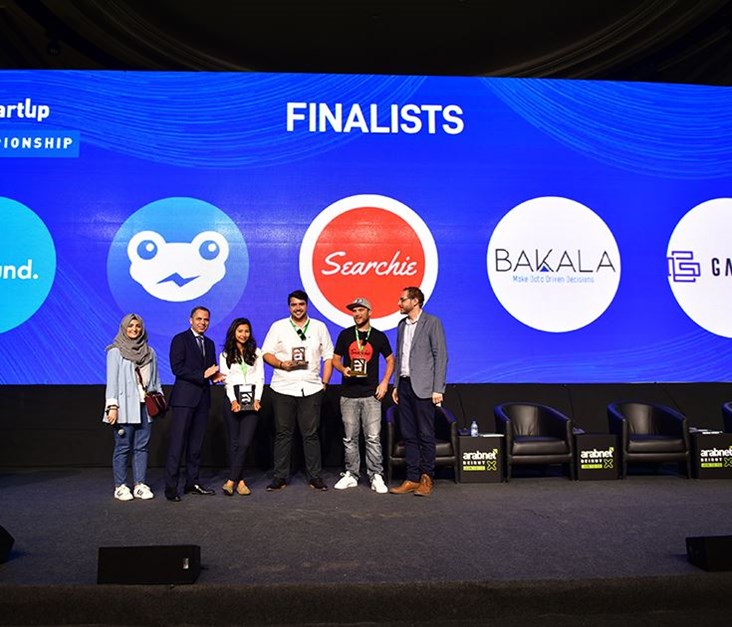 Under the High Patronage of His Excellency the President of the Republic of Lebanon, General Michel Aoun and in collaboration with Banque du Liban, along with the participation of H.E. Prime Minister of Lebanon Mr. Saad Hariri as well as H.E. Mr. Mohamad Choucair, Minister of Telecommunications and H.E. Dr. Riad Salameh, Governor of the Central Bank of Lebanon, ArabNet Beirut X wrapped up in success on June 13. The 10th edition brought together 4000+ attendees and 250+ from across Lebanon and the world.
The conference held a total of 22 panels, keynote speeches, and interview sessions across the two forums taking place simultaneously. Additionally, startups, entrepreneurs, and marketers took the stage for our competitions: Startup Championship powered by Touch, Ideathon, and Creative Combat, sponsored by Ogero.
At the Launchpad forum, Arabnet Research and Data Director, Azza Yehya, took to the stage to officially launch the 4th edition of "State of Digital Investments in MENA 2013-2018" report developed by Arabnet, in partnership with The Mohammed Bin Rashid Establishment for SME Development (Dubai SME). The report is a holistic analysis of MENA technology investors and investments. The report investigates the technology investment landscape in the Middle East and North Africa (MENA) region by analyzing investments made by MENA-based investors into MENA-based startups.
The reveal was followed up by a panel titled "International Perspective: Global Trends Shaping the Tech Sector" in which international investors gathered on stage to share their insights on what's hype and what's here to stay, the hottest startups they're investing in today, and the trends they expect to see in the near future. They also gave tips for startups in emerging markets on how to attract the interests of global investors and capture global opportunities. The speakers included James Tan, Managing Partner, Quest Ventures; Richard Harris, Partner and Head of EMEA, G Squared; Tugce Ergul, Partner, Angel Labs; Ihor Ovcharenko, Founder & CEO, Scal8R; and Kartik Varma, Managing Director, Techstars.
The Launchpad Forum was packed with keynote speeches and panel discussions including "the Evolution of the Music Industry" led by Scott Cohen, Chief Innovation Officer at Warner Music Group; the "Innovation in Family Businesses" panel which brought together some of Lebanon's key family businesses like A.N.Boukather, Ghia Holding, and Grand Cinemas, to discuss how they are responding to the entrepreneurial culture, what are their objectives and strategies to beat competition, and the challenges they're facing diving into new innovative opportunities.
The Ad/Edge forum brought together some of the brightest minds in Adtech and Digital Media who took part in in-depth sessions such as "Content that Connects - Why Understanding Culture Is the Key to Growth" by Codec, "It's a MADtech World Out there" which examined publisher's readiness in the digital age by MMPWW and MOAT. Attendees were also able to be part of debates on advertising content "Data vs. Creativity", witnessed panel discussions on Artificial Intelligence, Content Marketing, and ecommerce.
At the closing ceremony, the winners for the Startup Championship, Ideathon, and Creative Combat were announced. 3 startups were chosen as the top 3 for the Championship with 2nd and 3rd place being Bakala and Seez respectively. As for the top spot, Searchie took home the Championship cash prize of $20K, acceleration scholarship to Silicon Valley, along with in-kind prizes!
As for the Ideathon, 10 aspiring took the stage and pitched their innovative ideas in front of an esteemed panel of judges. After careful deliberation, Hadiyati came out on top for his/her disruptive idea.
YNG secured the top spot in the Creative Combat receiving a cash prize of $5000.
During Arabnet Beirut, Arabnet signed a memorandum of understanding with Xische in Dubai to enable Arabnet to enhance support clients from strategy, to storytelling and thought-leadership, to events and innovation program implementation.
Latest Business
Intelligence Report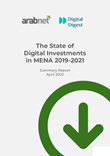 Latest Report
The State of Digital Investments in MENA 2019-2021
View Report
;