ArabNet Beirut Conference Celebrates 10 Years by Uniting Government Officials at the Opening Ceremony
Back
The highly anticipated 10th edition of Arabnet Beirut conference launched on June 12th under the High Patronage of His Excellency the President of the Republic of Lebanon, General Michel Aoun and in collaboration with Banque du Liban, along with the participation of H.E. Prime Minister of Lebanon Mr. Saad Hariri as well as H.E. Mr. Mohamad Choucair, Minister of Telecommunications and H.E. Dr. Riad Salameh, Governor of the Central Bank of Lebanon.
Over 4, 000 senior government officials, diplomats, enterprise decision-makers, innovators and investors were in attendance, keen on connecting and exchanging ideas on digital innovation and entrepreneurship as key drivers for Lebanon's future economic development.
ArabNet Founder and CEO, Omar Christidis launched the ceremony with his opening speech where he said "I'm proud of what Arabnet has been able to achieve in the last 10 years - helping build the tech industry and startup ecosystem from the ground up, and successfully expanding our business from Lebanon to the GCC. I'm also proud that we've been able to create a real impact for the MENA economy, with our alumni - the startups that pitched at Arabnet across the years - collectively employing more than 3,500 today. As for the future, I'm thrilled to see MENA governments - and especially Lebanon - prioritizing technology and innovation as key drivers for economic development; in the future, I see Arabnet playing a bigger role in working with them to shape and deliver policies and programs that are impactful for entrepreneurs."
In his opening speech, H.E. Prime Minister of Lebanon Mr. Saad Hariri said "It is a priority for myself and for my Government to do all that is in our power to support and further enable the Digital Economy in Lebanon.''
H.E. Mohamad Choucair said ''With the available capabilities of Lebanon's youth and the incentives it provide for start-ups, the country can progress quickly on this path when the advanced infrastructure is provided. It is important to maintain the same pace support and very useful to establish a national agenda for the digital economy.''
H.E. Dr. Riad Salameh said "Our intention is to regulate and supervise fintech companies, by imposing their licensing by Banque du Liban."
The Opening Ceremony was preceded by a Ministerial Panel entitled, The Roadmap to a Digital Economy in Lebanon which covered the government's plan to develop the different enablers for digitization from infrastructure and digital identity, to regulations and business incentives. The Ministerial Panel featured H.E. Mr. Ghassan Hasbani, Deputy Prime Minister; H.E. Ms. Raya El Hassan, Minister of Interior and Municipalities; and H.E. Ms. May Chidiac, Minister of State For Administrative Development; H.E. Mr. Riad Salameh, Governor of the Central Bank of Lebanon; and Mr. Saroj Jha, Regional Director of the Mashreq at the World Bank. Also during the opening, the H.E. Mr. Saad Harriri and the H.E. Mr. Riad Salameh were respectively given honorary awards.
After an engaging morning, the conference program split into two main forums:
The LaunchPad Forum also explored how the diaspora can bring technology opportunities back to Lebanon. This event gathered some of the most inspirational Lebanese diaspora such as Sarjoun Skaff, Co-Founder and CTO, Bossa Nova Robotics; Monir Zok, Former Director of Technology and Innovation for the U.S. Olympic Committee; Managing Director at N3XT Sports; and Walid Soussou, President, Wearable Sensing to talk about their journey working abroad, highlighting Lebanon's advantages and opportunities as a regional tech hub, as well as discussing what it would take for the diaspora to establish offices in Lebanon and to create job opportunities.
The Finverse forum gathered stellar high-profile fintech experts - including Simon Redfern, Founder, Open Bank Project; Maher Mikati, CEO, areeba; Viola Llewellyn, Co-founder & President, Ovamba who discussed current topics of interest ranging from New Trends and Innovation in Fintech, Capturing untapped opportunity of financial inclusion, banking innovation and digitization in Lebanon and more.
Arabnet Beirut X also featured a Startup Showcase, bringing together 100 startups from Lebanon and beyond to exhibit and connect with industry experts and more than 100 GCC/regional investors. The event also featured a number of dynamic initiatives to support entrepreneurs including: The Academy, workshops on entrepreneurship, marketing and e-commerce; Founder's Journey, gathers successful Lebanese startup founders to share their journey and lessons learned with aspiring entrepreneurs; The Investor Lounge, providing one-on-one interactions and meetings between over 70 investors and the entrepreneurs that are disrupting traditional business models.
During the event, Bank Audi seized the opportunity to launch the latest game changer in banking solutions: "My Novo", the first digital, relational banking platform in Lebanon, which allows users to open an account and personalize it, conduct local and international transfers, pay bills, talk to advisors through video conference, and many other features, 7 days a week.
Hub71, a global tech hub based in Abu Dhabi, UAE, announced a new partnership with MIT Enterprise Forum Pan Arab in a joint mission to support the region's entrepreneurs and exceptional talent to go global.
Arabnet Beirut continues for another day at Biel Sea Side with the LaunchPad forum continuing, in addition to the AdEdge forum which includes talks on all the latest in digital media and technology. The best startups from the region will be announced and crowned as Arabnet's Startup Champions, and H.E. Mr. Adel Afiouni, Minister of State for Investment and Technology Affairs, will also be speaking at the closing of the event.
Arabnet Beirut is supported by a wide range of sponsors that include Banque du Liban, Alfa, Touch, Beirut Digital District, Ogero, Blominvest, Bank Audi, Banque Credit Natinal, IDAL, among others.
To learn more, go to our website
Latest Business
Intelligence Report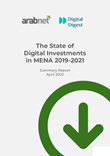 Latest Report
The State of Digital Investments in MENA 2019-2021
View Report
;