TechCrunch Startup Battlefield MENA Ends with a Bang!
Back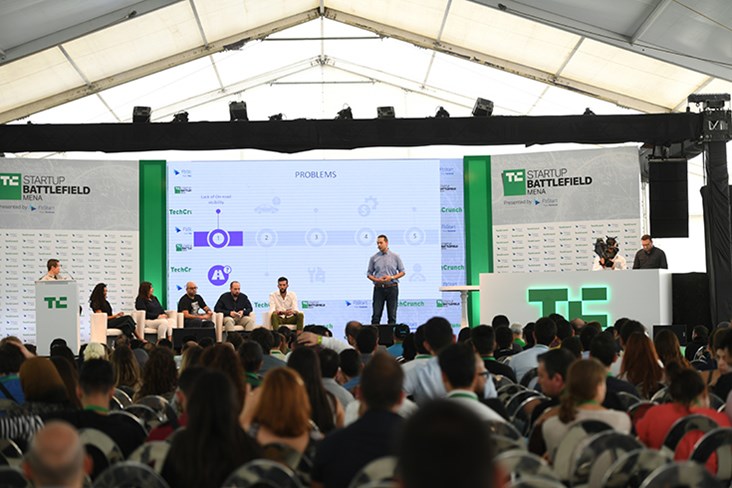 On October 3rd, TechCrunch hosted its first Startup Battlefield for founders based in the MENA region at Beirut Digital District. The day-long event included panel sessions, fireside chats, workshops, and most importantly the startup competition.
The panel sessions and fireside chats welcomed some of the most renowned names in various sectors such as Imad Kreideh, CEO and Chairman at Ogero, Jennifer Fong, leader of Facebook Developer Circles Programs in MENA, Magnus Olsson, Founder of Careem, and so much more.
Throughout the day, 15 startups took the stage to pitch in front of esteemed panels of judges including Omar Christidis, founder and CEO of Arabnet, Menna Abdelrahman, Senior Associate at Endure Capital, Karim Hussein, Managing Partner at Algebra Ventures, etc.
The pitches were divided into 3 rounds each including a different panel of judges. After the pitches had been completed, all the judges voted for the top 5 finalists to reappear on stage getting one step closer to the Battlefield crown.
Before revealing the winner, I will introduce to you the 15 startups that were fortunate to be part of the TechCrunch Startup Battlefield.
BuildInk
–
Launched: 2017 – Country: Lebanon
BuildInk, the graduating startup from Flat6labs Beirut Cycle 1 in partnership with Arabnet, introduced its cutting-edge concrete 3D printer capable of delivering modern architecture designs and single-story homes in minimum time and effort. BuildInk also revealed that their special concrete mixture is 2 times stronger than the traditional one, has a fast setting time, instant layer bonding, and is eco-friendly.
Harmonica

– Launched: 2017 – Country: Egypt
Harmonica is the first Egyptian mobile application that allows its user to find the perfect spouse. Through the integrated AI and rigorous profiling of users (they are asked detailed questions about their backgrounds for a better match result), they are matched with a partner that shares similar upbringing and beliefs.
Material Solved

– Launched: 2017 – Country: Egypt
Material Solved provides scientists with visuals of their data or tech pieces in a fast and easy manner. The process is done in a couple of clicks; once the data is provided on the platform, the 3D model is immediately configured. Material Solved takes less time, less software usage, and less cost.
MoneyFellows

– Launched: 2015 – Country: Egypt
MoneyFellows is a mobile application that digitizes the concept of Gamey'a – a circle of people who pay a certain amount of money at the end of each month and each member takes that amount raised each month. With this app, the user is exposed to circles outside his/her social graph. MoneyFellows allows people to pool money efficiently and securely.
Neotic

– Launched: 2017 – Country: Lebanon
Neotic is disrupting the trading business by introducing a customizable Artificial Intelligence (A.I.) engine for back testing and daily forecasting and automated trading. Traders can test their strategies' performance in the past to pick the optimal ones and get recommendations for which security to long or short. Users can subsequently deploy their strategies in the simulator (with virtual money) to further test the recommendations as a final step before going live trading with real money and accumulating profits.
Naturansa

– Launched: 2016 – Country: Turkey
Naturansa uses biomimicry, inspired by the nutrient cycle in nature, to produce the next generation sustainable protein with the technology they built. This is done by taking pre-consumed fruit and vegetable waste daily and decomposing it with specific insects. When the insect colony grows, it is dried, grinded, and turned into protein, calcium, and phosphorus rich resources. This powder is high quality, cost effective, eco-friendly, and used by humans and animals alike.
Seabex

– Launched: 2017 – Country: Tunisia
Seabex is an e-monitoring and smart automation system that helps farmers find the right balance of water consumption needed to get the better quality and quantity. It monitors and controls the key environmental parameters of a farm in real time without any human intervention.
In2

– Launched: 2016 – Country: Lebanon
In2 aims to help people lead a healthier, more active, and fulfilled lifestyle. It is a mobile application that provides a network of people who love sports, music, outdoor activities, and other hobbies, as well as a simplified way to book venues, socialize, and organize activities.
Seez

– Launched: 2015 – Country: UAE
Seez is a mobile application that simplifies the process of car purchases by providing a transparent AI-powered search engine. The time allocated for car hunting is majorly reduced through this app. During their pitch, Seez revealed 2 of their major future plans: users will be able to lease cars through the app in the near future. Seez will also expand its services to the KSA before the end of 2018!
Synkers

– Launched: 2016 – Country: Lebanon
Synkers is a P2P platform that connects users to their required tutor through a rigorous and customized search based on course needs, location, and level. With the integration of AI and Machine Learning, the users get personalized suggestions according to their backgrounds, education, and so on. They currently operate in Lebanon and UAE and plan to expand globally in the future.
Autotell

– Launched: 2018 – Country: Egypt
Autotell is a platform that establishes a connection with a car through an AI assistant. This AI provides the user with insights on how the car performs on road, detects faults remotely, analyzes the driver's performance, and gives advice when needed.
Verboze

– Launched: 2018 – Country: Qatar
Verboze is a technology that makes hotel rooms smart. It is a small box that is installed easily in the room and its software connects to the room through the wireless connection. Once this easy installation is done, the room can be controlled remotely e.g. light changing, Air Conditioning temperature adjustments, and so on. Verboze adapts to the hotel setting and not the other way around.
MakerBrane

– Launched: 2016 – Country: Lebanon
MakerBrane is a marketplace that encourages children to create customizable toys. It provides many guidelines on how to build new toys from the ones already possessed in the household. The founder's aim is to encourage a generation of creative designers.
Argineering

– Launched: 2017 – Country: Egypt
Argineering created an easy way to do interactive environments. They created the RGKit, the first modular plug-and-play gadget which transforms displays and exhibits into interactive spaces requiring no engineering knowledge and zero lines of code. Users only have to setup the RGKit, download the app, and start customizing interactions.
Pure Harvest

– Launched: 2016 – Country: UAE
Due to overpopulation and the inability of agriculture to produce based on the people's demands, Pure Harvest created an innovative greenhouse using the IoT triple play climate management system. In simpler words, this greenhouse creates a suitable climate with the right temperature and humidity for plants to properly grow and get ripe. Everything is done naturally with no chemical interventions.
Announcing the Winner!
The startups that were chosen by the judges as the top 5 finalists were BuildInk, Naturansa, Seez, Pure Harvest, and Synkers. They re-took the stage and pitched in front of a panel of investors who would vote for one winner and a runner-up.
After the heated battle between these 5 startups, the audience waited in excitement for the judges' final decision.
The runner-up that the judges chose went to Synkers and the winner of $25,000, along with the opportunity to participate in TechCrunch Disrupt San Francisco, is BuildInk!
Latest Business
Intelligence Report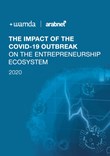 Latest Report
The Impact of the COVID-19 Outbreak On The Entrepreneurship Ecosystem
View Report
;