Applications Now Open For the Arab Financial Inclusion Innovation Prize
Back
Applications are now open for the Arab Financial Inclusion Innovation Prize 2019. A cash prize of $50,000 USD will be awarded to top innovators who have an idea, product or service that can improve financial inclusion in the Arab world by increasing access to financial services, reducing their costs and better serving the end client.
The shortlisted candidates will also be put forward for the Village Capital Finance Forward bootcamp, which will allow them to receive technical support to help develop their innovation.
AFIIP 2018 equipped three impactful innovations with the tools they needed to grow their product/service: IFIN, CIWA and Al Majmoua. The 2018 edition received nearly 100 proposals to innovatively increase financial inclusion, from 16 countries across the Arab World. A panel of 11 judges, all experts in their fields, evaluated the proposals in a rigorous two-stage process according to various criteria. One of the judges, Jenny Atout Ahlzen, from Silicon Badia, remarked how encouraging it was "to see the diversity of ideas submitted to AFIIP, both from startups and existing MFIs, with several of them having a golden opportunity to really move the needle on financial inclusion.
From micro-fintech to marketing; social enterprise to process management and blockchain, innovators from all sectors should apply to this year prize. "Our aim is to create a synergy between the worlds of financial inclusion and innovation, to catalyze progress in the region year on year, says Reda Maamari, co-founder of the prize.
The call for applications will run until 10 August 2019, when shortlisted proposals will be chosen. Applying teams must include at least one Arab member, and have a proposal for implementation in the Arab world. The proposals will be judged by a panel of experts according to four criteria: Innovation, Impact, Implementation and Marketability.
Find out more and apply to the prize here
Latest Business
Intelligence Report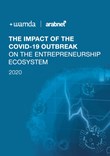 Latest Report
The Impact of the COVID-19 Outbreak On The Entrepreneurship Ecosystem
View Report
;