Mashkor is a new app in Kuwait that is transforming the way local shopping and local courier happens in the region. The on-demand delivery app offers its users fast, quick, and reliable services to shoppers by enabling them to order from any store in Kuwait and having any item delivered or collected at any place and time.
Mashkor was founded 2 years ago by Fahad al Roomi and Fahad al Refai when Fahad wanted to buy an item from a local shop, but it didn't have a delivery service. Actually, the only on-demand delivery that Fahad could find was in the food industry.
Fahad al Refai discovered the opportunity and started working on gathering the preliminary research for this business idea; which was to create an on-demand delivery app where users could purchase or courier anything from anywhere within the city.
Then, they conducted a feasibility study for their business concept and discovered a particular area where there was a huge opportunity to solve a problem for Gen Y consumers. So, they made a start on their business plan, gathered the team, and began working on their idea.
When Mashkor launched in January 2019, both customers and vendors shared their positive feedback about the innovative app. One customer said, "On a busy a day, I wanted to order an item from the store, and I had no time to do it. I downloaded Mashkor app and hired a personal shopper. They worked on a fast track basis from checking availability of the item in the store to delivering the item within 1 hour."
Mashkor has multiple options for users to choose from, such as custom buy/custom pick up and Mashkor partnerships. Custom buy helps users buy any item from any shop in Kuwait while custom pick up helps users send a gift, collect document, as well as pick an item from any place within the city.
"For so long, the absence of online presence for a large pool of local shops in the region has been a major challenge. For that reason, consumers are feeling the pain of local shopping tasks and having to cope with the stress of daily errands. Embarking in such local journey to deliver or collect something is too time-consuming, which is why Mashkor is using technology to improve the experience of local shopping and concierge service in the region" said Fahad Al Refai, co-founder of Mashkor.
Mashkor is not only available for personal use or shoppers, but they also allow small and medium businesses to expand their area by reaching new customers using technology-enabled delivery service.
Partnering with Mashkor gives businesses a great opportunity to extend their reach and drive more revenues. With them, users can easily find businesses and order from their dedicated space on the Mashkor mobile application. Stores can have their orders delivered to customers in as little as 45 minutes with just a few quick clicks.
So far, Mashkor has established impressive records. In just 3 months, they have delivered 11008 orders, with total registered users standing at 20000.
"Consumers are using Mashkor to purchase items from stores like Ikea, Zara, Starbucks, etc. where they do not have on-demand delivery services. Also, many small businesses/ individuals are now using Mashkor to send or collect documents, invoices, cheques, cash, etc." said Mr. Fahad Al Roomi, co-founder of Mashkor.
"We had a customer who wanted to send gifts to his 300 clients on New Year's, so we took up the assignment and delivered it within 2 days," said Mr. Fahad al Refai.
Mashkor already has plans for the future. They want to build AI capabilities to help users find the store to purchase the item they need.
Latest Business
Intelligence Report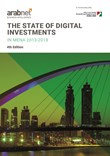 Latest Report
The State of Digital Investments in MENA 2013-2018 Report
View Report
;