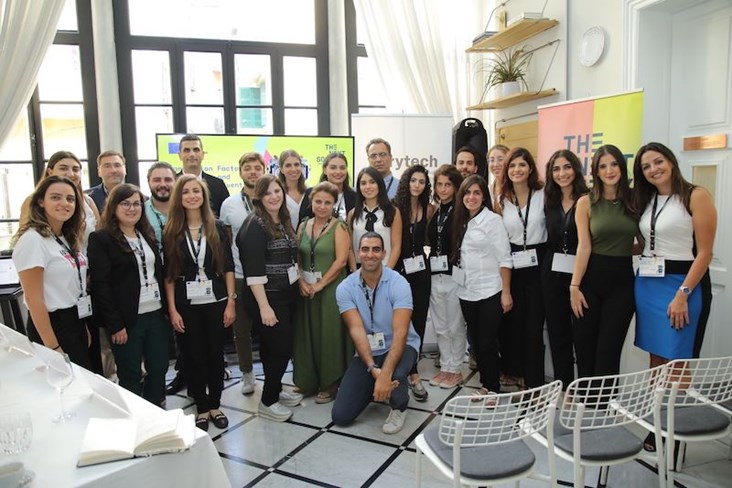 Berytech showcased the nine Lebanese startups developing innovations in education, clean technology, health, and road safety, participants enrolled in Innovation Factory - a 6-month acceleration program allowing startups to develop their innovation into commercially viable products and applications.
The program, funded by the European Union under THE NEXT SOCIETY and organized in Lebanon by Berytech and Anima, is based on facilitating the process of technology transfer from researchers and innovators to the public. "The ultimate objective of the program is to give these startups international exposure with access to local and global markets, business networks, and a pool of seasoned experts, mentors, and investors," explains Krystel Khalil, Programs Director at Berytech.
Starting with a 3-day bootcamp back in April, the 9 teams then went through a 3-month acceleration program which culminated in the demo day on September 19, allowing two startups to further benefit from 3-month incubation with Berytech. The 2 teams will be granted 5 follow-up personal working meetings and 2 technical assistance sessions with Berytech's Business Support and Development team to further develop their business.
The two startups are C Green who are transforming sludge - the solid part obtained at the end of the wastewater treatment, into local organic fertilizer according to the Food and Agriculture Organization of the United Nation (FAO) guidelines by using a special process for the treatment, and VitaLip, a lipstick that provides women with their daily needs of 3 essential and critical vitamins mainly B9, B12, and D preventing deficiency, especially at their child-bearing age.
A Journey into Technology Commercialization
Throughout the intensive 3-month acceleration program, the nine teams worked on validating their market and improving their business model.
Training sessions covered subjects that included design thinking and how to develop the customer persona and integrate innovation in their product. It included marketing research techniques and tools and how to develop a go-to-market strategy. The program also included legal training with a focus on intellectual property and a business model and financial modeling training. The teams benefited from one-on-one coaching and support sessions to perfect their business and pitch it.
The teams enrolled in the Innovation Factory Program included:
UnderConstruction is recycling waste - a combination of water and plastic, to be used in construction to improve the industry while being sustainable and healthy for the environment.
BBox is an educational game that is designed to make children more mindful and aware of civic and contextual matters applying the methodology of learning-by-doing.
Handy Hand provides amputees with the emotional satisfaction of having a personalized, custom musculoskeletal prosthesis limb that looks and moves much like their own missing hand.
ALARMate has created a smart device that prevents vehicle drivers from falling asleep at the wheel reducing accidents caused by drowsy drivers, that lead to property damage, injuries and deaths.
Smart Trash Can is the first automated waste sorting machine for public use, that integrates echo technology to sort waste according to material type in the most effective way.
Energy Builders is a hands-on technology robotics game and circuits for kids, that will allow them to learn the basics of energy and water efficiency along with renewable energy.
Six Degrees of Freedom is a solution that targets the dentistry field helping dentists communicate, organize, document and manage their working space through their mobile phone.
"Throughout this program, we noticed the drive and commitment of participants who mastered very good technical skills but were also eager to acquire business acumen. It was interesting to see how their projects were shaped according to the market insights they collected throughout the program," comments Krystel Khalil.
Guiding the Shift
The entrepreneurs were accompanied by a team of trainers and coaches who made sure they received all the knowledge needed to move forward with creating their startups in addition to all the experience and support for their entrepreneurial journey.
"The program has provided us with an excellent business learning experience. It helped us to transform our passion in research and papers into business, so at the end of these two months, we were able to get an IP, to finalize the R&D phase and to start the quality control phase to validate our results. It enabled us to shift from a pure academic idea dedicated to getting our Ph.D. degree to a potential business project that we can commercialize," explains Rosabelle Chedid, Co-founder of C Green.
Mira Ayoub, Co-founder of Energy Builders also discussed her team's journey in the program, "Throughout the program, we learned how to identify ourselves in the market and how to identify the right distribution channels, we also validated our target audience and prepared a 5-year financial projection plan."
Showcasing and Matchmaking Event
Following the first 2 phases, the teams reached the culmination of presenting their work. The nine teams showcased their innovations during the demo day on September 19, 2019, where they pitched in front of an audience of partners, industry players, experts and investors with jury feedback.
The judges were Ramy Boujawdeh - Deputy General Manager at Berytech, Mohab Anis – CEO of Innovety, Elias Bachaalany - Member of the LIRA Program, and Dr. Fadia Homeidan - Director of Technology Transfer Unit and Center of Research and Innovation at AUB.
The event also featured matchmaking meetings between the teams and seasoned investors, industry leaders and experts to explore investment and business opportunities. Two teams were selected to proceed for the incubation phase of the program at Berytech where they will be assisted to develop their business.
Latest Business
Intelligence Report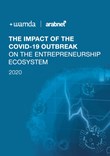 Latest Report
The Impact of the COVID-19 Outbreak On The Entrepreneurship Ecosystem
View Report
;