Womena just concluded the second cycle of its Womentum Accelerator program, with three of the graduating startups earning equity-free cash prizes worth a total of $50,000 - courtesy of a partnership with British multinational banking and financial services company Standard Chartered. The top performing graduates also stand to benefit from $100,000 in direct investment from the founder of womena.
The four-months program concluded on October 10, 2019, and included trips to Berlin and Dubai, before wrapping up with an exclusive Demo Day. In addition to the prizes, the cohort had the chance to pitch to an audience of the region's top investors and ecosystem players.
Who Won?
The first place and $25k prize went to Egyptian startup FreshSource. Founded by siblings Farah and Omar Emara, FreshSource is disrupting the Egyptian horticulture agri-chain by plugging small-time farmers into the modern value chain.
Specifically, the startup is trying to tackle the problem of transparency and inefficiency in the food supply chain in Egypt, where food waste from improper handling and storage goes over 30%, which raises prices for end consumer.
Simply put, FreshSource acts as a B2B platform for farmers, vendors, and urban retailers, matching green grocers, restaurants, hotels, and any business looking to source horticulture produce to local farms. The company also manages the logistics and delivery of the produce and works with farmers to enhance their technical know-how and post-harvest methods. Meanwhile, the company collects data on prices and market demand to be able to use to ameliorate crop production planning.
In second place, and the recipient of $15k, is another Egyptian startup, Pas-sport. Pas-port was founded by Nada Zaher, an Egyptian national who pursued her undergraduate degree at Columbia University as a member its varsity women's tennis team. Having experienced first-hand the hardships of the recruitment process that landed her a sports scholarship, Nada decided to launch a portal that enables young student athletes to access sports scholarships at American universities. She launched the service, which describes as LinkedIn for college athletics, in January of 2019.
Prior to the official launch, Nada was joined by Youssef Hammound, a competitive swimmer who, similar to Nada, endured a protracted process to secure his enrollment at Auburn University. Youssef currently acts as Pas-sport's CTO.
Both Nada and Youssef were later joined by Rami El-Erian, who joined as COO. An Athlete himself, Rami was working in the athletics department of the University of Baltimore prior to moving back to Egypt and joining the team. Rami was an athlete growing up. He initially started as a pentathlon athlete (following in the footsteps of his father who was was an olympic pentathlon athlete) and later played soccer for his university team.
How does it work? Athletes sign up on the portal and submit relevant academic and athletic information. That information is then used to generate a list of suitable universities, which athletes can use to communicate directly with coaches in the hopes of landing a scholarship. Currently, the service has over 400 athletes and 200 US colleges on its platform.
The third and final prize - $10k - was awarded to UAE-based Dimension 14, an Artificial Intelligence solutions provider founded by Melda Akin.
Melda wrote her first line of code when she was eleven years old and had already made up her mind be a computer scientist by the time she was twelve. Right now she heads, Dimension 14, a one-stop shop for advanced planning problems within a single AI-powered application.
Dimension 14 offers solutions including intelligent scheduling, analytics and prediction, optimization, as well as AI strategy consulting. The company creates and implements vertical industry products, namely, scheduling and timetabling software solutions for higher education institutes that leverage AI decision tools to boost student success and retention, as well as clinical decision support health institutions.
What to Expect?
So what can we expect from these startups in the future? Well, according to the Kauffman Foundation, women-led private technology companies achieve 35% higher return on investment that startups run by men, and 12% higher revenue when venture-backed.
And in a study conducted by Mass Challenge and BCG that examined over 350 startups, businesses founded by women delivered more than 2 times as much per dollar invested than those founded by men. This means that, had VCs invested in startups women and men founded startups equally, they would have made an extra $85 million over five years.
We'll leave that answer to you.
Latest Business
Intelligence Report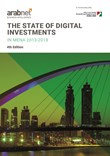 Latest Report
The State of Digital Investments in MENA 2013-2018 Report
View Report
;