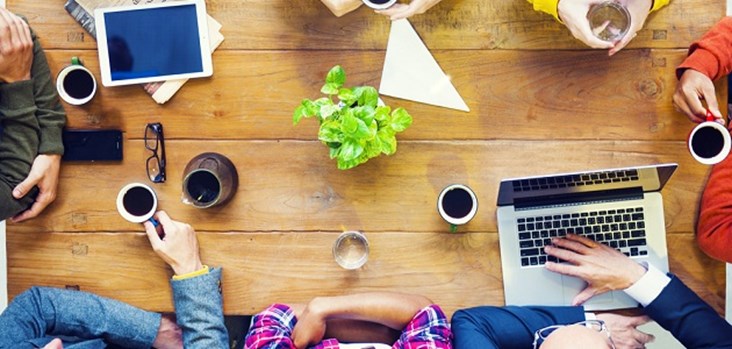 Startup Business Photo from Shutterstock
Here is the NEW list: 10 NEW Middle East Startups that should be on Your Radar
1. Crowd Analyzer
Country of origin: Egyp
Founder(s): Ahmed Saad, Bahaa Galal, Rooda AlNeama, and Mustafa Othman
Sector: Digital media
Launch date: December 2013
Crowd Analyzer is an Arabic social web monitoring tool that helps companies measure people's acceptance towards their brand and product by "listening to what they're talking" on social media. The platform differentiates between different Arabic dialects and conducts sentiment analysis accordingly. The mapper-distinguished tool, which can scan all the tweets and posts happening in a specific location, won the 2nd place in Doha Venture Day, for which around 80 early-stage applicants were selected. The prize of $8,000 was added to $32,000 that the start-up managed to secure from Turn8business accelerator. Crowd Analyzer also won first place at the ArabNet Beirut Startup Demo Competition. "Sentiment analysis technologies are widely available for other languages, but are very underdeveloped when it comes to Arabic, although the Arabic language is the fastest growing language on the web," said Saad. "We tailored the dashboard for different business purposes in the region."
2. Dabadoc
Country of origin: Morocco
Founder(s): Zeineb Yacoubi
Sector: e-health
Launch date: September 2013
DabaDoc helps patients in Morocco find the right doctor and book an appointment online. Clients can look up doctors based on their specialization, location, and years of experience. So far, DabadDoc has more than 500 physicians listed on its platform, each hand-validated by Yacoubi. Almost 15 appointments are booked daily. One of DabaDoc's approaches to becoming profitable is to establish partnerships with international pharmaceutical companies. DabaDoc's competitor in Morroco, rdv-medecin.ma, has been down for several months, helping DabaDoc build further momentum. "We are primarily focused on the users who have access to the internet, but in the long term, we would also want to attract people who are not accustomed to go on the web to search for a doctor", explains Zeineb.
3. Glanse
Country of origin: Jordan
Founder(s): Evelyn Zoubi
Sector: Fashion
Launch date: April, 2014
Glanse is an app that fuses fashion and digital technology to alert users of the latest items on sale. The app is an interactive, user-friendly service that allows the user to create a wishlist and follow other users' choices, as well as give and receive advice on fashion choices. Launched under the mentorship of Silicon Valley's Plug and Play in the US, the online fashion platform has garnered more than 8000 users, becoming one of the premium fashion apps of the region. The startup has incorporated more than 500 brands in its service, and aims to triple the number to 1500 brands. "It made me think further on how I shopped," says Zoubi. Usually I love checking out items on sale at my favorite brands. I check them one by one, put aside the ones that I don't like, and take the ones I like to the fitting room. So, a feed of items on sale was the direction that we have decided on taking."
4. Growl Media
Country of origin: UAE
Founder(s): Dinesh Lalvani
Sector: Education
Launch date: January 2013
When Dinesh Lalvani, previous owner of Flip Media company, was trying to teach his son Hindi, he couldn't find any convenient app to facilitate the process. This got him thinking of creating his own app. Growl Media, the parent company of Appy kids, was founded eight months ago and has now 5 edutainment apps in its portfolio targeting children aged 1 to 6. The apps introduce a non-western cultural concept through entertaining jungle adventures and animal interaction. The educational content company managed to raise $500,000 in seed funding to launch its first app, Appy Animals. "We realised there's very little in the market that can really entertain kids and speak to their culture, and this is a frustration shared by parents from all backgrounds," says Lalyani. " I felt that there was a need for stories that had more cultural markers in them and the characters of Alfie and Haathi were born out of that."
5. Kablaow
Country of origin: Egypt
Founder(s): Basil Fateen
Sector: Mobile app
Launch date: March, 2014
Kablow is a "people"app with a mission to make contact exchanging and organization as easy as a business card-swap, only with a phone in your hand. The program sorts every new contact added to the user's list according to the time and place of meeting them (through an integrated GPS system and time caliber). "We're always meeting new people in our social and professional life," said Basel Fateen, "and each person has so many addresses to begin with: phone, sms, email, fb, twitter linkedin… they cause so many headaches that we tried to find a solution to include all these things." The startup was self-funded with a capital of $80,000 and made it to the runner-up list at Arabnet Beirut's Startup Demo competition. They have currently received an undisclosed seed round, and they plan on launching an iOS version.
6. Karaz
Country of origin: UAE
Founder(s): Ashraf Alkiswani
Sector: Ecommerce
Launch date: July 2013
Karaz is an online educational and e-commerce platform that aims to build bridges across gaps that separate a married couple by improving their intimate life, which will lead to happier marriages and less infidelity. Launched with $110,000 of funding, Karaz.me allows only married adults to access the website. The platform gained popularity for its careful tackling of a sensitive issue in the Middle East where it only addresses Halal relationships. The website also publishes the latest studies about sexual relationships and provides direct sexual consultations with specialists, all in the strictest confidence. "The amount of information about the intimate life of couples in the Middle East is very limited due to the fact that it is misconstrued as taboo," says Alkiswani. "We here aim to reduce domestic violence, infidelity, divorce, and suppressed emotions in the region."
7. Typestage
Country of origin: KSA
Founder(s): Otba Mushaweh
Sector: Web services
Launch date: December, 2013
TypeStage is a platform dedicated to providing high quality Arabic web fonts at a time when the Arabic web service is the fastest growing in the region. It won 3rd place at Arabnet Riyadh Ideathon 2012 with its mission to overhaul Arabic content on the web. "There are nearly 500 Arabic fonts around, and more than 90% of the fonts are unsuitable for use on the web, either for aesthetic or for technical reasons," said Mushaweh, an experienced graphic designer and also the owner of Logos Guide, a private creative studio founded in 2006. "Arabic content is still just 3% of internet content. The Arabic users are obliged to read all of their content in one default font," continues Mushaweh. Typestage is currently negotiating with investors to address the highlighted issues and expand its userbase.
8. Shekra
Country of origin: Egypt
Founder(s): Adel Boseli, Carmen El-Saadi, Shehab Marzban
Sector: Business and Investment
Launch date: November 2013
Shekra is a specialized crowd funding platform in Egypt dedicated to connecting entrepreneurs and investors; hence the fusion of two Arabic terms, "sharek" and "fekra". It differentiates itself from other crowd funding and crowd equity platforms in the region, such as Yomken, Zoomal, and Eureeca, by only allowing a closed network of investors to fund projects. Since launch, it has successfully funded three projects. "15% of Arab youth have a strong desire to start their own projects, as compared to 4% in the West," the cofounders stated at the Global Islamic Economy Summit in Dubai, where they received the Islamic Economy Award as best SME Development provider."There's also a significant percentage of wealthy Arabs, both in the region and the diaspora, who want to invest in startups for a variety of reasons ranging from helping to creating success stories to assuming social responsibility towards their societies." The recent startup also received the Ethical Finance Initiative Award 2013 which offered $50,000 for the founders.
9. Shakkel
Country of origin: Lebanon
Founders: Amer Homaissi, Mowaffak Allaham, and Salim Mougharbel
Sector: Language services
Launch date: November 22, 2013
Shakkel is an Arabic Diacritization Software that takes an undiacritized Arabic text, and returns it diacritized, ("mshakkal"(مشكل ) or "m7arrak"(محرك )), facilitating the learning of Arabic language. Following the new wave of Arabic font and language enhancement on the web, the startup pitched its idea last November at Startup Weekend 2013 and snagged the first prize of $4,000. The project was created by the three techies from the Lebanese American University who observed what made the Arabic language on the web difficult to read and learn and tried to solve the issue. Shakkel is intended to help people better learn the Arabic language using computers. It also targets news agencies to help make their news more readable and understandable.
10. Telr
Country of origin: Lebanon
Founders: Elias Ghanem
Sector: Online payment
Launch date: March 2014
Telr is a multicurrency and multilingual payment gateway for small and medium enterprises (SMEs) in emerging markets launched in Arabnet Beirut 2014 by former managing director of PayPal MENA Elias Ghanem. The service intends to revolutionize the dominant COD (cash-on-delivery) method in MENA, used in over 80% of transactions in the Middle East, by instantly enabling businesses to accept and manage online payments via web and mobile. With its logistics solutions, as well as loans to merchants that meet certain criteria for sales volume, Telr aims to build a platform that makes it easy to transact in local currencies. "We want to put together the right APIs so that companies have easy integration," Ghanem said on a panel on payments at Arabnet Beirut 2014, stressing that quick setup time will set Telr apart from regional competitors. Telr is accepting 130 different currencies worldwide.

Related Articles:
10 Great Apps to Come Out of the Middle East
Latest Business
Intelligence Report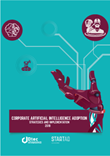 Latest Report
Corporate Artificial Intelligence Adoption Strategies and Implementation 2018
View Report
;