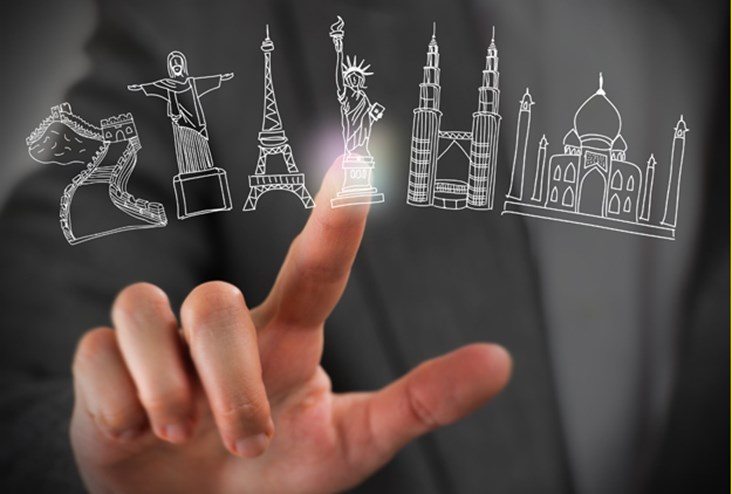 Online Travel image via Shutterstock
----
The travel sector was among the first to be massively disrupted by digital. Travelers today have gone from being at the end of the value chain to finding themselves smack in the middle of it, which questions the role of travel agencies. Instead of settling for ready-made solutions, consumers now enjoy access to more options and control over their trips and accommodation thanks to a host of online travel agencies (OTAs) and aggregators (flight and price comparison sites), not to mention online and mobile booking sites of airlines, hotels, resorts, car rental agencies, etc.
As Lebanon's leading travel agency, with over 60 years under its belt, Kurban Group has witnessed the evolution of the industry from the beginning of mass commercial air travel to the current digital transformation. At the recent ArabNet Beirut 2016, Selim Boutros, Director of Kurban Group and Kurban Travel, and Raja Kurban, Managing Director of the Avis Budget Group at Kurban Travel, discussed this evolution and the necessary strategies for traditional agencies to survive.
A growing number of players are crowding each other, and already a few global players like Expedia and Bookings.com dominating this space. But the market is not immune to disruption yet. The watchwords for both traditional travel agencies and emerging OTAs are now "adaptation and differentiation." Any agency that still operates only as a booker runs the risk of becoming obsolete, said Kurban.
Navigating in an Increasingly Crowded Air Space
It goes without saying that traditional brick and mortar agencies cannot survive without an online presence. To start with, the numbers aren't in their favor. According to a 2014 study by Google, "The 2014 Traveler's Road to Decision," one third of leisure travelers and half of business travelers select an OTA based on its site tools and options, mainly quick and accurate flight and fare comparisons. In fact, the study found that over 75% of surveyed leisure travelers selected an OTA because they found it offered the best deals. By comparison, only 9% put loyalty rewards as the main reason behind their choice (traditional agencies' customary incentive scheme). In 2015 total ticket sales through offline travel agencies in Lebanon reached $560 million. Of that total, online ticket sales were estimated at around $80 million to $100 million, according to Kurban Travel. This figure is more significant if one considers that GoKurban is the only full-fledged OTA in the local market, and it was only launched in mid-2015. According to Boutros, the online service has been witnessing double digit growth month-on-month since its inception. This shows great potential for online travel booking in the country.
But an online presence isn't a guarantee of success. Looking at the new travel market, customer expectations have increased dramatically when it comes to service efficiency and cost. On the other hand, competition in this sector is [U1] really tough. "The new breed of OTAs can go live and online in only a fortnight," said Kurban. These agencies began by mushrooming across the world and growing organically, before they launched on a series of aggressive acquisitions for market dominance. Today, venturing in e-travel would mean going up against titans like Expedia, Priceline, Hotels.com, Uber, etc. – not to mention airlines' own booking websites that attract customers with additional reduced costs and extra incentives. "Leisure e-traveling is not a complicated process; you browse, you compare, and you book. This is why sites like Expedia and Bookings.com can accommodate large numbers of customers," said Boutros.
Travel Agencies Need to Become Indispensable Again
With a relatively small number of players dominating the mass market, OTAs need to introduce added value to their offering in order to survive and prosper. On the other hand, opportunity in the sector has shifted to localization and specialization. It's time to capitalize on years of offline experience to deliver differentiated services both online and offline. "It's all about specialization," said Boutros, as opposed to adopting a booking-only or a one-size-fits-all approach. Here is an overview of the strategies being adopted:
1. Becoming a one-stop-shop:
On the home front, Kurban Travel has worked on developing specialized teams in different verticals to establish itself as a travel consultancy. GoKurban proposes special holiday and seasonal packages, in addition to cruises, honeymoon trips, etc. carefully chosen by these teams. Travelers can also book their hotel accommodation, rent a car, and search for events and attractions at their selected destination. A live chat box is also available on the site to provide assistance to users.
2. Catering to niche markets:
Some agencies propose only niche services catering to specific lifestyles. Corporate travel, for example, is a largely untapped market in Lebanon. The process is still very much an offline affair because it involves different parties and decision makers. An online tool like Kurban Corporate is still a novelty in the local market, even though this automates invoicing and payments, and facilitates approvals by phone or email to streamline the process and provide live reporting. Kurban Corporate also offers visa services, events and meeting management, VIP solutions, and more. Boutros said they have already secured 5 major clients, and Lebanon is sure to follow the regional trend of shifting towards online corporate travel booking models. According to him, corporate clients have been able to save up to 20% on their travel budget through the new online tool.
International examples include: WhereFor, a site that allows travelers to search for destinations based on their total flight and hotel budgets; and Rove, a travel advisor for the best destinations based on seasonal events. Globus or HalalBooking.com propose religious destinations or pilgrimage packages. However, Kurban pointed out that catering exclusively to a niche customer base is risky: "If a niche is too small, a new company cannot generate enough traction. If the niche is too big and is exploited successfully, it will attract competition by larger players who have better access to resources and capital." The OTA then risks being acquired or losing ground to those heavyweights. Halal travel, for instance, has seen a profusion of sites vying for a place in the sun (HalalTrip, LuxuryHalalTravel, MuslimBreak, MuslimTravelGirl, etc.) so that opportunities in this sector have fallen to "moderate" according to Thomson Reuters' Digital Islamic Economy report.
To Uberize or Not to Uberize?
Car rentals and chauffeur services are an integral part of travel services, and constitute an important differentiation factor – something Kurban Group understood a while back when it launched Allo Taxi in 1999. Technology, specifically smartphones, has disrupted this sector too. In 2014, the company's call center accounted for 80% of all taxi bookings, compared to the app (15%), but in 2015, the call center's share fell to 50%, while app bookings rose to 40%. In this sector too, competition is fierce: on one hand, existing online car rental services like Avis or Hertz capitalize on their strong brand reputation, on the other hand, airlines, hotel booking sites, and other players in the travel industry also have partnerships with car rental companies or propose their own services. Most dramatically perhaps, for a while the speculation was around how the rise of apps like Uber and Careem would flood out "non-millennial" competitors.
Then the Uberization hype quietly began fading. Kurban explained that Allo Taxi does not see Uber and Careem as competitors. Like many taxi agencies in Lebanon, Uber does not operate its own fleet of cars or exercise control over its drivers who work on a commission basis. "They are brokers, and they depend on a product, and today, there aren't many quality taxi services in Lebanon," he said. With their own fleet, drivers, advanced software, and wide range of booking options (including advance bookings and call center support), Kurban said they have more control over their service, which translates into better quality. He added that as the owners of their product, they could eventually consider using a broker like Uber as a sales channel – provided it is successful in the local market. According to him, the success of Uber in Europe has not been replicated in Lebanon yet, since the quality of local taxi companies doesn't yet compare to that of their European counterparts.
As if to illustrate this synergy, less than 3 weeks after ArabNet Beirut 2016, Allo Taxi announced it was partnering with an international car-sharing app, eCab (based in France): it will continue to operate its own brand, while introducing eCab in Lebanon (similar to the Middle East Airlines and Air France partnership). "For customers, eCab is a single international app, providing access to the best taxi and limo operators in the world; In Lebanon, they will get access to three service levels, ranging from the most affordable rides in town to the largest taxi fleet and an exclusive VIP service with chauffeurs," explained Ghinwa Dandache, Marketing Supervisor at Allo Taxi. Additionally, eCab accepts payments either via its app, or in cash to the driver, something Uber doesn't offer yet in the local market.
Digital Is Your Ally, Not Your Competitor
Online agencies enjoyed a strong early start in attracting millennial users and setting new expectations when it comes to the ease and rapidity of booking flights, cars, or hotels. But they can also be limited by their online-only presence in terms of customer service. While it is safe to say that brick-and-mortar agencies will never survive without digitization – much less take the upper hand again – they are still in the game. The travel industry has so many parameters that joining forces is necessary. In the case of Allo Taxi and eCab, for example, the local taxi rental company brought to the table a quality product, whereas the app service brought its digital channel, knowhow, and millennial fan base.
At the end of the day, travel has always been about an experience, not just a cost or a vehicle, and the focus on delivering the best quality to users will continue both online and offline.
See Related Articles:
Latest Business
Intelligence Report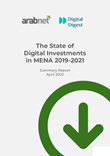 Latest Report
The State of Digital Investments in MENA 2019-2021
View Report
;