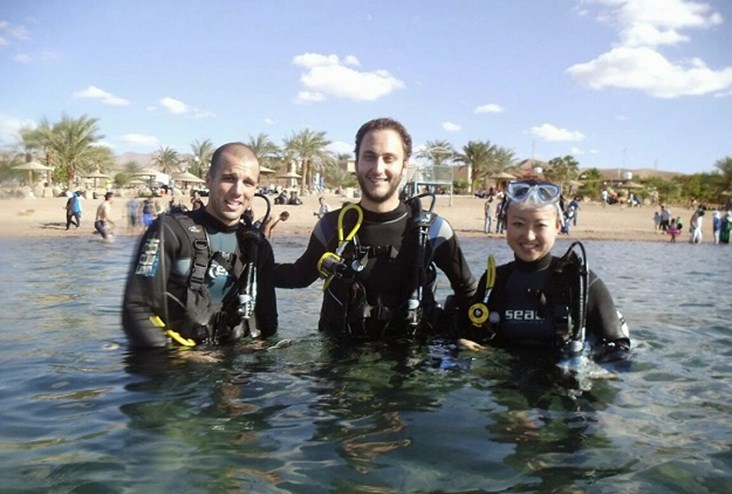 Photo of the three founders in a retreat
Securing second place in the Arabnet startup demo competition was the 3-D mobile measurement technology company, Project io. The startup presented their latest "foot" fitting technology, Zori, that allows consumers to scan their feet size with an accuracy of 1mm, and be able to choose shoes that are sure to fit while shopping online. The scanning process is simple: the consumer places a standard-sized card (such as an ATM card or a driver's license) next to his foot, and then takes a picture with the phone cam.
"[We] came up with the idea of doing sizing and fitting for clothing and apparel [in general]," explained CTO Ahmad Sadeddin. "The problem with doing sizing for clothing like T-shirts and pants is that you can't "scan" your own size. You need a friend or a family member. It's easier to start with shoes." With most of the global apparel bought offline, there have been several ongoing attempts to facilitate the online shopping experience. Zori is one of them. "We are in a place right now where e-retailers need to move consumers from offline to online purchasing," says Sadeddin. "Zori is a solution to that. We want to pave the way for wider market acceptance of online size-scanning and fitting." "Zori" is the Japanese word for sandals.
A more humane side to this project is that it can be used for prosthetic sizing of amputees, where the residual leg of the patient could be scanned and sized, saving the trouble of traditional manual fitting. "This is not a solution that's only for profit; it's also for the common good of everyone."
Launched officially in November 2014, project Zori went through an angel round with accelerator Oasis500, garnering a 6-digit investment from 5 different investors across three countries: Jordan, KSA and the US. The funds were essential in developing the complex solution and algorithms of Zori.
Project io is currently seeking to partner with local and regional e-commerce platforms, such as Souq.com, so that Zori can be integrated in the app version of these e-commerce platforms. "These partnerships will help users in adopting our technology as part of the online shopping process." While Project io have their eyes set on MENA, there's one tiny problem: most regional e-commerce platforms, with the exception of Souq.com, have not yet developed an API program to be able to offer or resell Zori through their app. "The MENA market has just started to move towards that. This is an option that wasn't existent before, but has recently become available. This is why the US market is the present for us, since it's easier to integrate into, while MENA, being the fastest growing region in e-commerce, is the future."
Zori technology might have a few competitors abroad, such as shoesize.me, a solution that generates the optimum shoe size recommendation by having users compare an item they want to buy to one of their own. Consumers enter the size, model and brand of their favorite shoes, and receive a list of recommendation.
"We have competitors for sure; everybody is trying to solve this problem. A lot of competitors have failed at that because they didn't have the right business model or the right technology. We're not the first to try to do but hopefully we will be the first to solve it correctly."
The Project.io team is a semifinalist in the 8th MIT Enterprise Forum Arab Startup Competition (Startups Track) where they will be attending a training in Kuwait on April 16-19th. Winners will be announced during a conference organized by the MIT Enterprise Pan Arab and the MIT Arab Alumni Association on April 20-21.
Latest Business
Intelligence Report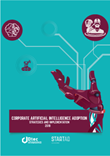 Latest Report
Corporate Artificial Intelligence Adoption Strategies and Implementation 2018
View Report
;