The Many Shades of Food Tech: Chef/Catering Services and Food Subscription
Back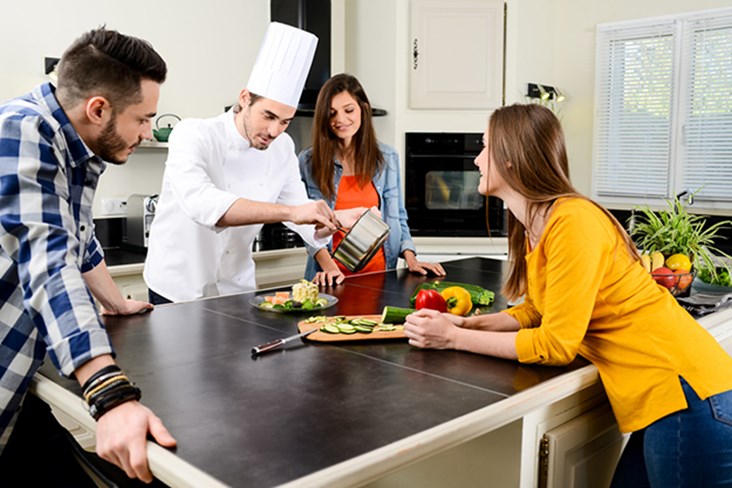 Startups in MENA are tackling food tech categories such as food delivery, restaurant tech, online chef/caterer hire, and food subscription. The following section on chef/caterer hire and food subscription illustrates the diversity of the food tech categories and business models found within MENA and calls attention to some of the most prominent players, key investments, and active markets. The 10 markets that have been included and analyzed are Lebanon, UAE, Saudi Arabia, Bahrain, Jordan, Qatar, Kuwait, Egypt, Morocco, and Oman.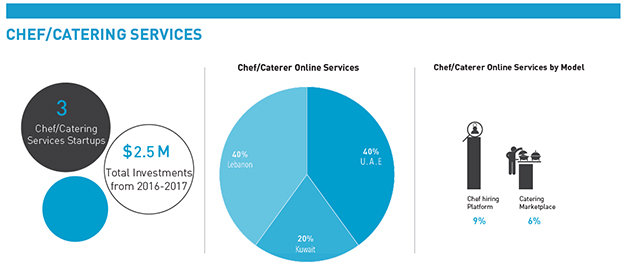 On-Demand Chef Hire
On-Demand Chef Hire startups, also known as the 'Uber or AirBnB for Chefs' are revolutionizing the act of dining out by providing consumers with a new option - bringing the restaurant to their home through the hire of private chefs. By connecting chefs with food lovers online, these startups aim to make fine dining more accessible for the masses.
Although still a relatively new sector, the region is already home to two on-demand chef hire startups ChefXChange and BiBayti. While both startups allow consumers to search for, discover, and book private chefs to cook at their homes, ChefXChange's services also include private cooking classes and catering. In additon, ChefXChange currently covers 5 MENA markets, with Dubai being the largest, and has raised $2.5M in funding to date.
Online Catering
While still a relatively new model to the food tech space, both worldwide and regionally, online catering startups, which allow users to discover and book catering online, are growing in number and popularity. Similar to on-demand chef startups, online catering startups also aim to 'bring the restaurant to the home' yet at a larger scale.
Kuwait-based online catering startup BilBayt is currently the first and only startup of its kind in the region. Launched in 2015, BilBayt allows users to order catering from the caterer or restaurant of their choice, based on when and where they want their food delivered. Since launching, the startup has expanded to the UAE, and currently has over 10,000 monthly users and more than 100 restaurants and caterers on board.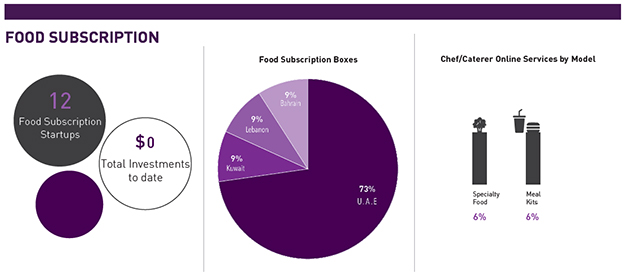 Meal Kits
Meal Kits, another relatively recent food tech model, capitalize on consumers' demands for fast and easy meals by sending them recipes and pre-packaged, pre-measured fresh ingredients for meals they can cook at home. Advertised as a healthy and economical alternative to pre-prepared food and restaurant takeout, meal kit startups operate somewhere between a restaurant, grocery store, and delivery service, with most being subscription-based.
With meal kit startups garnering attention from both consumers and investors worldwide, it comes as no surprise that the MENA region is already home to six meal kit startups, four of which are based in the UAE, and two of which are based in Egypt and Kuwait. Nearly identical in service, the startups differ only in pricing and meal plan offerings, and mainly target health-conscious millennials and young couples/families.
Food Subscription Boxes
Subscription boxes are nothing new to the startup world. In the past few years, subscription boxes have been one of the fastest growing trends in the startup world, and are still gaining in popularity. One of the most popular categories is food boxes, which unlike meal kits, tend to contain curated themed items hand-picked by the vendor.
With healthier niche foods taking off in recent years, tailored food subscription boxes in MENA mainly cater to the region's health-conscious residents and foodies, delivering everything from organic, ready-to-eat fruits and quality meats to healthy snacks and fitness supplements. Out of the 6 food subscription startups located in MENA, 5 are based in the UAE, and the region will most likely see more popping up in the near future.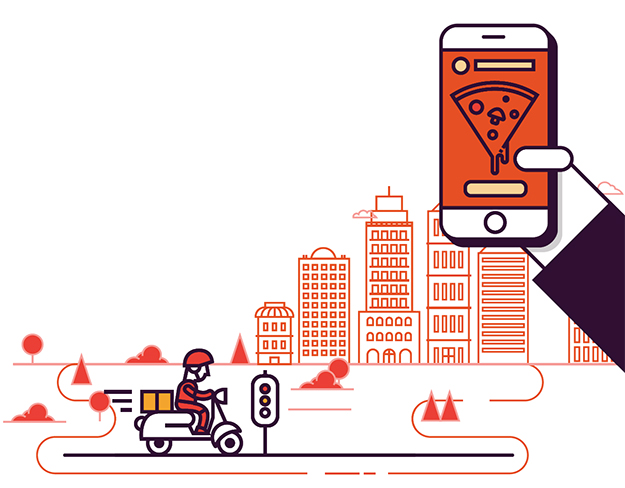 The Future of Food Tech Startups
Over the past few years, we have seen a greater integration of technology into the food experience –from food delivery in all its forms and cloud-based platforms connecting farmers with end consumers to online chef hire and 3D food printing. However, the food industry is not only being transformed by entrepreneurs using food technology in innovative ways, but also by consumers, especially millennials, whose tastes and demand for technology are driving the food-startup scene.
According to Goldman analysts, millennials, who care more for healthfulness, convenience and transparency than price, are expected to account for more than 75% of growth within the food vertical over the next decade. Moreover, millennials are spending more on food outside the home than any other generation, averaging $50.75 per week. Therefore, startups entering the food tech space should not only aim to compete with already established models, but rather focus on developing products and solutions that cater to consumers' ever-changing appetites, health needs and lifestyle demands.
You can find all previous installments of The Digital Transformation of the Food Industry in MENA here:
The Digital Transformation of the Food Industry in MENA
The Many Shades of Food Tech: Food Delivery
The Many Shades of Food Tech: Restaurant Tech

Latest Business
Intelligence Report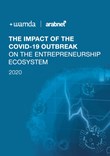 Latest Report
The Impact of the COVID-19 Outbreak On The Entrepreneurship Ecosystem
View Report
;