Dubai Transportation: Progress Report
Back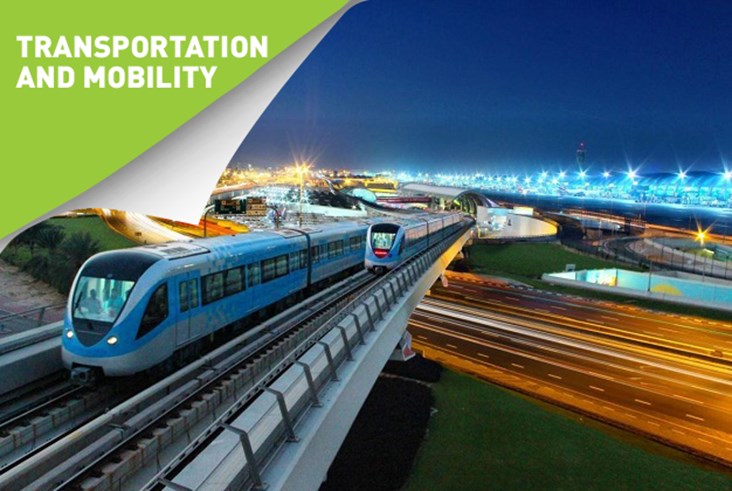 In a few years, traveling from point A to B will be dramatically diverse. With countries gearing towards smart technology, automated transport, and sustainable energy, transportation and mobility are due to experience significant change.
In the development of 'smart cities', such transportation technology is a priority. Numerous countries have already started their own initiatives in adopting such technologies with the Gulf in particular showing significant progress as it speeds along in the sector.
Most GCC countries are making significant progress in some shape or form. Cities such as Dubai, Abu Dhabi, Doha and Riyadh have all put smart city plans in place to create a sustainable future.
Dubai, so far, has been leading the way when it comes to smart city infrastructure. Compared to their GCC neighbors, they are much further down the road in terms of automated and sustainable public transportation.
Modes of Public Transportation
Dubai has multiple strategies set in place aimed at improving their public transportation. These initiatives have required large amounts of investment but have made Dubai's Road and Transport Authority (RTA) the leader in transport sector technologies.
Dubai has introduced and improved numerous modes of public transportation that successfully showcase smart technology, sustainability, and automation.
Dubai Metro
The Dubai Metro was the first ever urban train network in the Arabian Peninsula, with its first Red Line opening to the public on September 10, 2009.
It is the world's longest driverless metro network with a route length of 75 kilometers and fully automated metro trains. As of December 2016, however, Vancouver dethroned Dubai with its fully automated SkyTrain, surpassing Dubai's total route length. Nevertheless, the Dubai Red Line, at 52.1 kilometers, remains the world's longest driverless single metro line.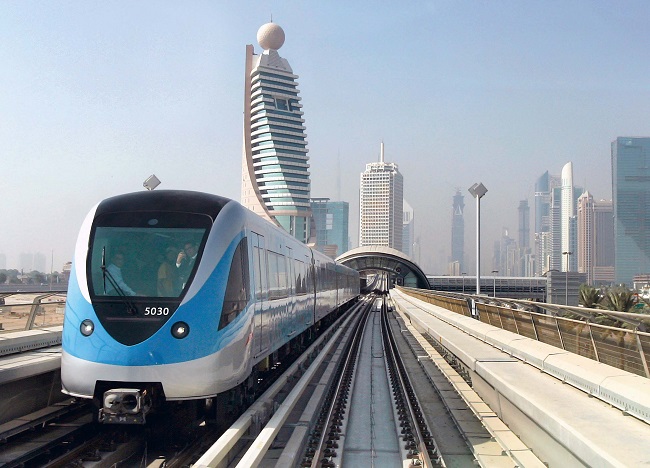 The Dubai Metro provides a vast number of features and services for the convenience of users. Highlights of the Dubai Metro service include:
Connectivity
Continuous Wi-Fi access throughout the Metro network with complete mobile phone coverage across the entire network
Integrated radio system between the Metro and emergency services available on trains and at stations
Security
Over 3000 CCTVs installed in trains and stations to monitor any security infringements on the trains
Dedicated Metro Police force available at all times to enforce Metro rules
Dubai Tram
The Dubai Tram is a modern and fully automated rail system, which opened for public service on November 12, 2014. It is located in Al Sufouh, Dubai and runs for about 15 kilometers from Dubai Marina to the Palm Jumeirah and Al Sufouh.
The tram interchanges with Jumeirah Lakes Towers Station and Dubai Marina Station of the Dubai Metro's Red Line with two more metro stations expected to connect with the tram in the future.

The Dubai Tram is considered the first tramway project outside Europe to be fully sustainable, powered by a ground-based electric supply system extending along the track. This improves efficiency while eliminating the need for catenary cables overhead.
It is also the world's first tramway to make use of "Platform Screen Doors" at passenger stations. Station doorways are fully aligned with the tram's doors while opening and closing.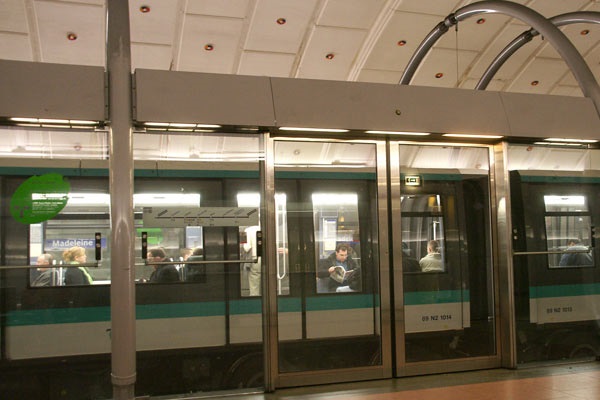 This provides maximum convenience, safety and security for passengers while also protecting the quality of the air-conditioning in the interior of both stations and carriages from Dubai's varying climatic conditions.
The tram system, similar to the Dubai Metro, provides similar features and services such as Wi-Fi, mobile coverage, police security and emergency call boxes
Smart Buses
The Dubai Taxi Corporation (DTC) has built a vast bus network over the years which include double-deckers and articulated buses. They also continuously introduce smart buses equipped with state-of-the-art technologies, including surveillance cameras and a GPS satellite tracking system.
Dubai's public buses have transported almost one million more riders in the first quarter of this year, up 2.5 per cent over the year before. The RTA believes this to be attributable to the numerous facilities provided and the new 100 smart air-conditioned bus shelters across Dubai.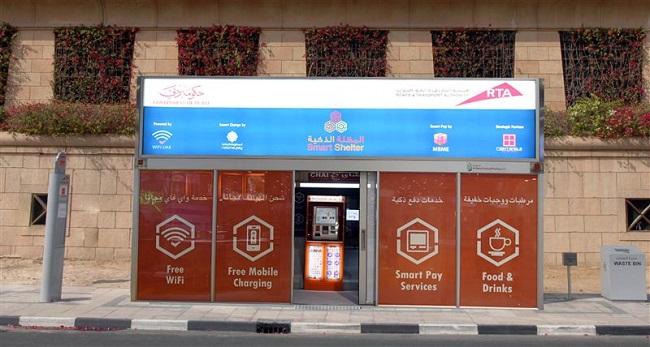 In addition to being air-conditioned, these smart shelters provide a range of services for public bus riders such as free Wi-Fi, NOL card sale and recharge, mobile phone top-ups, government bill payment, mobile phone chargers, information services, self-service kiosks and availability of refreshments and snacks.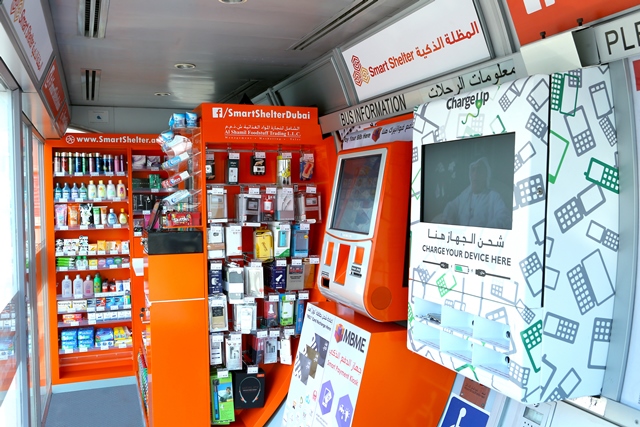 Dubai's next step for smart buses is to install their GPS tracking system in all Dubai school buses. The Ministry of Education and Emirates Transport has publicly announced the adoption of these smart systems for student safety and parent notification. The service will inform parents of bus times and delays to and from schools or homes via text message.
The first phase includes installing the devices in 2,345 school buses between August and October, with implementation starting this November. The system will cover all school buses that service the 100,000 students enrolled in 383 government schools in Dubai and the northern areas.
Taxi Fleet
As part of the Dubai Smart Autonomous Mobility Strategy aimed at transforming 25 per cent of total journeys in Dubai into autonomous journeys by 2030, Dubai plans to have 200 self-driving Tesla taxi vehicles on its roads by 2020.
The cars will initially undergo testing and will then be used on 'autopilot', where a human driver will still be needed behind the wheel, but will come with the hardware needed for full self-driving capability. You can read more about Tesla's automated vehicles and technology here.
In addition to road taxis, Dubai has an optimistic plan to provide fully autonomous drones that will transport passengers one by one through the sky. They've partnered with a Chinese company, which manufacturers the eHang 184 drone – it is fully electric and has a maximum cruise speed of 100 km/h.
While airborne, ground control centers program routes and monitors the entire flight through an encrypted 4G network. Dubai had initially planned to make this service available last month but has inevitably experienced some setbacks with such a complex transportation service.
We've actually covered this topic in detail last month - read more about the technology involved here.
Hybrid Taxis
Another one of RTA's initiatives is the Environmental Safety and Sustainability strategy which entails the conversion of 50 per cent of its taxi fleet into environment-friendly hybrid vehicles by 2021. The RTA has green-lighted a deal to purchase 550 hybrid taxis which make up about 11 per cent of the Dubai Taxi Corporation fleet - but DTC aims to increase that proportion to 17 per cent.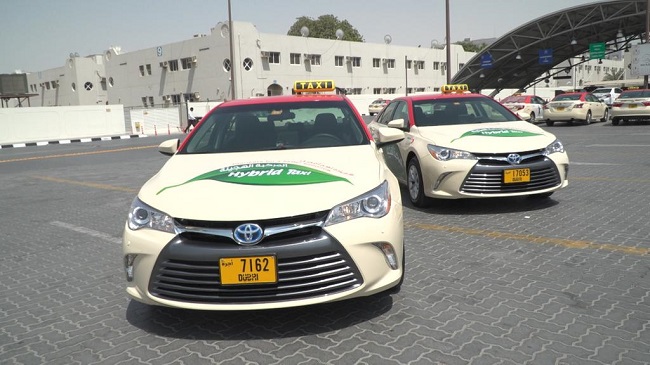 The plan anticipated a rise in the number of hybrid vehicles in Dubai from 147 in 2015 to 791 in 2016, and a further jump to 1,582 vehicles by 2017.
It now forecasts an increase in the number of hybrid taxis to 2,375 vehicles by 2018, then to 3,167 vehicles by 2019, and continued growth to reach 3,959 vehicles by 2020, and rise to as much as 4,750 vehicles by 2021.

Driverless Pods
One of Dubai's more futuristic endeavors is the purchase of autonomous pods. The transport system will provide driverless pods connecting Bluewaters Island (currently under construction) with the city's network of metro stations.
The network is due to become operational in late 2018 or early 2019. It is also part of Dubai's Smart Autonomous Mobility Strategy.
The automated transport system will feature 25 driverless GRT vehicles capable of carrying 24 passengers each. They will operate on special 'tracks', although the manufacturer hopes for them to operate amongst other traffic someday.
A regular trip time is said to be less than five minutes with an initial passenger payload of 3,750 people in each direction per hour. The goal is to one day transport up to 10,000 people back and forth every hour.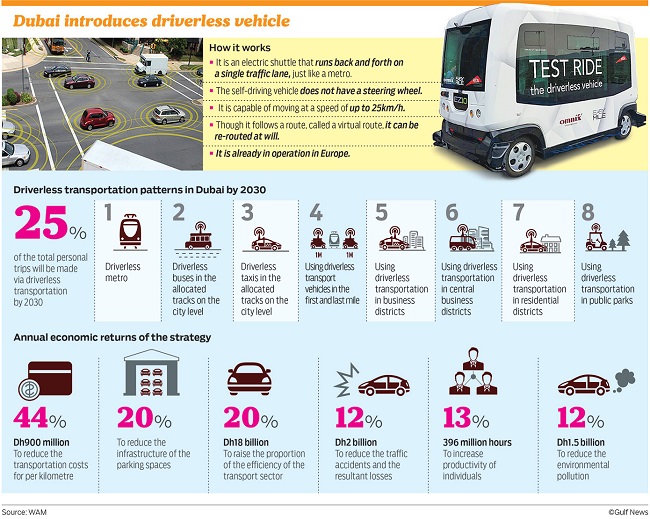 Hyperloop
Dubai hopes to take their rail transit a step further by developing establishing a partnership with Hyperloop One. This would provide a connection between Abu Dhabi and Dubai (150km apart) with a travel time of approximately 12 minutes - compared to a 2-hour drive - at approximately 1,000 km/h.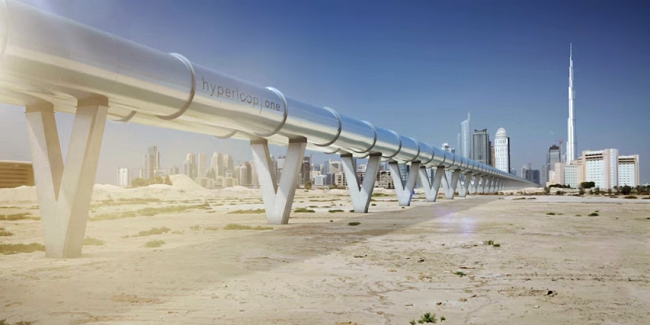 Hyperloop One is one of the leading companies working on Hyperloop technology. Their partnership with RTA will help Dubai develop a Hyperloop network sooner rather than later. You can read more about the Hyperloop transit system and its technology here.
Latest Business
Intelligence Report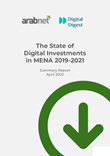 Latest Report
The State of Digital Investments in MENA 2019-2021
View Report
;