Big Opportunities for Automotive Big Data
Back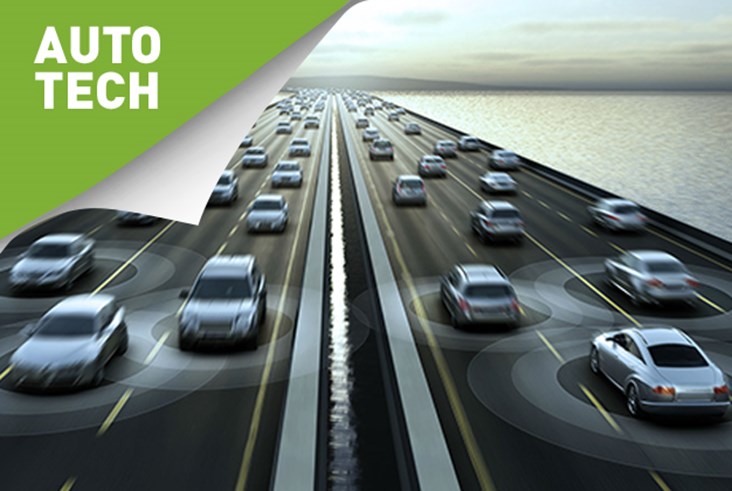 Due to the substantial growth of smart devices, the Internet of Things (IoT) has become a crucial component in the digital industry - providing extended services to both consumers and manufacturers.
Almost all devices will be connected to the Internet at some point in time. The most common devices people think of are smart watches, phones and TVs. As of today, we've now got smart fridges, A/C units and automobiles joining in. Automotive manufacturers are keen on joining the connected car space in order to provide services such as over the air (OTA) web sync and updates.
By embedding Wi-Fi into their vehicles, automakers now offer services such as Apple CarPlay and Android Auto integration, up-to-date GPS mapping, email and text messaging and much more. What they are really after, however, is the dense amount of data these connected cars can generate.
Connected Car Technology
With the progression of automation and connected car technology, cars now contain a ton of advanced technology such as sensors, onboard computers and processors. Unlike with non-connected cars, OTA content becomes readily available, keeping your vehicle up to date and connected at all times.
Thanks to such technology, drivers get access to on-demand entertainment and vehicle communication, while manufacturers meanwhile are given the ability to remotely update vehicle software systems, monitor engine and powertrain performance and gain crucial insight. You can read about connected car features and technology in-depth in our previous connected car article.
The focus of this article will be on the backend advantages of connected car technology, specifically big data.
Big Data Use
Internet-enabled vehicles give drivers a superior driving experience but also provide incredibly insightful information. As data is gathered, companies will get to discover even more about consumer behavior.
This information can answer some difficult questions like: Is there a link between music genre and the restaurants, gas stations or other places drivers prefer to visit? Or how much time do drivers spend on their way to and from work and which routes do they take? By gathering big data through connected cars, a wide range of correlations could be uncovered.
Data Collection Techniques
The data collected from automobiles can be simple sensor based techniques to record and monitor performance, maintenance and behavior of critical automobile systems, or more sophisticated GPS and satellite based techniques such as tracking vehicle position and recording external conditions.
Data collection techniques for automobiles gained maturity over the years by using current technology offerings like mobile devices, wearables, big data, business intelligence, cloud and social media. The major focus of these collection techniques was to improve customer experience and achieve better vehicle health.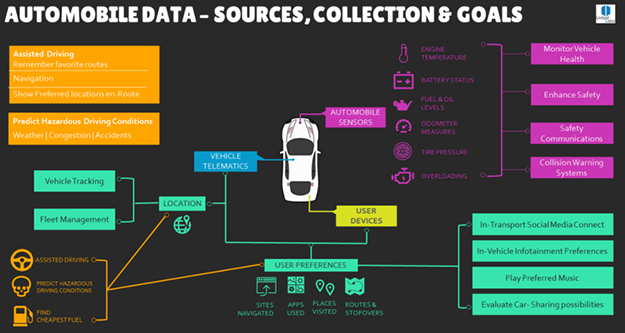 Connected cars provide information that may be of use to a diverse number of sectors; below are the main four that will benefit the most.
1. The Connected Car Fleet
For businesses, one of the biggest benefits of connected cars will be fleet management. Currently, many companies have to manage hundreds or even thousands of company vehicles.By utilizing connected cars and big data, companies will be able to maintain better control and oversight of their fleet of vehicles. The array of sensors in connected cars will allow these companies to analyze aggregated data and answer questions such as:
Are drivers abiding by speed limits braking techniques? Are drivers taking their assigned routes? Can drivers make use of faster routes that are not under construction or choked with traffic? By monitoring sensors and analyzing big data, companies will have access to information to make insightful decisions and manage their drivers and business more effectively and efficiently.
Access to big data will empower companies to easily monitor vehicles across systems to maintain them at peak performance. Companies will also be able to ensure their cars are not being misused or abused by drivers, which will lower upkeep costs over time. With the carsharing industry gaining popularity, such technology would be of great use. Companies like Car2Go and Zipcar employ thousands of vehicles worldwide making performance, uptime and maintenance critical to their success.
2. Roads and Infrastructure
With V2X communication possible through connected car technology, interconnected roadways around the world will provide vast amounts of data. Whether based on roadwork, accidents, or stoplights — the amount of data from roadways is immense. As more cars get connected, the amount of gathered data will dramatically increase.
By using this vast amount of data, city planners and engineers can better plan out roadways and traffic flows. Vehicle navigation systems will also become much more accurate in uncovering the fastest routes for drivers. More importantly, early warning systems can warn people of hazards on the road, such as sharp turns, roadwork or hidden curbs.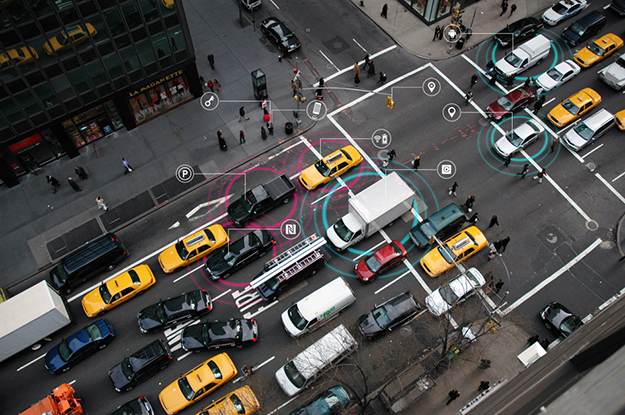 All in all, this collection of data could help civil engineers design more efficient and safer roadways for not only drivers, but for cyclists and commuters too.
3. Custom Insurance
Automotive insurance companies put a great emphasis on data; it basically dictates their whole business. With connected cars, they will be able to monitor driver performance and safety. This certainly raises some ethical/privacy issues and drivers will definitely not like the idea of insurance companies playing "big brother" by monitoring them through their sensors.
To overcomes this, safe drivers who consistently obey the rules of the road could be offered a policy discount if they prove their safe driving habits with data from connected cars. Furthermore, the availability of data is of great use to insurance companies in the event of accidents or other incidents. Insurance companies can use data from connected cars to figure out what exactly happened.
This could reduce false claims and help both insurance companies and legal authorities figure out who is truly at fault. With all of this data available to insurance companies, this could increase incentives for drivers to drive safely and in turn actually make roads safer for all drivers.
4. Marketing
When data collected is used for sentiment analysis and market segmentation, vehicle marketing becomes much more meaningful. Gaining such driver information helps in campaign management and other marketing tactics for both marketers and automotive dealers; enabling them to strategize and boost sales.
Personalized marketing is a relatively new concept in digital marketing. Customer profiles assembled using big data help in integrating personalization-marketing campaigns. Drivers could expect meaningful ads from their most visited or favorite places while on their common routes such as restaurants, cafes or stores.
The Future for Connected Cars
The automotive industry has been constantly driving adoption of next generation technologies. Tesla caught most automotive manufacturers by surprise  with the technological advancement of the Model S, encouraging numerous manufacturers such as GM, Mercedes and Ford to begin changing their business models and adopt next-level technology.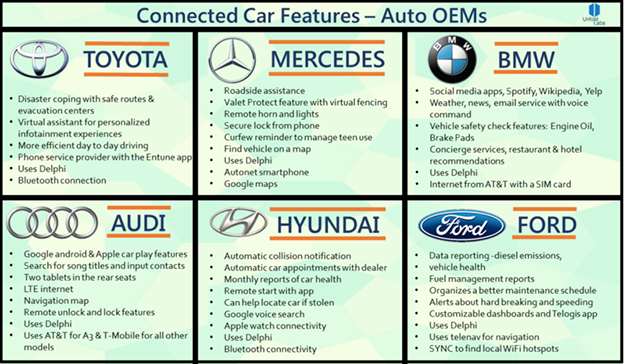 As adoption rates increase for connected cars, more gadgets, Wi-Fi services, apps and other innovations will be created. As a result, even more data will be generated and new opportunities will emerge. The big data and connected car industry promises big innovation and is projected to enjoy huge growth in the years ahead. In 2014, McKinsey estimated the global market for connectivity components and services to be valued at about $38 billion. By 2020, McKinsey estimates the industry will grow to $215 billion.
With such an astronomical valuation, major changes and innovations can be expected in the next few years as the automobile and technology industries collide in a larger way. Automakers are moving fast towards the use of big data for predictive analytics, personalization and artificial intelligence, which in turn is driving the connected, driverless car market.
Big data is definitely going to be a big game changer in the near future; however, security (the use of personal data) is still the biggest concern and setback for automakers adopting big data.
Latest Business
Intelligence Report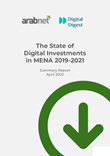 Latest Report
The State of Digital Investments in MENA 2019-2021
View Report
;