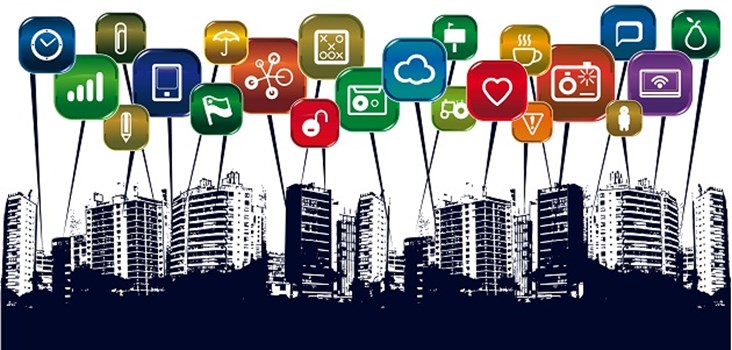 Connectivity photo from Shutterstock
We often reproach ourselves, us MENA dwellers that we tend to consume much more than we produce. Even when we do create, it is usually adaptations of international versions. The story goes that a large part of our online entrepreneurial endeavor resembles a localization gold rush. We're here to dispute that claim by listing ten of our favorite apps that have come out of the region.

Related: 10 New Middle East Startups that should be on Your Radar
App Mahal
Perhaps the app that best encapsulates this transformation is App Mahal. Not only is it produced locally by Palestinian entrepreneur Khaled Swilat but it's also truly original. A social network for apps, App Mahal serves to communicate useful and rated apps among acquaintances. Its core value is adding the human element to app discovery. So rather than relying on broad download numbers to gauge popularity, its smarter algorithm looks at your friends and users in your vicinity to figure out what apps you could find handy. What's more, it's impeccably designed with beautiful Arabesque elements. It is exclusive to Android and completely free.
WebTeb
WebTeb recently launched a free comprehensive health mobile app for iOS. WebTeb's online portal initially launched in Amman and Ramallah in early 2012 and was very well received in the Middle East, particularly in the GCC, gathering about 3 million unique monthly visitors. The app integrates WebTeb's physician backed information, the TebChecker, a symptom checker that helps patients learn about their condition, a doctors' directory that lists doctors according to the users' location, industry leading indexes, and tests index, in addition to the only Arabic language drug interaction tool.
Mapture
Mapture was born out of a heated political debate around the June 30, 2013 protests in Egypt. The cofounders, Bahaa Hashem, Zeyad Salloum, and Belal Eid, scrambled to find graphic evidence online of the incident, but realized that whatever they found couldn't be verified. And so they came up with Mapture, an online mobile community where people anonymously share photos. Location is captured from the device's GPS while the date and time are pulled from the web. This ensures the information cannot be altered. Fiddling around with the phone's time and date setting will not affect the timestamp. All users remain anonymous. This rids photographers of any fear of reprisal. It also delivers content in its purest form. The app is available on the App Store for free.
Ymdi
Ymdi is a new iPhone app that helps residents in Saudi Arabia manage their shopping around prayer times. In the Kingdom, businesses must be closed five times a day for prayer, so Ymdi offers a number of features that helps users navigate through their day seamlessly. Primarily, the app locates your position to determine whether you can make it to a certain shop before closing. Additional features include venue recommendations based on Foursquare and easy one-click access to navigation apps. The app was developed by a Riyadh-based SAP consultant Ahmed Alawaji and programmer Sultan Alharbi. The app is free and available for all iOS devices.
Smart Document Scanner
As far as office productivity apps go, it doesn't get any better than Smart Document Scanner. Built by Alexandria based software development company, Softxpert, the app boasts a formidable myriad of features aimed at managing any sort of document. It can scan, enhance, and convert documents to PDF. Optical Character Recognition makes it possible to convert scans into editable text formats. It syncs and files notes, receipts, invoices, meeting minutes, contracts, bank statements, whiteboards. All of that and more, and it's free. Available for download on Google Play.
TaskSpotting
TaskSpotting is an inventive Fiverr meets marketing research solution. Operating in Dubai, the company sought to tap into the world's most mobile connected market and create a network of amateur marketing intel recruits for companies. Through the mobile app, any person can complete a mission, which typically involves a simple task like seeing if a product is in stock at his local supermarket, checking prices or answering a few survey questions, in exchange for a small monetary compensation. The app is available for both iOS and Android.
Yamsafer Express
The hotel booking website headquartered in Ramallah recently released a mobile booking app, Yamsafer Express. Through the app you can book a hotel room, as late as 5 nights ahead of your stay, with up to 70% price discount. Think of it as flash sales of hotel vacancies. The whole process can be done with just three clicks: search, book and confirm. Bookings can be done without a credit card too. The app can be found on iTunes and Google Play.
Escape from Paradise
A lot of games have come out this year from the Middle East but we're tipping our hat to Game Cooks' Escape from Paradise. The game is an adventure platforme that follows a bouncy ball-like protagonist trying to make his way out of paradise. Gameplay is nothing out of the ordinary. You avoid obstacles and collect points within a time limit. Graphics, however, is where the game stands out among the crowd; with spectacularly crisp high definition backgrounds and silky smooth scrolling and movement, the Beirut-based game studio has taken design and, more importantly, execution the extra mile that many forgo. The game is available for free on Android, iOS, and Facebook. There are in game purchases for upgrades.
Want to read the rest of the article? Check it out in our next issue of The Quarterly !
In the meantime, here are some articles that might interest you:
Planning to Visit Dubai? These Apps Will Prove to be Priceless
Enjoy Roaming in the Busy Streets of Arab Cities with These Useful Apps
5 Apps to Help You Find Your Dream Job
6 Free Mobile eHealth Apps for MENA Residents
7 Hollywood Celebrity Apps You Should Try
Latest Business
Intelligence Report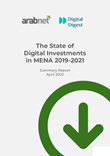 Latest Report
The State of Digital Investments in MENA 2019-2021
View Report
;