DevTour Amman Champs Earn Their Spot at the Developer Tournament Finale
Back

The ArabNet Developer Tournament in Amman concluded yesterday with the crowning of the 4 finalists to the Developer Championship. The coders endured through thick and thin for 12 hours of coding mayhem. The last round carried 13 contestants but only four made it through to the finish line.
The four will join the winners from Lebanon to compete at the Developer Championship.
Beirut, meet your match:
(All the action from the tournament in pictures here)

From left to right, 4th place to 1st: Mamoun Saudi, Faris Issa, Mohammad Fares & Ashraf Samhouri
The remaining 12 spots will be filled progressively as the Tournament makes its way through Riyadh, Cairo & Dubai.
The 60 developers gathered at the event were reduced to 26 after the 1st and 2nd rounds, then to 13 for the final round and eventually to a jubilant foursome. But beyond the fame and fortune, the event represented a number of perks for attending developers.
"The networking opportunity for developers here could well form the nucleus for many local startup companies serving local content in the future," expressed Loay Abu Qaoud, Web & Integration Development Team Leader at Orange Jordan and a judge at the tournament.
Similar to the first tournament, executives were keen on some talent as potential recruits. Firas Steitiyeh, Product Manager at The Online Project, was present at the venue looking for PHP developers and already has some interviews scheduled. Omar Tahboub, VP of Product at Bayt.com and also a judge at the event, was impressed by "a bunch" of developers. "I am positive that people that excel here will be good candidates. Being here is a sign that they are active and that they like a challenge, that is enough for me to consider them."
Finally we would like to thank all the judges that helped us with this event. Anas Al Far, Technical Team Leader at Yahoo! Maktoob, Farhan Kalaldh, Executive Director at QRCE, Omar Koudsi, Open Source Technical Team Leader at Jeeran, Omar Tahboub, VP of Product at Bayt.com, Mohamah Khawaja, Executive Director at N2V, CEO at Startappz, Loay Abu Qaoud and Nabila Al Jdoa from Orange Jordan, and Mohab Murrar from Aspire Jordan.
And a big thank you for our sponsor Orange Jordan and our hosting partner QRCE who made this event possible.
Next up is Riyadh. See you there.
Latest Business
Intelligence Report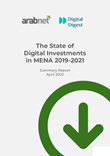 Latest Report
The State of Digital Investments in MENA 2019-2021
View Report
;