And Beirut's Top 3 Startups for 2013 Are...
Back
Similar to the Ideathon, the Startup Demo is now a staple of ArabNet events. Young companies take to the stage and pitch their products and services in the hopes of catching the attention of investors, potential business partners and the media. We congratulate all 10 contestants and wish the them luck and prosperity in their journey as each offer an inspiring and promising solution, but our panel of expert judges and audience have selected their favorite young companies of the year.
But before we reveal them, we would like to thank Microsoft and Solidere's Cloud 5 for generously sponsoring the competition. Hoda Younan, country manager Microsoft Lebanon said: "We're here for the long-term. The future of Lebanon will be built by the next generation on the entrepreneurial foundations we lay for young people today." She added: "This is how, through our Bizspark program, by training and providing young businesses and entrepreneurs with the latest technologies and innovative tools, we will build a strong backbone of economic growth in Lebanon."
Starting with the 3rd spot...
3rd place winner, and the recipient of Mercy Corps Egypt's Social Impact Business Award: Nafham
Overpopulated classrooms, shortage in schools and a scarcity of funds on the governmental level to keep up with educational demands has lead Egyptian families to spend 2 to 3 billion dollars every year on private tutoring. In this regard, Nafham, an online educational platform, provides 5 to 20 minute crowdsourced video lessons covering all grades and subjects.
Nafham will aggregate video content from all over the web, curate and sort them based on grade, term, subject and index them based on the academic schedule. Secondly, the service will create any missing pieces that can't be found on the web with their in-house team of professional teachers. Additionally, Nafham will run contests and competitions seeking out individuals who can contribute lessons.
The lessons can be accessed either through the website, mobile apps, smart TV apps and a windows 8 app.
2nd place winner, and the recipient of the People's Choice Award: Ekeif.com
According to a Cisco study, there are 86 million Arabic internet users, 70% of which search for videos online, and 98% of which prefer Arabic content. Ekeif is looking to capitalize on that market by offering free, short, high‐quality Arabic "how-to" videos created by the online community.
Each video will include a transcription, short description, an interactive comment section, social networking sharing tab, suggested videos to watch, and like tab.
The core product is free, but Ekeif will monetize its platform by allowing sponsors to place their products inside the how-to videos and by using traditional video ads that are displayed before the how-to videos play.
..and the 1st place goes to: Wally
Wally is a personal finance mobile app that allows you to track your expenses and track them based on categories, aspects, time, and venue. Users input their expenses, everything else though happens automatically!

Wally also packs an array of pretty neat features:
InstaScan for example allows users to take a picture of a receipt and automatically scans it for all the necessary information: amount, time, venue, category and date.




At any time, the user can review their historical expenses in beautiful weekly, monthly or yearly graphs and have them broken down by categories, aspects or the venues they have been to.




Finally, the app learns about its user's behavior and optimizes itself accordingly, meaning that it can detect whether he's coming back to the same place and spending money, and it'll draw his attention to deviations in spending habits.



You can view the rest of the pitches on our YouTube channel.
Latest Business
Intelligence Report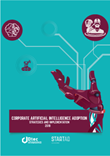 Latest Report
Corporate Artificial Intelligence Adoption Strategies and Implementation 2018
View Report
;