Jusoor Bootcamp Graduates 10 Promising Startups from Syria
Back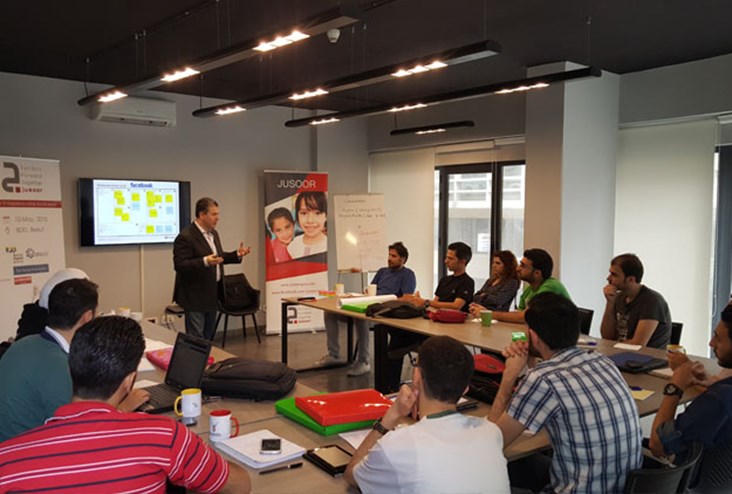 10 Syrian startups graduated from the first Entrepreneurship Bootcamp held in the Beirut Digital District by the Jusoor community, in partnership with Oasis500, and sponsored by the London-based Asfari foundation.
Jusoor is an NGO aiming to harness the potential of Syrian expatriates to support the country's development and help Syrian youth realize their potential.
The Bootcamp comprised 3 weeks of intensive sessions by Oasis500 trainers, designed to help aspiring entrepreneurs develop their ideas and startup experiences. The sessions covered topics that included starting a business, building a business model, conducting a financial study, performing a business valuation, and pitching.
How to Evolve in a Different Business and Geographical Landscape
Ahmad Sufian Bayram, MENA Regional Manager at UP Global, was responsible for coordinating the Bootcamp in Beirut. "We are trying to engage startup communities by exposing the teams to the entrepreneurial ecosystem in Beirut and showing them what the city has to offer," he said.
Tarek Sheikh AlShabab, one of the participating entrepreneurs, was thankful for the chance to meet other startups and see how other entrepreneurs dealt with difficulties. "Our vision was very limited and our target market was small. Jusoor showed us that we should think big. I felt as a completely different person walking out after the third week," he said.
Wissam Muases, another participant, really valued the experience. "It is not about getting grants and finding investors. The Boootcamp changed the way I think about my work and gave me a fresh approach to the business aspect of things."
Faisal Al Bitar, Investment Analyst with Oasis500, said: "I was amazed by the work and progress that they made, especially considering their situation. They were able to gather information and data where it does not exist, and were able to come up with innovative solutions customized to their communities."
According to Rania Succar, co-founder and Board Member at Jusoor, an essential part of the program was sharing the experiences of successful pioneering Syrian entrepreneurs. These inspiring models included: Adnan Tarabishy, the CEO at Professional Development Institute and co-founder of Second Step; Majid Lababidi, co-founder and Managing Director at Fi Technologies; and Lojain Jibawi, founder of the Votek Arabic speech recognition engine.
In parallel, participants were introduced to a broad range of resources such as the Zoomal crowdfunding platform to the AltCity co-working space. Swell Marketing Solutions, a Syrian startup in Beirut served as both an example of a successful startup, and a potential partner for emerging entrepreneurs.
Dania Ismail, Jusoor Board Member and Entrepreneurship Program Director, said: "We're very happy to see the huge improvements in the teams' presentations and pitches, the Jusoor Bootcamp truly helped these startups learn and gain exposure. Ultimately, the Entrepreneurship Program was able to recharge Syrian youth with hope and open new prospects to them."
Meet the Jusoor Entrepreneurs
The 10 entrepreneurs were selected based on their pitch during the Entrepreneurship Competition, part of the Jusoor Entrepreneurship Program. Their ideas ranged from innovative educational platforms, transportation solutions, and healthcare mobile applications to upcycled building materials and design items.
AdZone: An online advertising booster targeting the MENA region founded by Anmar Darwish.
Aprecademy: An online high-school educational program developed by Mohammad Hussein Murtada
ArtAfif: A studio to create minimalist furniture and homeware items from upcycled or simple materials, designed by Wessam Muases and Ramia Suleiman.
BitCode: A free web development program in Arabic, developed by Tarek Sheikh Al Shabab.
Darati: A learning kit designed by Sana Hawasly and May Massijeh to teach children electronics and circuitry.
Khedny M3ak: Samer Al Shatta and Molham Mahmoud created the first carpooling and driver rental service in Syria, and developed an app for it.
Phoenix Logistics: This localized support service created by Hakim Al Sharif coordinates with relief agencies to facilitate logistics and address basic needs of people in need.
Resource Investment Operation: Tarek Sakkal and Khaled Akkad have plans to recycle rubble and reuse it as new building materials in infrastructure projects or art designs.
Sahtak Bi Jaybtak: Developed by Khaldoun Al Hindi and Ahmad Al Hindi, this medical app contains patients' full medical information to facilitate access to health services.
Sfkat.com: A P2P buying and exchange platform represented by Yaman Al Tareh and Mohammed Al Juboori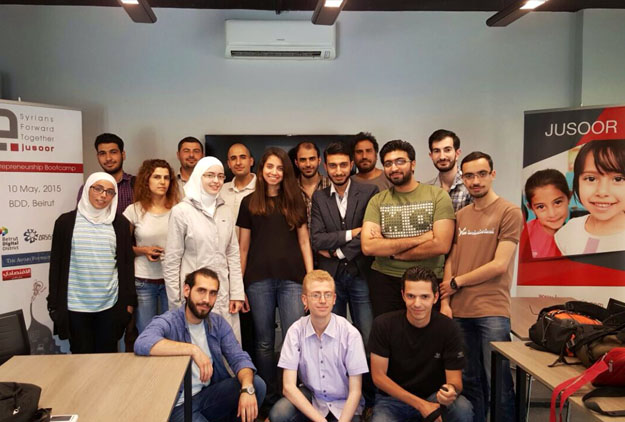 See related:
Jusoor Builds Bridges for Syrian Refugees
Latest Business
Intelligence Report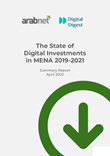 Latest Report
The State of Digital Investments in MENA 2019-2021
View Report
;