The Business of Online Video - Beyond the One Hit Viral Video
Back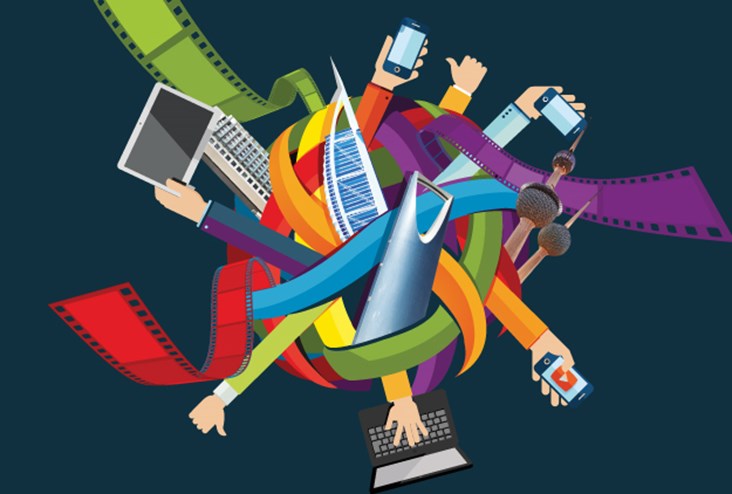 Two years ago, Saudi Arabia hogged the headlines of social media news channels when Google revealed that the Kingdom ranked first globally in YouTube views per capita. The Middle East as a whole, with its 285 million video views per day, came second only to the United States. Over 90 million views are from KSA alone.
People in most countries in the region are exposed to various forms of entertainment. However, that is not the case in Saudi Arabia, where theatre and cinema are non-existing, and television shows are very generic. The only two media channels available are MBC and Rotana, both of which are operating outside of KSA. With the lack of competition to attract the young population's attention, YouTube became particularly popular in the Kingdom, and high internet and mobile penetration significantly catalyzed online video consumption among Saudis. "They watch four to five hours of video online," says Kaswara Al Khatib, Chairman and CEO at UTURN Entertainment.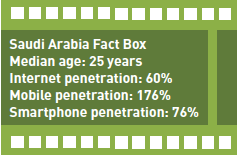 The demand is definitely there, and content providers jumped at the opportunity. It didn't require much: a camera, a laptop, and access to YouTube. As a result, huge amounts of content was uploaded on the platform, mostly by amateurs. Initially, these videos received high numbers of views, but over the past 12 months, the number of new shows began to drop and viewership was not as significant as before. The 'novelty' effect wore off, and users became picky about what they watch. "What happened is that YouTube got saturated with content, and a lot of this content isn't necessarily of good quality," says Malik Nejer, Animator at Lumink. "So, a lot of people who created this kind of content pulled out. Now, we are going to see more interesting shows; however, less frequently."
The Multi-Channel Network Boom
The online video landscape worldwide slowly but steadily began to shift from a plethora of random pieces of content into a flourishing network of highly-structured valuable content. This shift coincided with YouTube's changes in layout made in late 2012, which amplified subscriptions and viewer retention rates on channels, allowing YouTube creators to reach a wider audience and secure higher advertising revenue.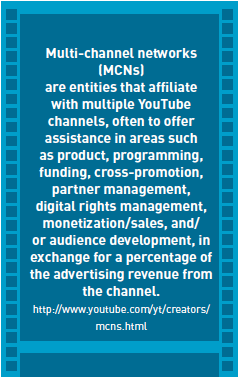 In MENA, the local YouTube multi-channel networks (MCNs) began to migrate into view with a strong, professional digital offering. "We wanted UTURN to have a business aspect, with structured, regular shows," says Kaswara. "These shows have an intro, a logo, a name, and a channel. That was the beginning of the online content pipe in Saudi Arabia."
Leading MCNs in the region engaged professional script writers, content creators, directors, camera-men, and social media teams to create quality content that tackled local issues in a format that appealed to a millennial demographic. People like Ali Al Kalthami, Malik Nejer, and Alaa Wardi raised the bar of local online video content and drove subscriptions to regional MCNs by the millions.
"The market is still not mature, but it is regulated, and it is going to continue to grow," says Kaswara. "The numbers might appear like they are decreasing, but if you sum up viewership, subscriptions, and monthly consumption, you will notice the overall numbers are actually growing exponentially. [UTURN] started with around 2 million views per month. Today, we are at 25 million."
To reach a wider audience, UTURN does not only publish its content on YouTube. It has a presence on all major social media platforms. Last year, it launched its iOS and Android app, and in March 2014, it announced a strategic partnership with Yahoo! Maktoob. According to UTURN, the total number of views across all platforms recently reached a whopping 755,737,457.
Jordan-based Kharabeesh is also experiencing steady growth. "We used to have 21 million views a month," says Firas Al Otaibi, Chief Business Development Officer at Kharabeesh. "This year we reached 43 million views per month." Kharabeesh is currently developing its own mobile application and provides licensing for TVs to broadcast selective pieces of its content.
C3 Films, who is experiencing 100% growth in viewership on its Telfaz11 channel according to its Business Developer Abulaziz Al Shalan, is shifting from solely focusing on entertainment comedy shows to other areas, namely music. "We became an MCN to go into different content areas, not just entertainment," says Abulaziz. C3 Films will be looking more into premium models and has just soft launched Indiemaj, a network for musicians that has a different model than Telfaz. "Music is going to be big from 2015 to 2017," states Abdulaziz. "Music has no boundaries. If you are not a Saudi, you might not understand something from a Saudi comedy show, but music doesn't have this limitation as everyone can relate to it."
Can MCNs Keep Up?
As the audience becomes increasingly selective, MCNs face a variety of challenges. Finding and attracting the talent needed to drive traffic is not an easy task. Moreover, the nature of many incumbent MCNs limits their ability to incur high production costs. "We are not a TV, and we are bound by the economics of YouTube," says Firas.
When MCNs initially launched, their primary cost was centered on content creation as a platform for technology-to-scale and entry-level monetization. "We had to be smart as to how we monetize, using the advertising knowledge that we have," says Kaswara. When YouTube changed its policies and allowed channels to monetize, MCNs had to convince advertisers to move online so that their business models continue to make economic sense. Thus began the on-going debate of branded content versus TVCs.
"After three years, brands now believe that investing in online content is better," says Abdulaziz. In fact, it all goes down to measuring ROI. Abdulaziz argues that a single TVC might cost $3M, but if brands channeled those $3M online, they can create tremendous amounts of content for a very high ROI. "Some brands are still reluctant to go online. They think online is weak. Eventually, they will, because the market is changing. But the longer it takes them to realize this, the bigger their loss," states Abdulaziz.
All major players in online video agree that online ad spending in the region is increasing, yet it is still minimal compared to other places in the world. "It is still not sufficient for sustaining the business," claims Firas. As MCNs grow in size and become more mature, their responsibilities expand: they get bigger ambitions and face increasing pressures from investors as well as brands who want more than the basic pre-roll and product placement models. They also strive to gain direct access to their own audience.
"Are we making a lot of money now? No," acknowledges Kaswara. "But we are betting on the content we have online and the number of people watching them to make us more money in the future."
According to Ziad Khammar, Strategy and Development Director at DMS, the online video advertising market is growing now that advertisers are discovering that video advertising is much more than just YouTube videos. "They are allocating higher budgets to safe, original content-driven video environments like Shahid.net and OLN.tv," says Ziad.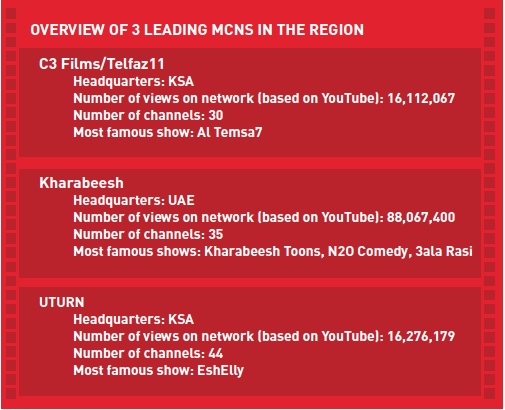 What Makes Content 'Good'
To make more money, MCNs need to produce content that appeals to a highly selective audience. But here's the dilemma: if people only want to watch quality content, how come most of the content that goes viral is about cats? Just think of the 'I Can Has Cheezburgr' blog created in 2007. The website only publishes images of lolcats, yet it received 1.5M hits per day right around its release. "The way humans behave online is very interesting to me," remarks Malik. "Quality is not synonymous with online video, that's a fact."
It appears that people are tired from the mainstream and are looking for something more casual and that requires less of a commitment than watching, for instance, Game of Thrones.
According to Malik, what makes content good for someone going to YouTube is "if it's viral or not, even if it doesn't fit the criteria of an art academy graduate who considers it as not good." The animator explains that for a video to go viral, it first has to be novel; second, it has to have some kind of music; and third, it has to be short. Ziad concurs with Malik's three criteria, only he names them as "originality, high production values, and efficient delivery system (limited buffering, etc.)." Abdulaziz adds "relevancy" to the list.
Novelty is definitely a criteria for 'good' content that is more likely to be shared. According to Carlos Tibi, Founder and CEO at ICFlix, one of their most popular films on social media was HIV, originally produced by ICFlix. "It was something new and trending that people could relate to and wanted to discuss and share with their friends."
Kaswara joins his peers in advocating novelty as a driver of good content. "Viral videos are the ones that happen when you have something new and interesting, something that you definitely want to share because it's amazing," he says.
The Ice Bucket Challenge is a good case in point. It was an unheard of trend that evoked challenge, sympathy, and a need to be part of a social wave. Another example is the Saudi First Kiss Parody produced by UTURN. It shows a hilarious video where 20 male strangers are grouped in twos and taught how to greet each other the Saudi way: by pressing the noses together. Published in March of this year, the video has reached over 1 million views to date. It is different, unique, and surprising—a recipe for shareable content.
"The aim is to generate as many 'strong' emotions as one can within every video," says Ziad. For this purpose, DMS recently worked with Real Eyes—a company which can measure emotions throughout a whole video via the users' webcam and using a mix of 2D and 3D modelling. "Real Eyes was implemented on an Adidas campaign on Koora. It highlighted feelings such as happiness, disgust, surprise and many more experienced by the user watching the video, providing feedback on how to improve branded content creation," explains Ziad. "Science can now tell us exactly which moments create the emotions we want."
The Myth of the One-Hit Viral Video
Many advertisers and content producers are trying to figure out how to create a one-hit viral video. However, most videos only go viral when brands spend huge amounts of money, launching them in the hopes that they will catch fire. "The dilemma here is that you get views, but your product lifecycle will be much shorter," comments Abdulaziz.
"We believe that instead of trying to go for a one-hit wonder, most brands will have greater success with a 'branded video content' strategy, where they create a string of 'shareable' content, under a content platform umbrella," says Ziad. He explains that through the creation of many 'shareable' videos, a brand can benefit from longer term campaigns, resulting in much deeper connections with attributable returns versus a high risk, short term hit, which may or may not work out.
"A successful branded content platform doesn't only rely on 'viral' type content, but should also include other shareable content, such as a combination of both, news or recent type content, plus evergreen content, that doesn't date and is ever lasting," continues Ziad.
To create an "evergreen" content, not only should it be relevant to the culture, but it should also have a character, something that Telfaz11 masters. Take Al Temsa7 for example. It is a very consistent product that requires very low budgets, and even though it has been in the market for over two years, people still find it funny. Likewise, La Yekthar gained steady traction as the people got used to—and waited for—Fahad Al Butairi and his Harry Potter eyeglasses to appear on the screen. "We created a demand. We did not fill a demand," says Abdulaziz. "It's very tough. You need to be ahead in the market instead of being a demand killer." Other examples include Ibrahim Saleh from the Broadcast Show, whose episodes attract millions of viewers, and Badr Saleh from EshElly, which has over 2 million subscribers and reached over 222 million views.
Latest Business
Intelligence Report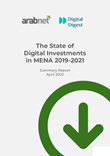 Latest Report
The State of Digital Investments in MENA 2019-2021
View Report
;