Reconnecting Marketing and Sales
Back
This article is a part of an ongoing series on Growth Hacking by BIRDHAUS, Lebanon's first Growth agency.
Your business is on social media. You run search engine marketing campaigns. You just launched a blog. You're thinking of developing an app to make your clients' lives easier. Your marketing budget is inflating and you're not really seeing the uptick in sales. There is a good chance you are missing the magic link that could solve that specific issue: sales and marketing integration.
1 - It starts at home
At their core, all forms of marketing are ploys, tactics, and efforts to make people buy (or buy into) something. Whether you're trying to register leads for your salespeople to contact, pushing for direct sales (retail, fashion), or simply positioning your brand, the intended result is the same. Then why are marketing and sales objectives dissociated? Why are most sales team located away from the marketing departments?
This setup creates a clear divide between employees, who often fail to see the connection between their respective jobs while they need one another. A sales-focused marketer will track user behaviors to deliver data-based insight to his colleagues, who can reciprocate by giving the marketer a better view of the customer's pain points. This sort of tight collaboration can lead to clear improvement in your bottom line.
2 - The age of user data
Ask any business owner today if they're on social media. Most will say yes.
Ask them if they're seeing tangible sales results, leveraging user data, or upselling to their database and most will say no.
Very few are the marketers who control their digital sales processes (aka funnels) and optimize them continuously and yet, all the tools are available.
You can connect your CRM to your website, ad platforms, and social media channels to serve tailored ads to specific users based on their behavior, purchase or browsing history. Whether used for basic retargeting or for advanced account-based marketing, these practices have shown great results across industries.
3 - Impressions vs leads
It's all too common to see social media managers dedicate their budgets to campaigns that deliver views and impressions. Meanwhile, sales representatives and account executives wait around to reap the benefits of their social media presence.
Have your marketers try the opposite: take a business objective (ie: number of sales for item X) and translate it into a marketing objective (ie: website traffic/conversions/qualified leads/website subscribers….). Only then can the marketing team come up with plans and tactics to reach these goals, which in turn benefit both departments.
This doesn't mean that impressions aren't important, it just means they're a small part of a bigger picture. For such metrics to become relevant, they should be placed in the context of a sales funnel.
The practice of integrating marketing as a integral part of the sales process takes marketing back to its roots while completely embracing modern technologies and behaviors. When done right, it leads to great customer experience, better team performance, and of course as intended, increased sales.
Latest Business
Intelligence Report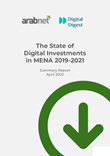 Latest Report
The State of Digital Investments in MENA 2019-2021
View Report
;