FIFA 2018: When the Stars Align
Back
The World Cup 2018 has been dubbed 'the Year of MENA Underdogs' in a recent report by Publicis Media. This summer, four MENA countries – Egypt, Morocco, Saudi Arabia and Tunisia will all compete for the first time in FIFA history. The unprecedented level of Arab presence was celebrated widely on social media during the qualifying rounds. What's more, the MENA matches are scheduled at regional television prime times, a lucky coincidence which is sure to attract vast viewership.
Another head-spinning coincidence is the fact that the very first World Cup game lands on the first Eid of Al-Fitr (June 14) and will see Saudi Arabia face off against Russia at 6 PM KSA time. This will surely enhance the festive spirit and transform the celebration into a patriotic and family affair. In fact, 60% of World Cup fans in the UAE, KSA and EGYPT say they will watch the first match with their family, and 29% say they will watch with their friends.
It's important to acknowledge that not all World Cup followers are made equal. They can be sub grouped into three broad categories: The Maniacs (hardcore fans who love the game and watch throughout the year), The Regulars (semi-invested fans who show loyalty to specific players and teams) and The Socialites (fans who enjoy the World Cup as a social experience).
Across the various markets, the category most likely to watch the first game with family (73%) is the Maniacs, perhaps due to patriotic association in the case of KSA. What's more, between 38%-45% of World Cup followers across all fan segments live in a nuclear household which means that watching games is often a family affair, which often leads to significant female World Cup viewership.
Indeed, Maniacs and Regulars are more likely to watch 'unmissable' games in the comfort of their homes, where they are comfortable and have full control. In an effort to see and be seen, Socialites will be attracted to outside venues for 'missable' games in order to participate in the communal excitement, not necessarily in the gameplay itself.
When it comes to the final match, preferences shift depending on fandom level. Maniacs have a marked preference to watch with other Maniacs, while Socialites will likely watch the 'unmissable' matches with family. On a related note, Maniacs naturally invest more time playing the FIFA 2018 video game (around 35%). In fact, search volumes for the game spiked in KSA in September 2017 and Egypt in October 2017, when both of these countries qualified to play in the World Cup.
FAN FAVORITES
Spain's popularity was once very high in the KSA but has subsided in recent years. Egypt is among one of KSA's top preferences, but the reverse is not true. This will make for an interesting dynamic when the two face off on June 25. With respect to the North African nations, Morocco tends to be favoured more than Tunisia. In general, World Cup fans are first rooting for their home countries and top international teams, such as Germany and Brazil, second.
MENA CONVERSATION DRIVERS
The only thing more fun than watching the World Cup, is talking about the World Cup. Recognized drivers of conversation will be a significant influence leading up to the opening game. The three main influencers of conversation are: national regional team coachers, official sports authority leaders and regional teams and legends.
Since this FIFA will be a historic one, many commentators will be looking at legends that came before and laid the stage for the present.
This year about 42% of World Cup followers in the UAE, KSA and Egypt intend to watch 'missable' matches on their mobile. The top device for viewing games is still the television but mobiles are the dominant form of viewership for 'missable' matches. This will be the first time the mobile will play such an important role in viewership.
Football fanatics will tell you that the game is life, and just as in life, sometimes things get emotional. Egyptian football fans in particular embody a very specific political and emotional significance, while KSA fans tend to be more about a detached sense of gameplay. When Egypt plays against KSA, loyalties will be tested among those who are traditionally local to GCC roots and Arab expats cheering for Egypt.
Gearing up for the World Cup means investing money into things that will amplify the viewing experience. Naturally, the top purchases in this regard are snacks and subscriptions for official Pay TV partners. Maniacs tend to invest the most money into World Cup purchase with Regulars and Socialites spending on smaller-ticket items such as accessories. Impulsive buys tend to occur before a game and excitement drives the post-game consumer experience. Checking social media reactions and conversations online will invariably occur while the game is in play
Most people can name top World Cup sponsors off the top of their head. However, sponsorship does not necessarily mean they win fan brand loyalty merely by association with a fan's favourite team. Indeed, the research shows that fans are willing to be swayed by brands that give them a better World Cup experience, regardless of their official association with the game. This leads the field wide open for any brands to make an impact during FIFA 2018.
Latest Business
Intelligence Report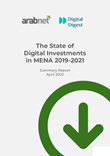 Latest Report
The State of Digital Investments in MENA 2019-2021
View Report
;