Spike Takes Home the Win at GITEX's Future Stars Dubai
Back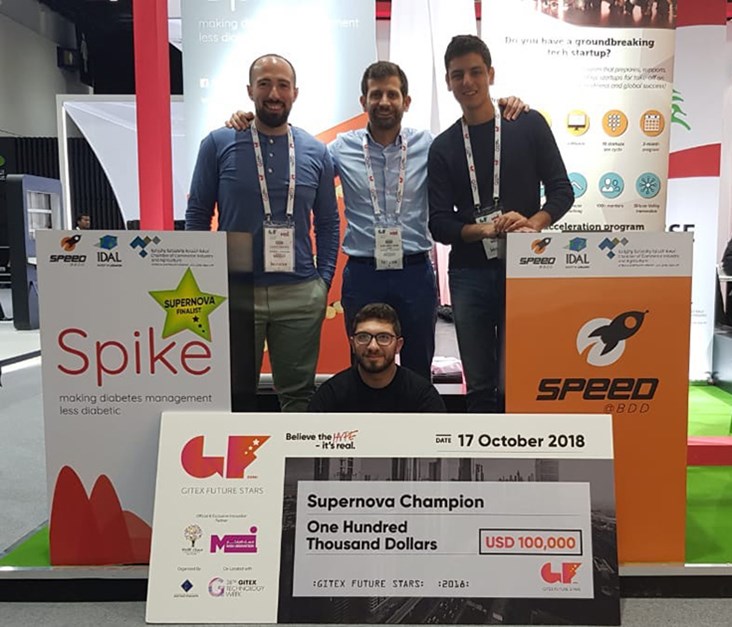 The Lebanese startup Spike, the alumni of Speed@BDD that took place last year, took home the first prize of $100K at the GITEX's Future Stars Supernova Challenge in Dubai. Competing against more than 200 startups, Spike's founder Ziad Alame was able to win over the jury. In addition to that, he had also received the 1st prize in the Healthcare innovation challenge and a spot in King's College Dubai incubation program.
Spike is a mobile assistant that helps diabetics better manage their diabetes. Spike monitors the patient's daily behavior and jumps in with reminders and tips when needed about insulin, food, activity, etc. Additionally, Spike stores the patient's data for further analysis and/or sharing with doctors and caregivers.
After receiving a sponsorship for a Lebanese Pavilion from the Investment Development Authority of Lebanon (IDAL) and the Chamber of Commerce, Industry, and Agriculture of Beirut and Mount Lebanon (CCIABML) and with the support from the Lebanese Prime Minister's office, Speed@BDD gathered 15 Lebanese-founded startups and led the Lebanese Startup Delegation to GITEX Future Stars 2018 for the second year in a row.
Meet the other Lebanese startups that participated in the GITEX Supernova Challenge, some of which are the alumni of this year's TechCrunch Startup Battlefield, Flat6Labs Beirut's 2nd Demo Day, and Smart ESA Demo Day:
Augmental
The Smart ESA alumni is an educational technology application initially targeting 12 to 18 years old students where course material is adapted to each student's learning abilities using Artificial intelligence and Augmented Reality.
Beambot
It is a smart addition that allows businesses to control their warehouse lighting and cut their electricity bill by up to 50%.
BlocRecs
BlocRecs is another Smart ESA graduate. It is a blockchain-based platform launched in 2018. It allows recruiters to instantly validate the education and employment records of job candidates. Using this software can save HR and University registrars' time and money, along with eliminating the risk of fraud.
Crowd Powered
Crowd Powered is a graduate from Flat6Labs Beirut's 2nd Demo Day. It makes it easy for businesses and residential communities to access solar power. Their automated design allows consumers to design a solar power system that fits their needs, entirely online and with minimal input (e.g. location and monthly electrical consumption for businesses).
Generics
Generics produce premium, custom-made, wired earphones designed and developed to solve for poor fitting, uncomfortable earphones. Their proprietary custom making process combines science and art. The user has to only upload a video of his/her ear and Generics leverages image processing, 3D Printers, and advanced materials manipulated by skilled artisans to produce custom biocompatible tips.
Hello Harol

d
It is a Classified Ads assistant that helps buyers and sellers choose a fair deal and optimize their second hand transactions. Thanks to the tailored artificial intelligence, Hello Harold provides you with the most accurate market data and predictions corresponding to the user's need. Hello Harold is currently a messenger bot focusing on the second-hand cars vertical.
MAJ Solution
MAJ Solution is one of the Smart ESA graduates. It provides construction and development companies with tools to predict potential early enough. Considering that the process of data collection is currently done manually, the time and probability of mishaps are high.
With MAJ's services, mistakes can be prevented and the time to collect data is majorly reduced from an average of 2 weeks to 2 seconds.
Mint Basil Market
Another Flat6Labs graduate, Mint Basil Market is an ecommerce platform where clients can easily shop for healthy, natural products ranging from food to cosmetics to household cleaning products. They provide an easy search bar where users can filter their products by category and diet. Once the order is made, MBM delivers to any region in Lebanon free of charge.
Mint Basil Market operates solely online giving them greater scaling opportunities. Their target users are individuals between the ages of 25 and 45 who use the internet and are generally health-conscious.
Slidr
Slidr is a dynamic pricing technology that allows customers to buy products/services at prices always lower than retail while generating additional sales and margins for the retailers. Slidr has initiated its operation developing its own platform in the UK and is now looking to license its technology to third party e-commerce websites.
Smarke
Smarke designs and develops cloud-connected access products that transform traditional locks into smart locks, granting the user remote unlocking and the power to share access with others. Smarke has recently launched Dropke, a smart mailbox, which earned a lot of good feedback at TechCrunch Disrupt 2018 in San Francisco.
Switch2VU
Switch2VU is a virtual tour platform for real estate brokers and developers, offering analytical data and customer behavior.
Sympaticus
Sympaticus, the TIP First Round Graduate, offers an exciting new method of delivering mental health treatment Therapy using an online platform. Sympaticus' mobile app offers a facilitated self-help program for treating anxiety and depression through a personalized 12 weeks self-learning pathway facilitated by therapist intervention using video and text on our therapy-as-a-service platform.
TeensWhoCode
TeensWhoCode is an ed-tech startup based in Lebanon that allows schools in MENA to teach computer science through an adaptive learning platform. All students are part of an online and offline community where they can find mentors and internship opportunities in tech startups. Once a year, students can join a 4-week summer camp in a nearby city.
Latest Business
Intelligence Report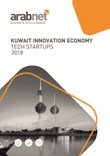 Latest Report
Kuwait Innovation Economy Tech Startups 2018 Report
View Report
;