Class lessons have never been so engaging and enjoyable. Nafham is a new online educational platform that transforms school material and sessions into a digital environment of visually appealing and fun lessons.

"We are trying to solve the educational issues in Egypt," said Mustafa Farhat, Marketing and Operations Officer at Nafham during the ArabNet Digital Summit last June. It seems that the Egyptian culture is facing some problems when it comes to education for children, whether it's financial or social. Farhat explains how the team, as Egyptian individuals, understands these problems. That's why they created this online platform that seemed to get positive reviews in the region.
Linked to the public curriculum, Nafham offers online educational videos categorized by school grades, terms, subjects and classes. Its free videos are of 5 to 20 minute length, revised by professional tutors, shot and edited in a creative way that makes young students enjoy their time learning their lessons.

The platform has different types of videos uploaded to its website: originally-made videos by the company's team with 1500 videos, edited-videos from other online sources partnered with the team, and finally, the latest concept created by Nafham, "crowd teaching," which are videos created and uploaded by young students and online users. So far, users have uploaded over 1100 videos, and overall Nafham has over 6500 videos on its website.

Farhat explains that 30 to 50% of families' spending go on their children's private tutoring sessions. That's why Nafham aims to decrease the financial spending within families and to uplift the educational level in the country through its educational methods.

During the interview, Farhat explains that the company's presence in the ArabNet Digital Summit 2013 is a great opportunity to gain support from governments, other companies, business partners and regular people who enjoy this type of online platform. He ends his statement by emphasizing the role of technology in today's education.

Check the video below to watch the full interview with Mustafa Farhat.
Latest Business
Intelligence Report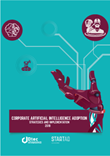 Latest Report
Corporate Artificial Intelligence Adoption Strategies and Implementation 2018
View Report
;