Part of its efforts to promote and support local aspiring entrepreneurs, this year's ArabNet Digital Summit has something special in store for technology fans. Sociatag, a new startup that promises to take social media to the next level, will showcase its product at the conference venue where attendees will be able to use the service for the first time.
Described as "a real life social integration system", Sociatag is a tool that connects offline events with the online community, explains founder Wassim Hakim, Production & IT Manager at Eastline Marketing.
How does it work?
Using RFID enabled cards which connect to the user's Facebook account for example, event attendees can then use these IDs on proprietary 'swipe boxes' located at the event venue to share what they're doing with the online community by checking in, liking posts or sharing their photo with the use of a camera installed in the box.
"This technology will add tremendous value to offline events by allowing them to engage their community outside of the physical venue" explains Wassim, "it could also add an online viral effect to the gathering."
The service is not limited to Facebook, the cards can be linked to any social media platform and appropriate apps can be developed for the boxes.
Be sure to get your card and try it out for yourself!
Latest Business
Intelligence Report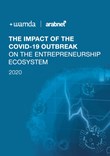 Latest Report
The Impact of the COVID-19 Outbreak On The Entrepreneurship Ecosystem
View Report
;