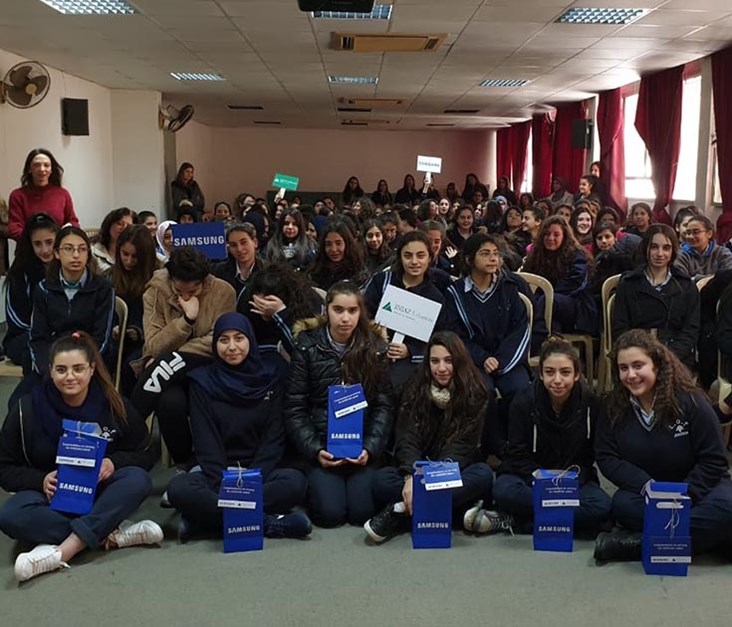 Central to Samsung's corporate values is the creation of positive change for people across the world, hence the company's funding in Lebanon, under the Samsung Grant, of 5 Entrepreneurship and Work Readiness programs destined to Lebanese high-school students and implemented by the specialized non-governmental organization INJAZ Lebanon.
Touching the lives of 963 students in the school years 2017-2018 and 2018-2019 at a gender split of 67% Girls, 33% Boys, and with the support of 44 volunteers from the business sector, these educational programs equip students with skills they would need for success when they later embark on their professional careers.
In this context, Thursday 28 February and Friday 1 March saw Dana Dahbour, Samsung Levant's Corporate Citizenship Manager, who flew in from her base in Amman, Jordan, and Gassia Berberian, Marketing Manager at SAMSUNG Lebanon, awarding Samsung tablets to students of Lady of Balamand High School, a private institution in the district of El-Koura, North Lebanon, and SAMSUNG tablets to students of Jdeideh Public High School, Beirut, on those dates respectively.
The students were among graduates of "Company Program" and "Be Entrepreneurial", 2 of the 5 INJAZ Lebanon programs supported by Samsung and delivered in Arabic. The former turns the classroom into a real company as students organize themselves into management teams, select a business idea, raise capital, prepare a business plan, and market and sell their product or service, culminating in a national competition, with the winning team moving up to enter a regional competition.
The latter program introduces students to the practical components of a business plan, thus learning about product development, competitive advantage, finance, marketing and advertising.
On this occasion, Dana Dahbour said, "At Samsung, we attach a great importance to Corporate Citizenship programs, and on a global scale for that matter. In Lebanon we have thus far focused on Education and Youth Empowerment, these 2 areas being vitally needed given the demographics. We have timed our awards with World NGO Day which is annually observed on 27th of February as Samsung's way of celebrating this international calendar day as well as commemorating the end of this cycle of programs with INJAZ Lebanon."
She added, "In our approach we were keen on being equitable between private and public schools in Lebanon; and on our visits to those two representative implementation schools we were quite thrilled with what we heard as positive appreciation of the programs from both the school principals and the participating students, namely about the course and workshop facilitators being volunteers from the corporate world who integrated the programs to impart and share their real-life executive experience. Going forward, and as we stand at the front of a new year—2019, Samsung promises the sponsoring of extra, new and innovative initiatives in its regional Corporate Citizenship push."
Ms Gassia Berberian commented, "Another 71 students will be participating in "Job Shadow Day", a Samsung-supported INJAZ Lebanon program that offers students a unique opportunity to visit a professional work environment across all departments and get insights into how to find and keep a fulfilling career."
Latest Business
Intelligence Report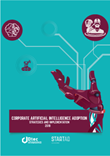 Latest Report
Corporate Artificial Intelligence Adoption Strategies and Implementation 2018
View Report
;