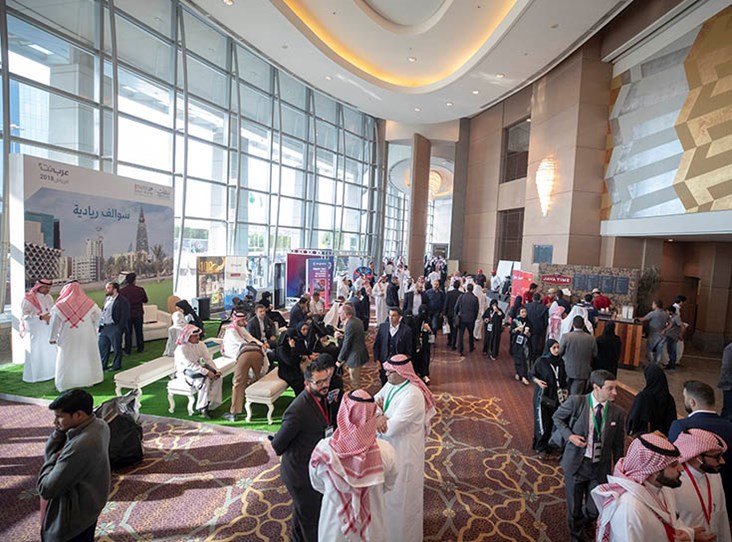 ArabNet Riyadh 2018 and Monshaat Startup Saudi wrapped up in success on December 13th, having brought together over 4,500 attendees, 120 speakers and 140 expert leaders from across 17 countries. The largest innovation festival to ever take place in the Kingdom, the event also featured the participation of 200 exhibiting startups and 100 global investors. The event was hosted for the 7th consecutive year by the BADIR Program for Technology Incubators and the King Abdulaziz City for Science and Technology
The event was also held in Strategic Partnership with the Saudi Arabian General Investment Authority, which supported 100 startups and 50 investors to join the event from outside the Kingdom and explore opportunities for establishing their activities inside Saudi Arabia. ArabNet Founder & CEO Omar Christidis also announced on stage plans to establish an office in Saudi Arabia, and received ArabNet SAGIA license, as part of ArabNet's long-term commitment and investment into the KSA market.
The second day of ArabNet Riyadh 2018 featured the opening panel titled, "The Kingdom's New Economies: Entertainment and Culture," which brought together CEOs of the General Culture Authority and the General Entertainment Authority to discuss the initiatives and strategies they are using to develop entirely new industries and the talent required to serve them.
The opening panel was followed by an interview with the CEO of Danube & BinDawood, who discussed how ecommerce is transforming the traditional retail space in Saudi. The interview was followed by a Panel titled "Building the Saudi Brand with Global Reach", which hosted marketing and communication executives from STC and Panda to talk more about the best practices for building a strong brand that can win the hearts of audiences, stand the test of time, and grow beyond borders.
Meanwhile, ArabNet Riyadh featured more advanced discussions on digital trends in two tracks: Ad/Edge, which tackled how brands, agencies and publishers are adapting to new innovation and digital platforms, and how data is driving transformation in media and advertising. In addition, OMD Stage tackled technology disruption more broadly, with a special keynote on the ecommerce sector and trends in the Saudi Arabian market.
At the closing ceremony, the winners were announced for ArabNet's signature competitions for entrepreneurs. The Startup Battle, sponsored by Riyad Bank, celebrated three winners from Saudi Arabia:
In 1st place UnitX, founded by Kiran Narayanan, provides the most advanced computing applications to the local industries in Saudi Arabia and MENA;
In 2nd place, Homoola, founded by Ziyad Alhomaid, a tech-powered transportation solution company connecting customers who want to ship (shippers) with the service providers who deliver (carriers) by offering them an easy way to connect and perform complete transactions;
In 3rd place Bakala, founded by Myriam Awad, a SaaS business intelligence tool that provides Fast Moving Consumer Goods companies with real-time access to analytics on market shares, distribution, pricing, promotion. The three winning startups will get the chance to participate in ArabNet Startup Championship and compete for $20,000 cash prize and acceleration in Silicon Valley.
Furthermore, winners of the Ideathon competition, sponsored by The National Commercial Bank, were also announced. The winning idea was Rado by Layla Al Refaee, an app used to read CT and MRI images allowing radiologists to accordingly give medical reports; Layla received $2,500 as a seed grant to help her kick start the idea. In 2nd and 3rd place respectively were Mishwari for Fahad AlRifae and Dada for Reeham Alharbi.
The event also featured a number of dynamic initiatives to support entrepreneurs including: The Academy, workshops on entrepreneurship, marketing and e-commerce; The Clinic, bringing leaders in HR, legal, finance, marketing, and technology providing startups with expert consultations; Sawalif Riyadeyah, gathers successful GCC founders to share their journey and lessons learned with aspiring entrepreneurs; Instashops, pop-up stores for Instagram e-commerce businesses to showcase their products; The MatchUp, 1-on-1 meetings between top business executives and startups; Women Mentoring Women, brings regional women leaders to mentor ladies who are just starting out.
Arabnet Riyadh is supported by a wide range of sponsors that include Monshaat, SAGIA (under the title Invest Saudi), BADIR and KACST; Mastercard; Al Ahli Bank (NCB); Riyadh Bank, Digital Media Services (DMS), Saudi Customs, Al Arabia, bluvalt, Al-Khaleejiah, OMD, and ELM, among others.
Latest Business
Intelligence Report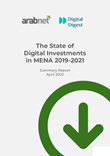 Latest Report
The State of Digital Investments in MENA 2019-2021
View Report
;