On March 29, MITEF held the 12th edition of the Arab Startup Competition Award Ceremony and Conference at Hilton Habtoor Grand Hotel, Lebanon. The event featured panel discussions and fireside chats which brought speakers and action leaders from all over the world to share the latest on data, research, and industry trends. Additionally, the winners of the Startups Track, Ideas track, and Social Entrepreneurship Track were announced.
The conference kicked off with welcoming remarks from Hala Fadel, Chairperson of MIT Enterprise Forum Pan Arab, Ferid Belhaj, VP of The World Bank MENA, Nabil Itani, Chairman and General Manager of IDAL, and Minister of State for Information Technology Adel Afiouni representing his Excellency Mr. Saad Hariri.
3 discussion panels took place on stage titled "Role of Governments in Fostering Growth of Digital Economies", "Building on AI in Education to Prepare Tomorrow's Workforce", and "The Role of Fintech in Advancing Digital Economies". Afterwards, Huma Abidi, Director of Machine Learning/Deep Learning Software Engineering at Intel Corp., led a Keynote speech titled "How Deep Learning is Shifting Digital Economies" followed by a fireside keynote chat Prof. Charbel Farhat titled "Vision For the Future of Aerospace: A New Transportation Landscape".
Lastly, the presentation of the awards to the winners was done by Hala Fadel (MITEF Pan Arab), Emre Gurkan (CEO of Touch), Ferid Belhaj (The World Bank Group), Nabil Itani (IDAL), and a representative from Community Jameel as follows:
STARTUPS TRACK: 1st Place Mashvisor (Palestine), 1st runner-up Repzo (Jordan), 2nd runner up Furnwish (Egypt);
IDEAS TRACK: 1st Place Quadra (Lebanon), 1st runner-up ADDENDA (UAE), 2nd runner up DLOC Biosystems (Lebanon);
SOCIAL ENTREPRENEURSHIP TRACK: 1st Place Compost Baladi (Lebanon), 1st runner-up Ahmini (Tunisia), 2nd runner up CanBank (Egypt).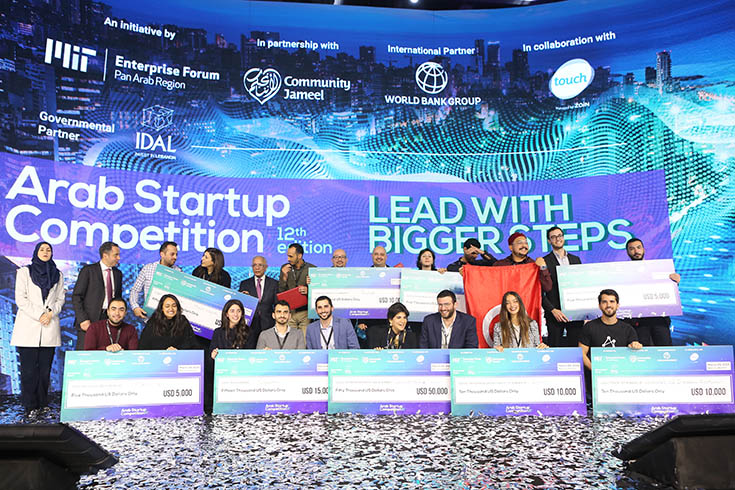 Commenting on the competition, Hala Fadel said, "Our 150 semifinalists from 12 different countries, and many women among them show how entrepreneurs in our region will lead the way towards change. This year we published for the 1st time an impact report and our competition has contributed to the creation of 14,000 jobs in our region, contributed $415M to the Arab world's GDP, and shifted the mindset of thousands of Arabs. We are grateful to the many partners who supported this initiative."
Fady Jameel, President of Community Jameel International, said, "At today's final, we celebrate a new generation of young Arab entrepreneurs and creative talents, coming from the Arab world or living in Europe, Africa and South East Asia. We also commend the work of the MIT Enterprise Forum in conducting training and mentoring programs for entrepreneurs participating in the competition to build their skills and ability to manage their businesses."
"The MENA will have 300M young people looking to enter the job market by 2050" said Ferid Belhaj of the World Bank, "We need to start addressing structural impediments to growth and implement policy reforms that would help integrate these young women and men into the labor markets and turn them into drivers of economic growth MENA."
Emre Gurkan commented, "touch's collaboration with MITEF complements our own efforts in building a culture of innovation and entrepreneurship, especially that Lebanon is among the top attractors of investors in the region. We are proud to see that 19 teams from Lebanon have made it to the semifinals this year! This goes to show how our country's innovative and creative minds can make Lebanon grow economically. Furthermore, MITEF has not only opened doors for these driven, young entrepreneurs but has helped them unleash their innovative ideas."
In this context, Gurkan stated that "as part of touch's responsibility to the entrepreneurial community in Lebanon, we established the touch Innovation Program (TIP), a hub for the independent workforce that aims to contribute to the digital and innovation startup space and provide promising entrepreneurs with benefits to further their ideas and businesses. TIP is a manifestation of our efforts to nurture the entrepreneurial community in Lebanon".
Mr. Nabil Itani of IDAL said, "We are very excited that the main ceremony for the MITEF Arab Startup Competition is happening in Beirut after 12 years. It is no coincidence that 19 of the 66 Arab teams competing are Lebanese; IDAL, as a governmental partner, is very keen on showcasing the Lebanese talent and reiterating its supportive stance towards Lebanon, its youth, and its thriving business environment"
With this, MIT Enterprise Forum Pan Arab culminates another successful Arab Startup Competition, alongside its partners Main Community Partner Jameel, International Partner The World Bank, Strategic Partner Touch, Governmental Partner IDAL, Innovation Partner King Abdullah University of Science and Technology (KAUST), CMA CGM, Beirut Digital District, and Roland Berger.
For those who hadn't had the chance to attend the event, you can watch the full conference here:
Latest Business
Intelligence Report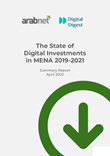 Latest Report
The State of Digital Investments in MENA 2019-2021
View Report
;