On the 24th of March, Alex Angels organized an investment masterclass and info session where prominent keynote speaker Dr. Khaled Ismail talked about the fundamentals, key concepts, and strategies of angel investing. Dr. Ismail also showcased what was happening in the region in terms of funding.
Following the masterclass was a panel discussion addressing syndication which included Aly El Shalakany Chairman of Cairo Angels, Tarek El Kady Chairman of Alex Angels, Ahmed Amin General Manager of the AUC Angels, and Khaled Ismail Chairman of HIMangel.
It concluded by the 3 angel networks, along with HIMangel, joining a syndication agreement and agreed to co-invest in upcoming deals with the purpose of doing more deals as business angel networks and building a pipeline of startups who have high potential for growth.
Dr. Ismail highlighted that such an agreement will foster the collaboration between various angel groups, capitalizing on the strengths of the different members, and hopefully attracting more professionals to consider angel investing as an asset class.
The event concluded with Alex Angels Q1 startup pitches where the following startups pitched to the investors of the 3 angel networks; Osta, Seater, Bel Shifa, Noqood, Opio, MayDay, and Eksab.
Latest Business
Intelligence Report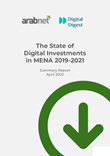 Latest Report
The State of Digital Investments in MENA 2019-2021
View Report
;