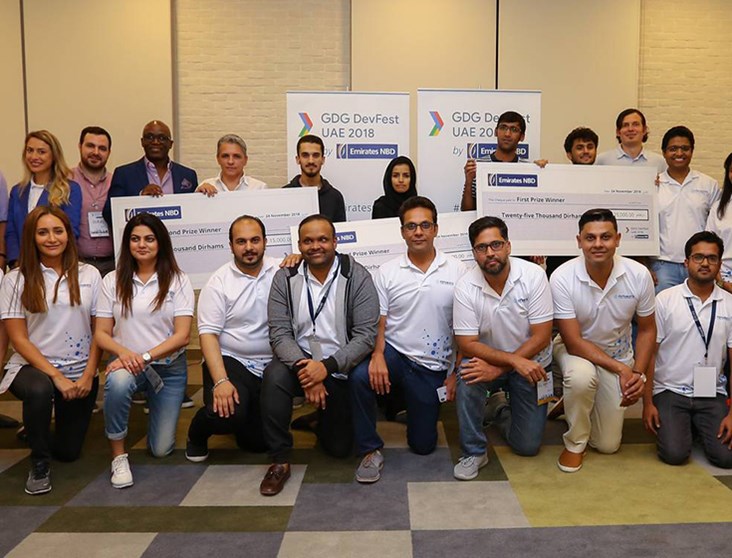 Over 250 developers and tech enthusiasts from the Google Developers Group (GDG) and coding communities in the UAE and MENA region took part in an 18-hour Codeathon, organised by Emirates NBD, to successfully develop a diverse range of impactful and innovative solutions. The event took place at In5 Innovation Center, Dubai Internet City, and was part of DevFest UAE 2018.
DevFest UAE 2018, the largest annual Google Developers Groups (GDG) tech event in the UAE, is a 2-day event that provides workshops and panel sessions on a range of hot topics including G-Suite, Google Assistant, fintech, and Artificial Intelligence, among others. The event was attended by the GDG community in addition to students from the OpenUAE initiative, in partnership with Emirates NBD.
Participants were mentored by experts from the bank to develop a diversity of breakthrough solutions that addressed challenges spanning a range of themes including Artificial Intelligence (AI), Quantum Computing, and Cyber Security.
The top 3 winners were picked by a panel of judges comprised of Google Experts and Emirates NBD executives. Judging scores were based on 4 main criteria: business value, degree of innovation, technical approach, and time to market. The 1st, 2nd and 3rd prize winners respectively received AED 25K, AED 15K, and AED 10K in cash, in addition to the opportunity to bring their ideas to life at Emirates NBD.
Commenting on the occasion, Abdulla Qassem, Group Chief Operating Officer at Emirates NBD, said, "Emirates NBD is well positioned to harness disruptive innovation and emerging technologies to offer its customers unparalleled banking services. The Codeathon provided us with a platform to engage with technology experts from within and beyond the financial sector and gain greater insight on new technologies, techniques and ideas to address challenges."
He adds, "We have been very impressed by the quality of solutions generated at the Codeathon in such a short time span. The determination and team spirit demonstrated by all participants is a testament to the budding talent in the UAE and the region."
Evans Munyuki, Chief Digital Officer at Emirates NBD, said, "We will continue to seek creative ways to help support the development of the bank's digital and IT transformation, enabled by our Group CIO, Miguel Rio Tinto. Open innovation lies at the core of Emirates NBD's digital strategy. We have been collaborating with different stakeholders including fintechs, universities, and staff to foster an innovative culture that inspires new business developments and services with the objective to better meet customer needs."
Latest Business
Intelligence Report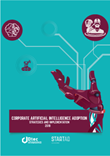 Latest Report
Corporate Artificial Intelligence Adoption Strategies and Implementation 2018
View Report
;