Arabnet celebrates its 10-year anniversary, a decade since it began its journey setting the ground for digital business and entrepreneurship in the MENA region!
To date, we have organized 25+ events in Beirut, Kuwait, Dubai, and Riyadh, released 20+ in-depth reports on the different sectors of the MENA ecosystem, and have provided up-and-coming startups with a chance to grow and reach high levels of success through our competitions.
This year, Arabnet Beirut 2019 will be bigger than ever, a celebration of innovation gathering 3000+ corporate executives, government leaders, and entrepreneurs under one roof. This buzzing event will bring together 250+ experts and speakers from around the globe, covering a range of topics: Launchpad for startups and investors, Ad/Edge for digital media and advertising, and Finverse for digital banking and fintech.
Arabnet Beirut will also continue to be the leading platform for budding talent to present their ideas, startups, hardware innovations and marketing talent through Arabnet's long-running competitions:
The Startup Battle, which will select the top 3 startups from Beirut to compete against the best in the region at the Startup Championship for a chance to win $20K, an acceleration scholarship in Silicon Valley, along with in-kind prizes; the Ideathon, which brings together aspiring entrepreneurs to showcase their innovative ideas; the Creative Combat, showcasing budding marketing talents' ability to develop unique online campaigns; and the Innovation Avenue, highlighting hardware innovators.
For the first time this year, the event will feature a Startup Showcase, bringing together 100 startups from Lebanon and beyond to exhibit and connect with industry experts and more than 100 investors.
The program is also decked out with satellite events, happenings, activations, and parties linking together friends, stakeholders, and the public to celebrate a decade of Arabnet events, and paving the way to more growth and innovation!
Forums
Launchpad
According to Arabnet Business Intelligence, more than $950M was invested in MENA tech startups in 2018. For that reason, Launchpad will gather key regional investors, government leaders, and successful startups to highlight the changing tech landscape as well as emerging trends and opportunities. It will also feature investors from around the world tackling the latest trends in the global technology sector.
AD/Edge
Technology in marketing has become critical in targeting, reaching and engaging consumers – and driving sales. Advertising campaigns are increasingly powered by data: brand-collected, agency and third-party. Additionally, Influencers continue to play a key role in the marketing value chain, with 94% of the brands, agencies, and retailers finding influencer marketing beneficial, according to Liniqia.
Ad/Edge tackles how brands, agencies, and publishers are adapting their strategies to keep up with cutting-edge technologies and consumer behaviors, and the structural changes that are reshaping the industry as a result.
Finverse
According to ArabNet Business Intelligence, regional funding to fintech companies hit over $250M from 2012 until 2018. As the impact of technology on financial services deepens, banks are adopting new strategies to stay innovative, and partnering with fintech startups to develop and deliver new service offerings. Finverse will explore the latest trends and opportunities in fintech and banking innovation, diving into chatbots and Roboadvisors, big data, blockchain, and the practical opportunities available for banks and financial services providers.
Initiatives
The Academy
The Academy is dedicated to entrepreneurs and innovators who are looking to hone their skills and develop their products. A series of hands-on workshops will tackle a wide range of skill sets around entrepreneurship, marketing and fintech including funding, HR, legal tips, Blockchain and cryptocurrency, AI, marketing and advertising, and basics of 3D printing.
Arabnet Alumni Booth
Reaching entrepreneurial success is no easy task. Arabnet will gather some of its most successful alumni entrepreneurs from the MENA region who will share their inspirational journey and the impact of Arabnet on building their business, as well as deliver tips on how to overcome failures. Maybe someday you will be one of those founders!
Investors Lounge
The Investor lounge will provide one-on-one interactions and meetings between the most active investors and entrepreneurs that are disrupting traditional business models. Do not miss your pass to the Investor lounge for a chance to build powerful synergies and get advice on how to take your business to the next level!
Latest Business
Intelligence Report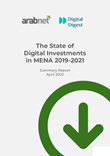 Latest Report
The State of Digital Investments in MENA 2019-2021
View Report
;