Over the 15 years, the Middle East has witnessed an increase in the startup establishment rate. Despite this growth, the financial infrastructure that startups rely on for support was limited compared to the scale of venture activity.
Most founders rely on bootstrapping or friends and family rounds to capitalize their businesses. Even though this was reliable in the early days of MENA startup activity, it hindered its scalability. Therefore, the modern unregulated MENA VC was born establishing a formal modus operandi to fund diverse founders without immediate misalignment on terms of governance.
The aim of the aforementioned goal is to create an environment welcoming of both local and foreign investment in MENA startups via entirely legally compliant Venture Capital firms. Initially presented at Arabnet Kuwait 2018, the White Paper, written by AbdulAziz B. Al Loughani, Managing partner of Faith Capital, and AbdulAziz Hayat, its Associate, lists the laws and regulations on foreign investments.
Overview of Venture Capital Activity
Breaking with international trend, 179 early stage investments were completed in 2017, which constitutes a remarkable 75% increase over the prior year. Series A investments alone are estimated to have captured approximately $100M of overall investment value.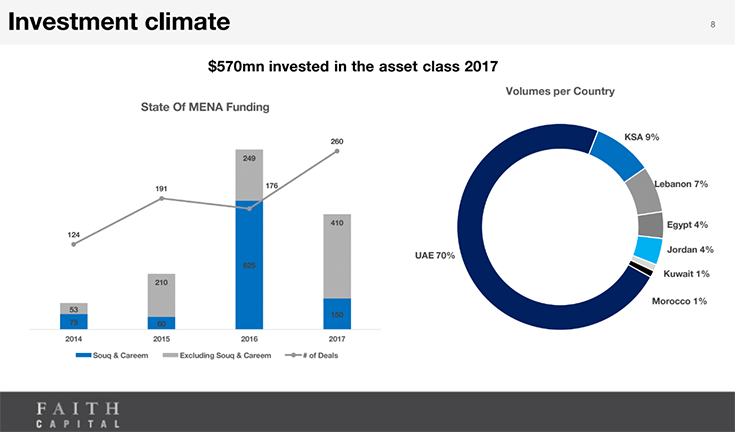 Ecommerce and fintech continue to dominate deal flow, accounting for approximately 12% each. The Food and Beverage sector saw the greatest increase in deal flow between 2016 and 2017 with about 3%, while proprietary technology startups witnessed a modest decline of around 2.5%.
Entrepreneurial ambitions are being fueled by a young and growing base of consumers with high rates of technology adoption. E-commerce penetration is significant and continuing to grow in the region, with forecasts calling for MENA's e-commerce industry to grow to $69B by 2020.
Proposed Regulatory Framework
Of the close to $75B asset management industry in the MENA region, less than $1B of that figure is invested in the Venture Capital asset class. The regional banking system has also not been accommodative of the needs of SMEs, as the estimated funding gap in the region is approximately $250B.
Therefore, transactions in offshore jurisdiction have become favorable for angel investors and venture capitalists due to the presence of regulatory frameworks and venture friendly laws; whereas sovereign investors pursue direct equity investments which results in a riskier environment and limited governance over investments.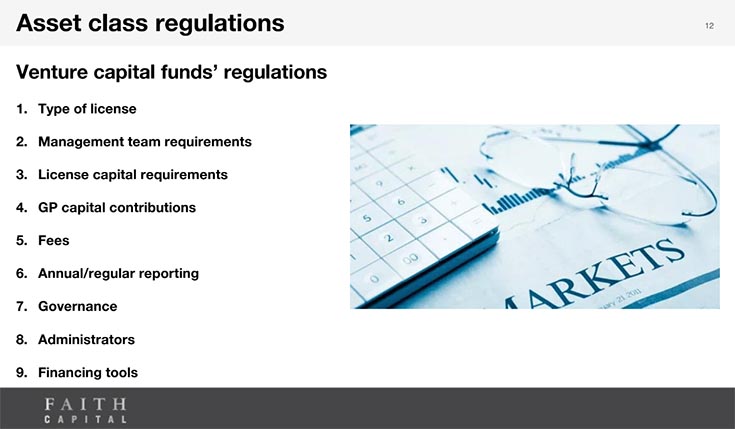 Consequently, an improved and more specific guideline must be implemented to further protect these investments. Thanks to the efforts of the United Arab Emirates, an existing precedent for the regional guidelines can be shared with other local regulatory agencies to steer their own respective rule-making processes.
In this paper, a personalized guideline best suited for the Kuwaiti ecosystem has been drafted with the aid of numerous reputable references and the authors' previous experiences from private equity fund management, entrepreneurial endeavors, angel investing, and SME regulation.
Also included are the future initiatives needed to protect the founders VCs invest in, portfolio integrity, intellectual property, and open source software and data transparency.
Download the report here for a more in-depth look on the research the authors have done, along with the detailed regulatory framework as mentioned previously.
Latest Business
Intelligence Report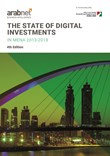 Latest Report
The State of Digital Investments in MENA 2013-2018 Report
View Report
;