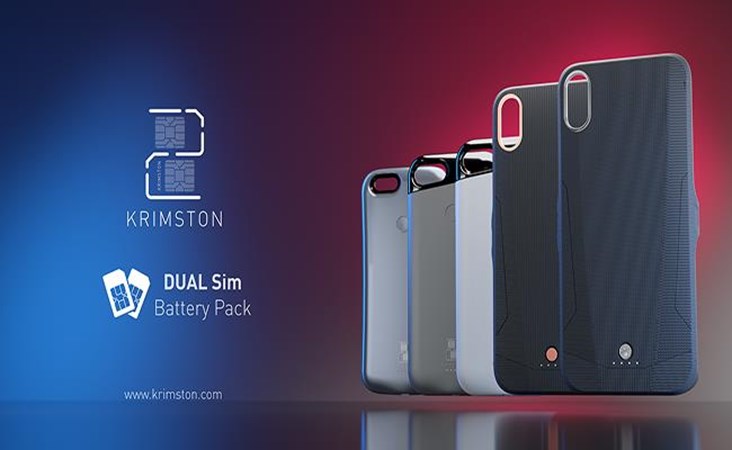 Traveling, whether for business or pleasure, often involves not only making phone calls, but also surfing the web, scrolling through social media feeds, checking emails, and in this day and age, uploading snaps and Instagram stories.
Consequently, most travelers are faced with the dilemma of using their SIM and paying a huge phone bill as well as roaming charges, or buying a local SIM for cheap but dealing with the hassle of switching it in and out or operating two phones.
Faced with the exact same problem, Fouad Fattal and Nabil Nasr decided to create Krimston TWO, a sleek phone sleeve that gives iPhone users dual SIM capability. To find out more about the product, we sat down with co-founder and CEO Fouad to discuss how the product came to life, the challenges the startup has faced, and how to get your hands on the Krimston TWO.
Q: Who is your target audience?
A: When we first started, we didn't know what we were going into. Our primary target audience was the travelers. We then noticed there are many people that carry 2 SIM cards for other reasons.
For example, people with a business line and a personal line are a huge market; people that take advantage of different Telco's offerings (such as in the United States); expats who carry their local (home) line in one phone, and a foreign line in another; as well as many others.
The dual-SIM market is large and it is growing. Looking at the figures in 2014, there were 2.2 billion dual SIM-ers worldwide, whereas today there are more than 3.5 billion.
Q: Why did you launch your product on Kickstarter?
A: The initial idea with Kickstarter was to validate the market with our product, and we were able to raise approximately $105K from backers. We had a successful campaign because we set the bar high by stating from the start that we want $100K or nothing.
We didn't know beforehand how Kickstarter works or what materials we needed while the campaign was up. While we did do a press tour - with articles about Krimston TWO published worldwide, it wasn't enough. We needed to bombard the masses through marketing because the Kickstarter backers were simply not the mass.
One of the challenges we faced with Kickstarter was meeting our delivery deadlines. While the manufacturing of the product was done in Shenzhen, part of the shipment went to Hong Kong where we signed an agreement, in December 2017, with a company that takes the product, puts it in boxes, and ships it worldwide via couriers. After signing the agreement, we were shocked to find out from the company that the couriers were not accepting to deliver the cases given the fact they contained a lithium battery and thus were considered dangerous. After a long wait, the cases finally reached Beirut on the 15th of May, and we have started dispatching them via DHL which will allow us to ship up to two cases per person.
Q: What makes the Krimston TWO unique compared to similar products in the market?
A: We do have partial competition, however similar products in the market usually only boast one of our several features such as the calling and SMS capabilities, or the battery pack. Having 2 SIMS does not exist in the iPhone community today, and we are proud to say that we are leading in the industry for the time being.
Q: Did you consider joining any accelerators?
A: We didn't join any accelerators simply due to the fact that the accelerator ecosystem had not been born yet back in 2013. Once we had started working on Krimston TWO, we were invited to join two accelerators, however due to a conflict of interest, we had to decline. We were able to raise some funds early on through an angel investor, and by the end of the year, we plan to raise our Series A (of between $3M to $5M) in order to scale production, raise product awareness, and go into aggressive marketing.
Q: Where can Krimston TWO be found?
A: People can now go see the Krimston TWO, test it, and buy it in stores. In Lebanon, the Krimston TWO can be found in Beytech, Actyv, Virgin Megastores, PAC MAC, The MAC Shop, Viatech, and Talaco. Recently we also finalized deals with India, Egypt, and UAE, and Krimston TWO will be available there in the near future. As for online stores, Krimston TWO will soon be featured on Hicart, and Souq.com, as well as on our own online portal coming soon on www.krimston.com. The price of the Krimston TWO depends on the iPhone model: iPhone 6 = $89, iPhone 7&8 = $109, iPhone 10 = $129 – VAT excluded.
Q: Let's suppose that Apple creates a dual-SIM feature in the near future. What will happen to Krimston TWO?
A: While we do acknowledge that as a risk, I personally believe that iPhone is going into the direction of a no-SIM feature, rather than a dual-SIM. The technology is ready; however the obstacle is how they are going to work it out with operators worldwide.
There are about 200M iPhones sold per year and incase iPhone does decide to go for a dual-sim feature, our window of opportunities will be shorter, but we will still have a lot of work to do. And if the iPhone goes for e-SIMs, we will be the device that can manage 2 e-SIMs.
Latest Business
Intelligence Report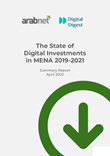 Latest Report
The State of Digital Investments in MENA 2019-2021
View Report
;