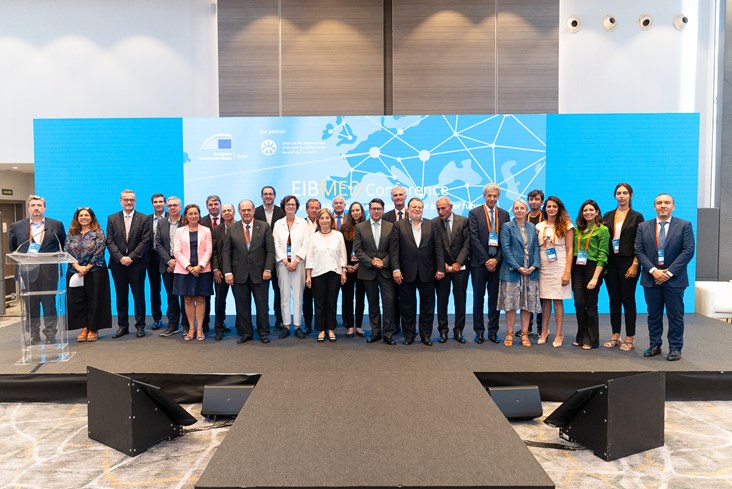 • EIB Global and Union for the Mediterranean host high-level MED conference to unlock future high-impact investment across the region
• More than 200 government, business, banking and civil society leaders attend first MED conference since COVID
• New business financing in Tunisia and Jordan confirmed
The European Investment Bank has provided nearly EUR 3 billion to support of transformational public and private investment across the southern Mediterranean region since Russia's invasion of Ukraine.
Details of recent support for new investment to strengthen economic resilience and food security, improve health and education, increase clean energy use and sustainable transport and accelerate climate action were announced at the high-level MED Conference being held in Barcelona this week.
Jointly organised by the European Investment Bank and Union for the Mediterranean the MED Conference brought together more than 200 government, business, banking and policy partners from the region for two days of discussions.
EIB Vice President Gelsomina Vigliotti underlined the importance of sustaining priority investment, stating, "In the face of significant challenges, it is crucial that we ensure continuous support for investment in the southern Mediterranean. By fostering business growth and addressing climate and energy concerns, we can drive sustainable development and create a prosperous future for the region."
Vice President Ricardo Mourinho emphasized the role of the EIB in supporting transformational investment, highlighting that "Through our new dedicated development finance arm EIB Global, the EIB is committed to promoting economic growth and social stability through high impact investment that improves lives, improves health and education and address climate change. Our recent investment with public and private partners across the southern Mediterranean has helps communities and business to better tackle energy, food security and inflation shocks and foster innovation, job creation, and economic resilience."
Secretary General of the Union for the Mediterranean, Nasser Kamel, emphasized the significance of partnership and dialogue in unlocking investment potential. "By fostering collaboration and sharing best practices, we can maximize the impact of investments and create transformative change across the southern Mediterranean. This conference exemplifies the power of cooperation in realizing our shared goals."
Governor of the Central Bank of Egypt, Hassan Abdalla, highlighted the timely importance of the MED Conference, "This week's MED conference provides a timely opportunity to discuss investment priorities with Mediterranean partners. The European Investment Bank's invaluable support for business investment, microfinance, and climate-focused financing has greatly contributed to Egypt's economic growth in recent years. As the largest country of operation for the EIB, we look forward to further cooperation to unlock high-impact investment and create economic opportunities across our nation."
Strengthening priority investment access to finance by entrepreneurs and business
During the conference, the EIB highlighted new initiatives to bolster economic growth and development in the region.
On the side-lines of the MED conference Samir Saïed, Minister for the Economy and Planning of the Republic of Tunisia and EIB Vice President Mourinho signed a EUR 40 million new financing contract for construction of 80 new primary schools across the country. This project, of a total investment cost of EUR 80 million, benefits from EUR 25 million grant from the European Union. This follows successful implementation of an EIB supported initiative to build 256 new schools.
New EUR 12 million support for microfinance in Tunisia was also agreed with ENDA, the country's largest microfinance institution Enda. The new cooperation follows EIB support for new investment by more than 36,000 Tunisian entrepreneurs in partnership with ENDA.
The two new business financing schemes build on more than EUR 1.52 billion EIB support for private sector investment across the region since the start of last year.
The first MED Conference since the COVID-19 pandemic provided a timely opportunity for investment partners to discuss crucial investment priorities and explore new ways to revitalize economies, support business expansion, and address climate action and energy shocks across the southern Mediterranean region.
EIB supporting high impact public and private investment across the region
Since Russia's invasion of Ukraine the EIB has provided nearly EUR 3 billion for high impact education, health, clean transport, renewable energy, food security and business investment across the southern Mediterranean.
This includes EUR 1 billion of new financing in Egypt and EUR 500 million in Morocco.
Alongside EUR 2.6 billion of direct investment in projects and financing initiatives the region also significantly benefits from EIB backed regional investment with innovation and venture capital funds, support for business investment with Afreximbank, food security investment with IFAD and health investment with the WHO.
Background information
The European Investment Bank (EIB) is the long-term lending institution of the European Union owned by its Member States. It makes long-term finance available for sound investment in order to contribute towards EU policy goals.
EIB Global is the EIB Group's specialized arm dedicated to increasing the impact of international partnerships and development finance. EIB Global is designed to foster strong, focused partnership within Team Europe, alongside fellow development finance institutions, and civil society. EIB Global brings the Group closer to local people, companies and institutions through our offices across the world.
Latest Business
Intelligence Report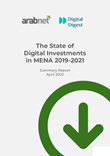 Latest Report
The State of Digital Investments in MENA 2019-2021
View Report
;