Tourism Development Fund (TDF) and IMPACT46 Invest in Al Matar Group for Travel and Tourism
Back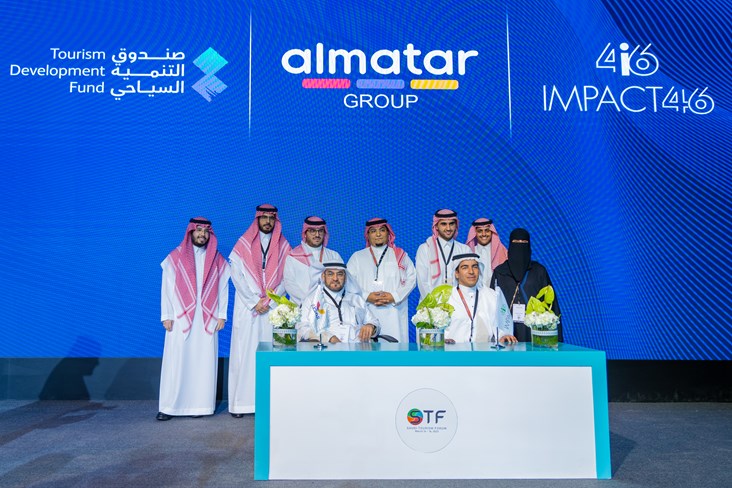 At the recent Saudi Tourism Forum, the Tourism Development Fund (TDF) and IMPACT46, a leading venture capital firm in the Kingdom, announced their joint investment in Al Matar Group for Travel and Tourism. The event, held at the Riyadh International Convention and Exhibition Center from March 14th to 16th, gathered over 350 specialized entities in the Saudi tourism industry.
The investment agreement was signed by Abdulaziz Al-Omran, Founder and CEO of IMPACT46, and Youssef bin Abdullah Al-Rajhi, Chairman of Al-Matar Travel and Tourism Group Board of Directors, in the presence of Qusay bin Abdullah Al-Fakhri, CEO of the Tourism Development Fund.
With the goal of expanding and growing the Al-Matar Group, the TDF will act as a strategic partner contributing to the development of new tourism platforms via the Internet. This investment will serve tourists, increase the supply of rooms, and cultivate innovation, thereby raising the level of services offered within the industry.
Abdulaziz Al-Omran, Founder and CEO of IMPACT46, said, "IMPACT46 is delighted to collaborate with the Tourism Development Fund and Invest in Al Matar Group for Travel and Tourism to foster growth and innovation among local Saudi entrepreneurs. Our united efforts will cultivate a thriving ecosystem of startups in the tourism sector, fueling economic growth and job creation." He expressed optimism for the future of the collaboration and its potential for supporting talented entrepreneurs within the Kingdom.
Yousef Al-Rajhi, Chairman of the Al-Matar Group, emphasized the agreement's importance for supporting the hospitality sector, upgrading services, and promoting digital transformation in the kingdom's tourism industry. He said, "This agreement will contribute to supporting the tourism industry in our country, achieving the goals of the national tourism strategy, creating new job opportunities, and unifying future visions that are in line with the Kingdom's Vision 2030."
The TDF works to promote tourism investments, stimulate private sector efforts, enhance competitiveness, and create a sustainable tourism industry in line with the goals of Vision 2030. IMPACT46, established in 2019, focuses on non-traditional investments, including investment in tech startups. It has invested in over 30 early-stage technology companies, with the majority being Saudi-based.
Founded in 2019, the Al-Matar Group for Travel and Tourism offers technical travel solutions for individuals and businesses. With a wide selection of hotels, furnished apartments, and flight options worldwide, Al-Matar Group has become a leader in the industry. "Almatar App" recently joined the billionaire companies program after demonstrating remarkable success in the Saudi market and is preparing to enter global markets.
With this investment, the TDF and IMPACT46 reaffirm their commitment to supporting the growth of the tourism sector in Saudi Arabia, empowering local entrepreneurs, and ensuring a vibrant, innovative industry that aligns with the Kingdom's Vision 2030.
Latest Business
Intelligence Report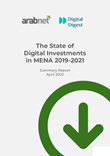 Latest Report
The State of Digital Investments in MENA 2019-2021
View Report
;