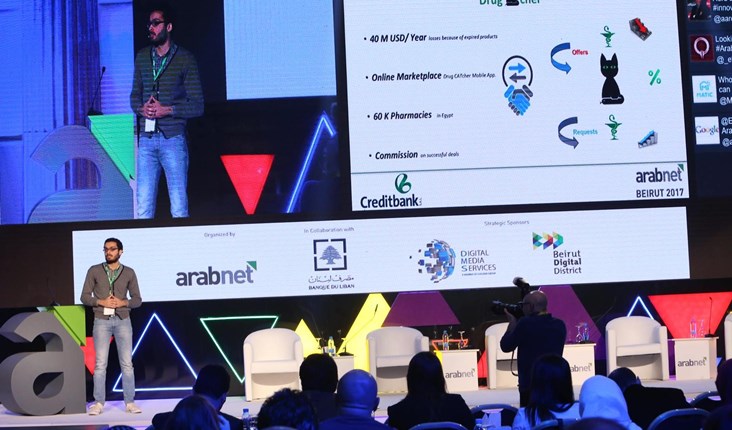 Arabnet issues the following statement to clarify and address the support it has openly received from BDL:
Arabnet is the leading organizer for conferences and research focused on tech and startups in the MENA region since 2010. We have been organizing the biggest events and publishing the most important reports for this sector for over a decade in Lebanon, Saudi Arabia, UAE and Kuwait — we are a regional success story, and a proud Lebanese exporter, with the majority of our 30+ Lebanese team (before the crisis) employed in Lebanon and the vast majority of our revenue coming from the GCC.
Our research is used as a reference by the industry, and our events attract regional and global investors to invest in local startups and drive economic development in each market — this is why we attracted government support not only of BDL, but of partners from around the region, including Monsha'at (the Saudi SME Authority), Dubai SME, the Saudi Arabian General Investment Authority (SAGIA, now the Ministry of Investment), the Ministry of Youth in Kuwait, and many many others.
We are proud of the success of our events and activities in Lebanon. Our last conference in Lebanon took place before the crisis in June 2019, and brought together over 5,000 attendees, showcased over 100 startups, attracted more than 50 international investors, and brought in hundreds of visitors from outside the country. Our most recent research, with Konrad Adenauer Stiftung, examined the impact of the Lebanese crisis on tech startups and is being used to shape programs by various entities to help improve the situation for startups in the country.
We look forward to hosting our event in Lebanon again soon, as the situation in the country improves, and to keeping Lebanon as a major player in the tech and startup ecosystem of the MENA region.
###############
تُصدر عرب نت البيان التالي لتوضيح وتبيان الدعم الذي تلقته صراحة من مصرف لبنان:

ان عرب نت شركة رائدة في تنظيم المؤتمرات والأبحاث التي تركز على التكنولوجيا والشركات الناشئة في منطقة الشرق الأوسط وشمال إفريقيا منذ عام 2010. لقد قمنا بتنظيم أكبر الفعاليات ونشر أهم التقارير عن هذا القطاع لأكثر من عقد في لبنان والمملكة العربية السعودية والإمارات العربية المتحدة والكويت - نحن قصة نجاح إقليمية ، ومُصدّر لبناني بكل فخر ، حيث عمل غالبية فريقنا اللبناني الذي يزيد عن 30 موظف (قبل الازمة) في لبنان ، وتأتي الغالبية العظمى من عائداتنا من دول مجلس التعاون الخليجي.

تُستخدم أبحاثنا كمرجع من قبل قطاع التكنولوجيا ، وتجذب فعالياتنا المستثمرين الإقليميين والعالميين للاستثمار في الشركات الناشئة المحلية ودفع عجلة التنمية الاقتصادية - وهذا هو السبب في أننا استقطبنا الدعم الحكومي ليس فقط من مصرف لبنان ، ولكن من الشركاء من جميع أنحاء العالم في المنطقة ، بما في ذلك منشآت (الهيئة العامة للمنشآت الصغيرة والمتوسطة في المملكة العربية السعودية) ، مؤسسة محمّد بن راشد لتنمية المشاريع الصغيرة والمتوسطة ، الهيئة العامة للاستثمار في المملكة العربية السعودية (SAGIA ، الآن اصبحت وزارة الاستثمار) ، وزارة الشباب في الكويت ، وغيرها الكثير.

نحن فخورين بنجاح فعالياتنا وأنشطتنا في لبنان. إن آخر مؤتمر لنا في لبنان كان قبل الأزمة في حزيران/يونيو 2019 ، وحضره أكثر من 5000 مشارك ، وعرضت فيه أكثر من 100 شركة ناشئة ، واجتذب المؤتمر أكثر من 50 مستثمرًا دوليًا ، وجلب مئات الزوار من خارج البلاد. في آخر أحدث بحث أجريناه ، مع شركة Konrad Adenauer Stiftung ، تناولنا فيه تأثير الأزمة اللبنانية على الشركات الناشئة في مجال التكنولوجيا ويتم استخدام هذا البحث حالياً لتشكيل برامج من قبل كيانات مختلفة للمساعدة في تحسين وضع الشركات الناشئة في البلاد. اننا نتطلع إلى استضافة هذه الفعاليات من جديد في لبنان مرة أخرى قريبًا ، مع تحسن الوضع في البلاد ، ولنحافظ على لبنان كلاعب رئيسي في قطاع التكنولوجيا وبيئة حاضنة للشركات الناشئة في منطقة الشرق الأوسط وشمال إفريقيا
Latest Business
Intelligence Report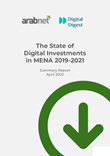 Latest Report
The State of Digital Investments in MENA 2019-2021
View Report
;