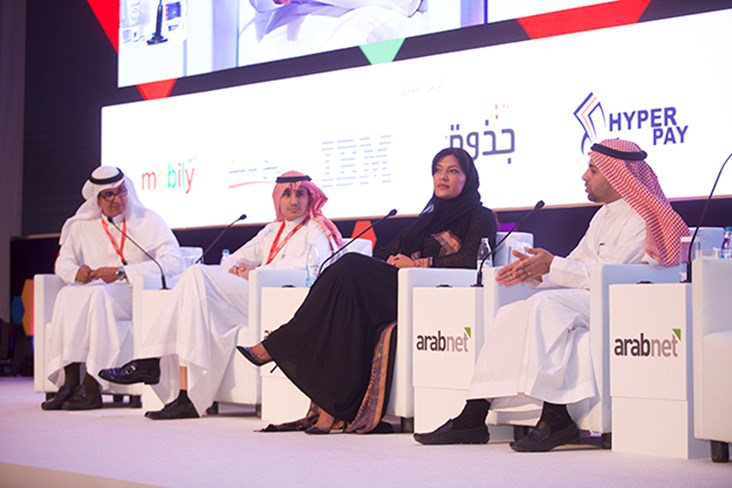 Over 1800 regional/international digital professionals, leaders and entrepreneurs gathered at ArabNet Riyadh to discuss the future of digital business in the region. Held under the patronage of the Ministry of Communications and Information Technology (MCIT), hosted by King Abdulaziz City for Science and Technology (KACST), supported by Badir Program for Technology Incubators and sponsored by top companies in the Kingdom, including the Strategic Sponsor, Saudi Telecom Company (STC) and other sponsors like InspireU; Al Ahli Bank (NCB); Digital Media Services (DMS) and Al Khaleejiah, the conference kicked off with Founders' day on Monday December 11th and the main conference days started on the 12th at Burj Rafal Hotel Kempinski.
The opening ceremony featured an interactive speech between Badir CEO, Mr. Nawaf Bin Attaf Alsahhaf, and ArabNet CEO, Mr. Omar Christidis. In his speech, Mr. Nawaf highlighted the efforts of Badir Accelerator in enabling entrepreneurs and individual investors to effectively communicate and build sustainable strategic partnerships in order to support and develop successful technology projects in the Kingdom.
He sees that both Badir and ArabNet share the mission of helping grow the knowledge economy in the region. Mr. Christidis said that the conference will highlight the latest trends and opportunities in the Saudi market, in line with the Kingdom's Vision 2030 and the National Transformation Program 2020, focusing on the development of the ecosystem and transformation of the kingdom's economy into a knowledge-based economy.
The opening ceremony was followed by a panel that tackled building an innovation economy. The panel, part of the Digital Transformation Forum, featured prominent public and private leaders such as HRH Princess Reema bint Bandar Al-Saud, Deputy of Planning & Development - General Sport Authority and President of Mass Participation Federation; Basem AlSallom, Deputy Governor for Marketing & Communication at the Saudi Arabian General Investment Authority (SAGIA) and Ahmad AlFaifi, Managing Director, SAP Saudi Arabia, Bahrain and Yemen.
Speaking about the digitization of education were Dr. Yousef AlOhali, CEO of Tatweer Education Technology Company (TETCO), Dr. Nasser Alluwaishiq, Chief Officer, Content & Digital Solutions at Tatweer for Educational Services Company (T4edu) and Yasser Alobaidan, CEO of Jawraa. Also taking part in the Digital Transformation Forum in a 1-on-1 interview was Fadi Ghandour, Executive Chairman of Wamda Group and Founder of Aramex. John Rossant, Founder and Chairman of NewCities Foundation and Antoni Vives, CEO of the City Transformation Agency discussed the future of Smart Cities in his keynote.
Beyond the focus on the Kingdom's transformation, ArabNet Riyadh featured the Innovation and Investment Forum with a dedicated track focusing on the investment landscape and improving the ecosystem and access to LPs and growth capital; as well as a track focused on startup growth strategies and development.
The forum featured the expertise of many high-caliber international and regional speakers, such as: Fawaz Alrajhi, Chairman of AlRajhi United; Amjad Edris, Head of Takamol - 9/10ths; Sabah al-Binali, Active Investor and Entrepreneurial Leader; Amjad Ahmad, Founder and Managing Partner at Precinct Partners and Tammer Qaddumi, Partner at VentureSouq.
Moreover, The AdTech Forum tackled the top medium on everyone's agenda: Mobile, through Ephemeral and Video content and how distribution of media is changing along with the data driving advertising technology. The leading agencies and companies included: Twitter, General Motors, Maddict, Mayar Foods, Discovery Networks, IBM, Buzzeff and DMS.
ArabNet Riyadh's stage also welcomed the participants of two competitions: Startup Battle and Ideathon. The Startup Battle Riyadh finalists are DailyMealz, Shoghol, Ajeer, Autotash, Hommycook, Sadeem, Careeb, Labayh, Looz and E3mal. Three of these startups will be announced as winners at the awards ceremony during the final conference day. Sihatech, last year's winner and Saudi-based doctor booking platform, serves as an inspiration for startups as it recently raised $1.33 million in a Series A round led by Wa'ed, the investment arm of Saudi Aramco and Waseel. Furthermore, the conference hosted the Flat6Labs Jeddah, 5th Demo Day which is a meetup for investors and entrepreneurs.
The conference continues for another day, with more than 20 sessions to go, and exclusive and invitation-only Banking Innovation Workshops for banking leaders featuring two hands on workshops that cover two key trends for financial institutes: Blockchains and best practices in lead generation and CRM.
Forum day 2 also features 1-on-1 interviews with top e-commerce and banking leaders, including Ronaldo Mouchawar, Chief Executive Officer and co-founder of Souq.com; Faraz Khalid, Chief Executive Officer of Noon and Omar Hashem, EVP Head of Digital Banking Division at The National Commercial Bank.
Learn more about the conference here.

Latest Business
Intelligence Report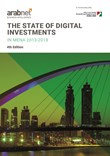 Latest Report
The State of Digital Investments in MENA 2013-2018 Report
View Report
;