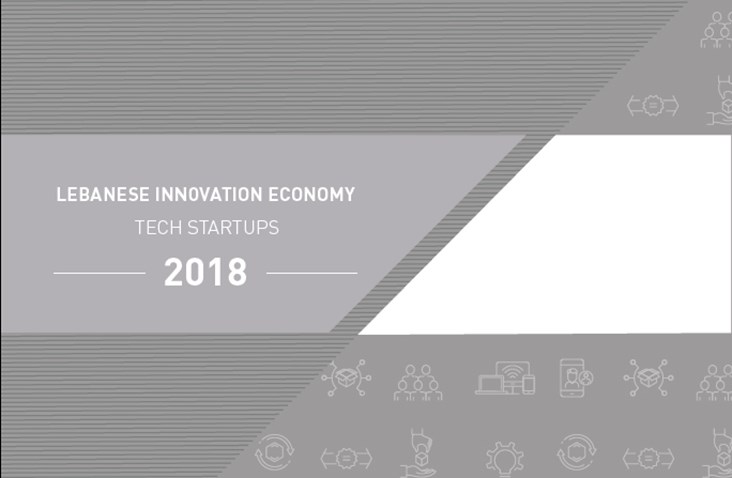 Today at Arabnet Beirut, we are excited to share with you the launch of the Lebanese Innovation Economy – Tech Startups 2018 Report. The report is designed for anyone interested in investing in the Lebanese tech startup scene, supporting or launching an incubator, accelerator, or mentorship program, and interested in the entrepreneurial ecosystem in Lebanon in general.
FOREWORD
Banque du Liban's (BDL) Circular 331, issued in 2013, is the founding document for jumpstarting the Lebanese entrepreneurial ecosystem and was introduced in a bid to halt the brain drain and boost local employment. Whilst recognizing the need to fuel a Lebanese Knowledge Economy (LKE), the circular initially aimed to provide a capital injection of over $400 million into the Lebanese entrepreneurship ecosystem. In 2016, circular 419 was issued, allowing banks to invest up to $600 million collectively in Lebanese tech startups (4% of Lebanese banks' capital).
With over 100 investments having taken place between 2013-2016, Lebanon is one of the thriving capitals of digital innovation in the MENA. Thus, it is evident that Circular 331 has boosted the startup scene, as witnessed with the rise of more startups, accelerators, venture capital, and ecosystem support programs.
Lebanese tech startups face many obstacles in their entrepreneurial journey. To name a few: low availability of tech talent, the Lebanese regulatory and policy framework, and lack of access to customers and markets. However, it is not all doom and gloom; as there is much strength to the ecosystem. The Lebanese startup scene has witnessed several exits, among which are Cleartag, Diwanee, and Shahiya.com. The thriving ecosystem has also witnessed a surge in coworking spaces and the emergence of a strong digital sector cluster in Beirut Digital District (BDD).
Supporting the sector has also become a top priority at all levels of the Lebanese government. The Ministry of Telecom has taken a leadership role, recently launching MIC Ventures, a $50M fund supported by Alfa and Touch. At a higher level, Prime Minister Saad Hariri and the team at the Grand Serail have been engaging closely with the startup community and working on a number of initiatives to help improve the business environment for innovation - with a short-term focus on regulatory reforms that are much needed.
A TRANSFORMATIONAL ECONOMY

Lebanese Digital Startup Economy
Lebanon displays an exceptionally high number of funds for such a small country - driven by Circular 331 of the Central Bank of Lebanon - where Lebanon hosts 13% of the total number of investors in MENA. Over the past four years and in comparison to other MENA markets, Lebanon has steadily risen in the ranks in both number of deals (around 40 deals in 2016) and value of deals (around $56 million in 2016).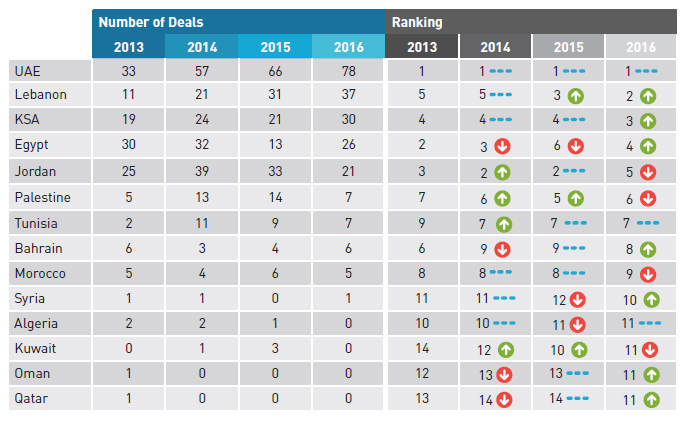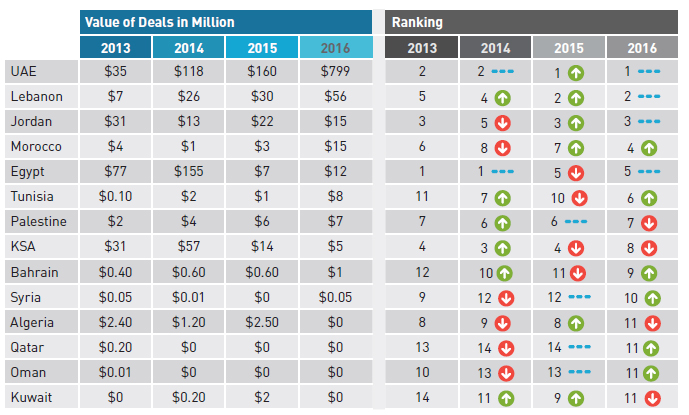 THE STUDY: OBJECTIVES AND METHODOLOGY
This research is a holistic study utilizing a mixed-methodology approach while analyzing the entrepreneurship ecosystem. First, the research measures the perceptions of Lebanese tech startups regarding the challenges and opportunities facing the entrepreneurial ecosystem. The survey targets owners of tech and digital startups with a working product or service based in Lebanon. Using a referral-sampling approach, the online survey sampled digital startup founders, co-founders, or partners. The digital startups were contacted through ArabNet's startup database, ArabNet's network of technology investors and media partners, and through push marketing via social media posts. Survey data was collected from Nov. 2017 through Jan. 2018. The sample size of 90 respondents guarantees a margin of error of 6.5% and a confidence level of 95% based on the estimated population size of Lebanese startups.
OVERALL ECOSYSTEM STRENGTHS AND WEAKNESSES
Ranking Entrepreneurship Ecosystem Domains
The two biggest impediments that tech startups face are difficulties in navigating the regulatory framework (64%) and in accessing local talent (64%). On the other hand, entrepreneurs identified the strengths of the ecosystem to be startup support services (32%) and access to markets / customers (21%).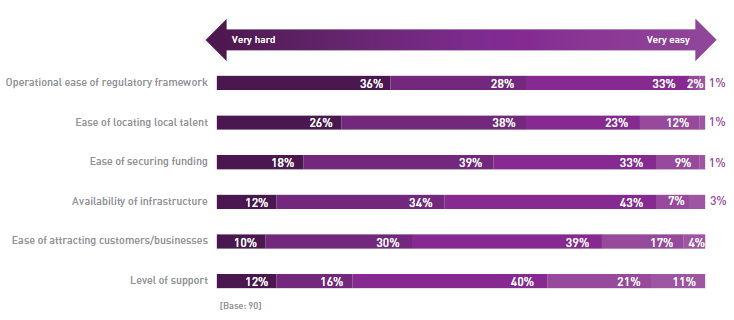 ACCESS TO FUNDING
Amount of Funding Raised and Rounds Received
Reflecting an exceedingly early-stage ecosystem, roughly more than half of the survey participants raised between one to two rounds of funding (57%). Only 9% raised three rounds of funding or more and a third of all surveyed startups did not receive any round of funding (34%). 65% of startups raised seed amounts, highlighting the fact that a large portion of deals in Lebanon remain in their early stages.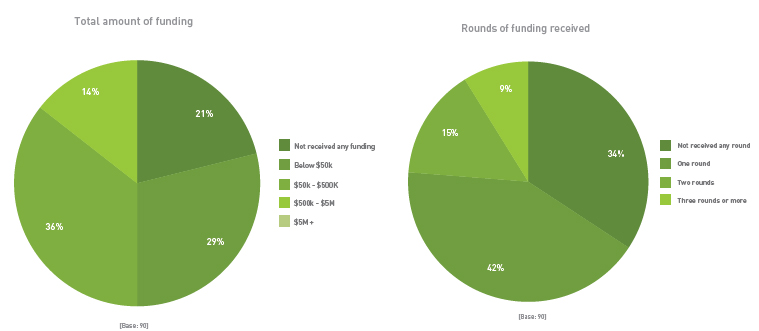 Source of Tech Startup Funding
Lebanese tech startups are heavily dependent on non-equity funding, where 68% use their personal savings, and approximately one-third claim they used competition funds (30%), followed by grants (22%), and bank loans (13%). When it comes to equity funding, over a quarter of startups surveyed have raised funding from angel networks (26%), while 22% access funding from accelerators, and 20% access funding from venture capital.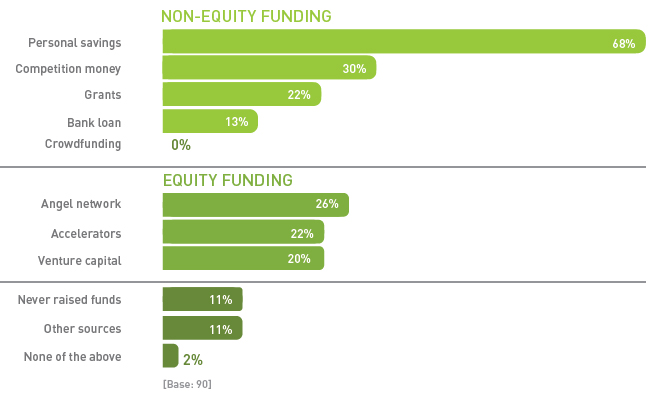 ECOSYSTEM SUPPORT SERVICES
Type of Support Services Available to Tech Startups
Nearly half of the respondents mention that they have received ecosystem support such as mentorship in marketing and pitching (46%) and access to workspaces (40%). Support services that display the largest gaps are talent support (a 27% need gap), go-to- market strategy (a 23%need gap), and networking (a 22% need gap). Support services that display the largest gaps are talent support (a 27% need gap), go-to- market strategy (a 23% need gap), and networking (a 22% need gap).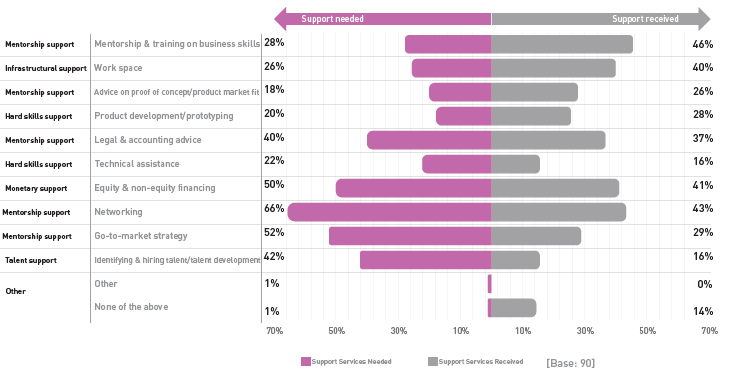 ACCESS TO TALENT AND TECH SKILLS
Availability of Skill Sets
It seems that general business skills, including accounting and finance (70%), marketing media and communication (56%), and sales and business development (41%), are readily available. The largest gap is in technical skills, where only a small proportion of entrepreneurs say they can locate data and analytics skills (4%) and product design (3%).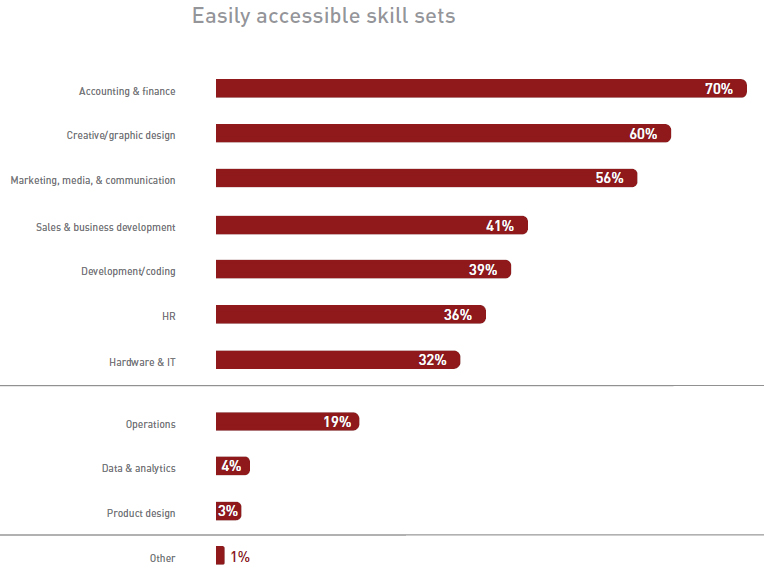 ACCESS TO MARKETS
Support Needed to Attract Business
The top support services needed to attract business is marketing assistance, specifically budgets for marketing (87%), influencer reviews (55%), and referrals (45%). Access to corporate decision-makers (42%) and openness of businesses to working with startups (40%) are second in demand for accessing markets.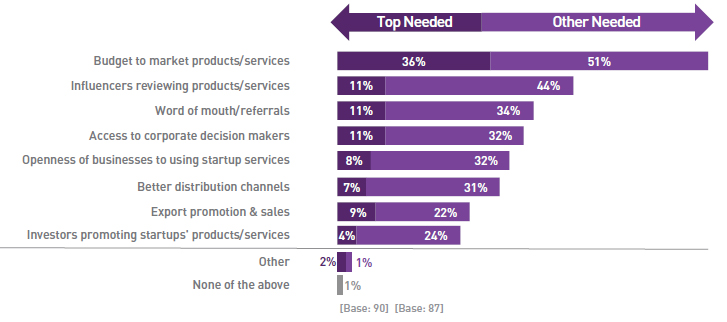 Download the in-depth report here
Latest Business
Intelligence Report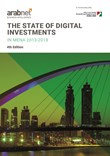 Latest Report
The State of Digital Investments in MENA 2013-2018 Report
View Report
;