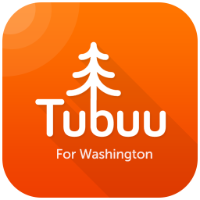 Traduire la description en Français à l'aide de Google Traduction ?
Traduire
Tubuu is an outdoor social app for Washington hikers, climbers, and backpackers.

The main purpose of the app is to accompany the hiker during all the hike lifecycle, from planning a hike to inspiring friends.

1. Plan a hike:

Discover more than one hundred hikes around Washington area, updated every day, covering all the state's regions.
Find the most suitable hikes for your physical level, children friendly, filtered by region and features.
Check the current weather directly from the hike before heading to the trail.
Get all the necessary information about required permits and passes and the trailhead.

2. Invite friends to join your hike

Invite your friends to join your hiking plan, and share your activity with people.
Find likeminded people near you, and plan your future hikes together.
Plan and organize easily your "Must do" hikes during the year, and share them with friends .
Complete your hikes, and get your monthly accomplishments statistics.

3. Tell friends and loved ones about your safety

Share your current hikes with people, and let them know about your return time, set your past hikes as completed to make family and friends sure about your return.

4. Write whispers, and inspire the community

Tell us about your hiking experience, inspire the community with your stories and motivate people about your outdoor experience.

5 . Real time notification & alerts

Receive real time weather conditions and alerts .