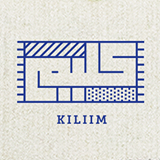 We decided to start our journey from Fowwa, a small village that sits on the western banks of the Nile Delta in Kafr ElSheikh Governorate, 3 hours away from Cairo. Just a few decades ago, Fowwa used to be a hub for kilim rug weaving and home to thousands of workshops, however with a declining tourism industry, the fast spread of cheaper machine made rugs, and a lack of design and innovation in traditional kilims, Fowwa's main industry began to fade.
We partnered up with local craftsmen in Fowwa and went on to found Kiliim, an online store and lifestyle brand that aims to revive and sustain the heritage of handmade kilim making by offering our customers traditionally crafted kilim products yet designed with modern motifs and colors to suit contemporary homes.
We differentiate ourselves from competitors by:
- We complete the craftsmen's work: At Kiliim we leave the craftsmen to do what they do best which is simply the skill and technique of weaving. We complete their work by offering modern designs that makes their final products more marketable to contemporary home opening the door to new sales channels rather than being dependent on tourism which led to the current deterioration of the craft.
- A story telling brand working for a social cause: We don't just offer a product like our competitors; we've created an upscale brand that emotionally engages with customers through including them in the making of their products allowing them to join our mission to sustain and revive the craft. We also shed the light on the rich history of the craft, the village (Fowwa) and the inspirations behind our designs to create an interesting story behind every piece and craftsman who created it.
- Product Quality & Design: We offer premium quality products (Handmade, 100% wool, quality dyes to ensure colors remain intact) with unique and modern designs which most kilim vendors/manufacturers lack.
- Online store: We're the only player in the Egyptian market offering a full online store where you can browse a wide range, pay online, customize and order your rugs making the overall shopping experience easy and hassle free. We're also developing a tool that lets you upload your house pictures so & you get a list of recommended designs/sizes.
- Customer Service: In a market where customers suffer from poor service we offer professional, friendly and responsive customer service. We also offer a free trial service where we deliver several kilims to our customer's door to try them out while our team consults them to purchase what suits their space the best.